Advanced Control and Systems Engineering (with Industry)
Department of Automatic Control and Systems Engineering, Faculty of Engineering

You'll gain a solid grounding in systems and control engineering while learning about the latest developments in your chosen specialisation. The 12-month work placement and training in research skills prepares you for a career in industry or research.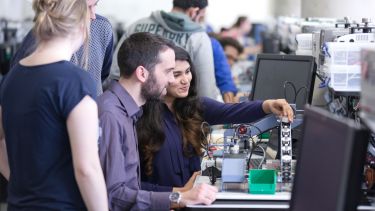 Course description
This version of our flagship course includes a 12-month work placement. The course blends theory and practice, giving you a strong grounding for a career in industry or research. Core modules introduce advanced control techniques used in modern engineering across research and industrial applications. We have a strong focus on the generality of these concepts ensuring that you will be equally prepared for careers in a variety of sectors.
As well as our core modules, you'll be able to choose from advanced modules in current areas of interest. You'll also work on a research-level dissertation project of your own. This will allow you to explore an industrially-relevant control problem, and give you a chance to hone your project management skills while conducting an in-depth piece of research. 
Your 12-month placement in industry will put your knowledge and skills to work, and give you context around the subjects you've studied.
Modules
The first semester focuses on developing your core skills and knowledge of control and systems.  In the second semester you take more advanced automation and control modules. You'll also put your engineering knowledge and skills into practice, applying them to a specific problem that interests you, as part of your project and dissertation.
Accredited by the Engineering Council UK, Institution of Engineering and Technology and the Institute of Measurement and Control
Teaching
You'll be taught via a mix of lectures, tutorials, computer and engineering laboratories, fieldwork and independent study.
Assessment
You'll be assessed by coursework, laboratory reports, examinations, classroom tests, group projects and a project dissertation.
Duration
2 years full-time
Your career
Our courses are informed by our strong links with industry and our research. Graduates of this course go on to work as professional engineers in different sectors, including advanced manufacturing, software engineering, robotics and controls and automation systems engineering. Some graduates choose to follow up their studies with a research degree.
When I was researching where to study, I learned that the University of Sheffield's Department of Automatic Control and Systems Engineering has an excellent reputation for research and links with industry, so it was an easy choice for me.
MSc Advanced Control and Systems Engineering
Entry requirements
You'll be an engineering, mathematics or science honours graduate with a 2: 1 degree. You'll also need to have excellent mathematical notation and basic computer programming skills.
You'll need to provide a statement about your proposed work placement addressing the following questions:
Tell us about the industry you want to work in.
How does control and systems engineering relate to this industry?
What do you hope to contribute, as a placement student, to this industry or company?
You may also have a telephone or Skype interview with the admissions tutor.
English language requirements
Overall IELTS score of 7.5 with a minimum of 7.0 in each component.
You can apply for postgraduate study using our Postgraduate Online Application Form. It's a quick and easy process.
The course information set out here may change before you begin, particularly if you are applying significantly in advance of the start date.