Applied Geographical Information Systems (GIS)
Department of Urban Studies and Planning, Faculty of Social Sciences

Department of Geography, Faculty of Social Sciences

Acquire the theoretical knowledge, technical skills and practical experience you need to launch a successful career in the fields of GIS, applied policy research or spatial data analysis.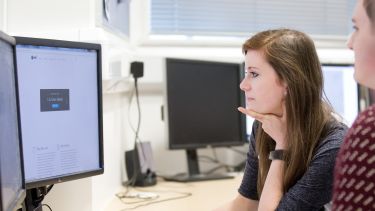 Course description
This MSc will develop your knowledge in a wide variety of areas such as advanced spatial analysis, geovisualisation, policy applications of GIS in practice, and thematic mapping and cartogram creation.
The course places a strong emphasis on applying your skills. It draws on the extensive expertise of teaching staff in the Departments of Geography and Urban Studies and Planning to develop your analytical and technical skills in using GIS software. You'll also be immersed in the practical applications of GIS and its potential to solve real-world problems.
Modules and course structure
The first semester focuses on core skills and knowledge acquisition, whereas in the second semester you'll develop more advanced skills.
You'll put your knowledge and skills into practice when you write a dissertation on a relevant topic that matters to you.
Your future
We'll show you how to apply your knowledge and skills in the real world so you're ready for professional practice.
Our teaching staff have contacts with employers across a range of relevant industries, including GIS, planning and surveying. We also have strong partnerships across academia, and with local and national government and private sector employers. Maximising the employability of graduates is a core aim of this MSc.
Our graduates typically go on to work for organisations such as the Office for National Statistics, Ordnance Survey and ESRI, as well as the civil service and local government. Others go on to PhD study in GIS or spatial analysis.
Facilities and equipment
Our postgraduate study rooms are equipped with the latest industry-standard GIS software and a range of other specialist tools. GIS facilities are available on all 1,500 networked computers across campus.
Both departments are based in the Geography and Planning Building on the edge of Weston Park.
Teaching
There are lectures, seminars, computer workshops and tutorials.
Assessment
You're assessed on your coursework and a dissertation.
Your career
The employability of our graduates is of paramount importance to us. The development of skills, knowledge and personal attributes that enhance your career underpins our programme design. We have a dedicated Employability Manager, Amy Woolley, to support you. We'll prepare you for employment after graduation.
The course was really interesting and engaging. My dissertation was the culmination of all the skills I had learnt, which gave me the confidence I needed to begin my career as a GIS research analyst.

Emma Holgate
MSc Applied GIS
Entry requirements
For UK students, the usual entry requirement is a 2:1 degree or evidence of equivalent achievement (for example, a professional qualification combined with work experience).
Applications are also welcomed from candidates with a 2:2 degree, although evidence of work experience or other activity is generally expected.
English language requirements
Overall IELTS score of 6.5 with a minimum of 6.0 in each component, or equivalent.
We're no longer accepting applications for 2020 entry.
The course information set out here may change before you begin, particularly if you are applying significantly in advance of the start date.