Department of Physics and Astronomy, Faculty of Science

Explore the key topics at the cutting edge of modern astrophysics. You'll get training in the practical skills used by professional astrophysicists and be able to conduct your own astronomical observations.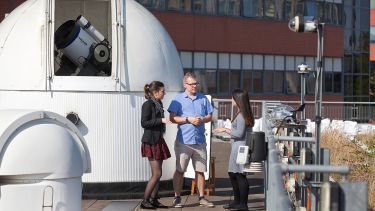 Course description
You'll study the formation and evolution of stars, galaxies and the Universe itself. The course includes training on how to perform your own astronomical observations using our 0.5m telescope, which is located on La Palma in the Canary Islands but can be operated remotely from Sheffield. You can also take part in a subsidised field trip to La Palma and visit some of the world's top observatories.
There are a number of optional modules to choose from, covering topics to deepen your understanding of the Universe, such as cosmology, dark matter, general relativity and astrobiology. We offer a science communication module, so that you can learn the most effective ways to share scientific ideas with the public, and an enterprise module where you can develop your own idea for a business based on your physics expertise.
The biggest part of the degree is your research project and dissertation. Our team of supervisors ranges from theoretical astrophysicists who are using computational methods to learn how stars form, to scientists building the world's fastest telescope cameras. We can run projects on topics including galaxies, quasars, supernovae, massive stars, white and brown dwarfs, star formation, star clusters, planet formation and the evolution of the solar system.
Field trip
If you take our optional Observational Astronomy with Field Trip module, you'll go on a subsidised week-long field trip to the international observatories on La Palma in the Canary Islands. The island is home to a number of world-leading telescopes that our astrophysicists use, and is an ideal environment for astronomy, being close to the equator and 2,400m above sea level. You'll be able to use our 0.5m telescope to run your own overnight observations, and visit the 4m William Herschel Telescope and the 10m Gran Telescopio Canarias – the biggest optical telescope in the world.
Modules
Core modules
Star Formation and Evolution

Galaxy Formation and Evolution

Astrophysics Dissertation Project

Physics Research Skills
Optional modules
Introduction to Cosmology

Dark Matter and the Universe

History of Astronomy

An Introduction to General Relativity

Particle Astrophysics

The Development of Particle Physics

Extrasolar Planets and Astrobiology

Physics in an Enterprise Culture

Physics Communication and Impact

Observational Astronomy with Field Trip
Teaching
You will be taught through lectures, seminars, tutorials, workshops, presentation skills training, and one-to-one research project meetings with your supervisor.
Assessment
You'll be assessed by examinations, coursework, essays and other written work, and a dissertation and viva.
Duration
1 year full-time
Your career
The advanced topics covered and the extensive research training make this degree great preparation for a PhD and a career in astrophysics research.
University of Sheffield graduates have gone to work for organisations such as the UK and European Space Agencies, the European Southern Observatory and top universities around the world.
Physics graduates also develop numerical, problem-solving and data analysis skills that are useful in many careers, such as computer programming, software engineering, data science or technology research and development.
We run a 0.5m telescope with the University of Durham on La Palma, which you can operate remotely from Sheffield as part of your training, or during the optional annual field trip. There are also a computer controlled 0.4m telescope and a robotic 0.25m telescope on the roof of our building, which you can use during the course.
Entry requirements
Undergraduate degree in the physical sciences or a related subject (for example mathematics or computer science). We usually ask for a 2:1 degree in physics, astronomy or astrophysics.
English language requirements
Overall IELTS score of 6.5 with a minimum of 6.0 in each component, or equivalent.
You can apply for postgraduate study using our Postgraduate Online Application Form. It's a quick and easy process.