Autonomous and Intelligent Systems
Department of Automatic Control and Systems Engineering, Faculty of Engineering

This specialist masters is ideal if you have previously studied control, mechatronics or robotics. You'll learn advanced topics in control and systems engineering with an emphasis on system autonomy and intelligence.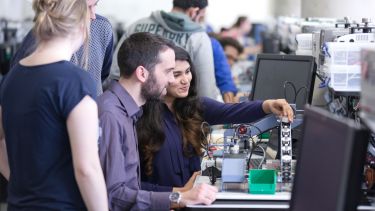 Course description
As the need and scope for robots and machine intelligence in all aspects of society grows, so does the market for those trained in automation and systems engineering, especially those with a background in Autonomous and Intelligent Systems.
The course covers all major aspects of control and systems engineering with an emphasis on system autonomy and intelligence. Autonomous systems is a fast changing area and has applications in a range of modern engineering disciplines including computer science, mechanical engineering, electrical and electronic engineering and materials science engineering.
You'll develop an extensive understanding of the field of autonomous and intelligent systems, studying subjects such as artificial intelligence, autonomous agents, evolving intelligent systems and intelligent control theory.
Through lab work, you will get hands-on experience of working with various types of autonomous and intelligent systems, and have the opportunity to build a system from scratch using the specialist labs in the University.
You'll also work on a research-level dissertation project of your own. You'll be able to pick an area you are passionate about and develop a solution to a real world problem in the area. You may choose from a range of project ideas, including bionic systems, manufacturing lines, autonomous vehicles or drones. Your project supervisor - an academic dedicated to helping you with your project - will support you.
Modules
Core modules
Agent-based Modelling and Multi-agent Systems

Real-time Embedded Systems

Modern Control and System Identification

Data Modelling and Machine Intelligence

Advanced Control

Intelligent and Vision Systems

Multisensor and Decision Systems
Optional modules
Cybersecurity of Control Systems 

Industrial Training Programme (ITP) in Computational Intelligence
Teaching
You'll be taught via a mix of lectures, tutorials, computer and engineering laboratories, fieldwork and independent study.
Assessment
You'll be assessed by coursework, laboratory reports, examinations, classroom tests, group projects and a project dissertation.
Duration
1 year full-time
Your career
Our courses are informed by our strong links with industry and our research. This MSc is an ideal preparation for students aiming to move onto a PhD and research career, or those who want to work in industry with autonomous and intelligent systems. The MSc covers the required technical knowledge and skills, along with wider professional skills such as critical thinking, project management and communication, for graduates to excel in their chosen career.
Entry requirements
A 2:1 honours degree (or equivalent).
Alternatively, you might be an experienced professional, thinking about updating your knowledge of the subject.
English language requirements
Overall IELTS score of 6.5 with a minimum of 6.0 in each component, or equivalent.
You can apply for postgraduate study using our Postgraduate Online Application Form. It's a quick and easy process.
The course information set out here may change before you begin, particularly if you are applying significantly in advance of the start date.