Bioengineering, Faculty of Engineering

Our MSc provides you with all of the necessary technical knowledge, expertise and transferable skills to succeed in one of the fastest growing engineering disciplines. Bioengineering is a multidisciplinary field that combines biology and engineering, and which allows you to apply engineering principles and materials to medicine and healthcare.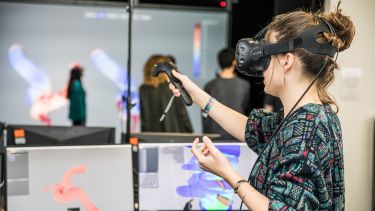 Course description
This unique course combines biomaterials, imaging and in silico medicine. It gives you the medical background, specialist knowledge, and theoretical and practical skills you'll need to integrate biology and medicine with engineering and ultimately solve problems related to living systems.  
You'll also have the chance to explore the medical devices field and product design, together with their regulatory aspects.
You'll develop experimental skills in our world-class laboratories. There are also opportunities to develop advanced skills in modelling. These skills are useful for simulating the complexities of the human body and for more traditional engineering contexts.
You'll be taught by world-leading scientists. We work closely with specialist research centres at the University of Sheffield, including Insigneo and POLARIS, along with research groups focusing on advances in biomaterials, bioengineering and health technologies. This means you'll be positioned at the forefront of biomedical innovation and become part of a community of professionals in the field while you study.
We regularly bring in guest speakers from industrial companies such as ELAROS, XIROS, Philips Medical Systems, JRI Orthopedics and Brandon Medical, which ensures our teaching is relevant to the workplace.
You can tailor the course to suit your interests and research project. Optional modules range from biomechanics to the use of virtual reality and 3D visualisation approaches.
Be part of an exciting field that integrates biology and engineering to improve quality of life.
Through optional modules you'll have a variety of ways to explore your area of interest.
The course has been developed in line with accreditation standards and will seek to be formally accredited at the earliest opportunity, backdating this status to those who have previously studied on the programme.
Modules
Core modules
Anatomy and Physiology for Engineers

Introduction to Medical Device Regulation

Applied Modelling Skills and Virtual Reality

X-rays for Planar and Volumetric Imaging in Medicine
Optional modules
Computational Biomechanics of the Musculoskeletal System

Clinical Engineering and Computational Mechanics

Dental Materials Science

Bio-imaging and Bio-spectroscopy

Fundamental Biomechanics

Cardiovascular Biomechanics

Human Movement Biomechanics

Experimental Skills for Tissue Modelling

Tissue Engineering Approaches to Failure in Living Systems

Biomaterials Science

Structural and Physical Properties of Dental and Bio-materials

Human Factors and User-Centred Design
Teaching
You'll learn through a combination of lectures, seminars, laboratories and coursework assignments. You'll be expected to conduct private study, the amount of which will vary from module to module. Reading lists will be provided.
You'll also work closely with one of the masters teaching staff on a project topic of your choice.
Assessment
You'll be assessed by a variety of means, including written examinations, coursework submissions (which include design studies, laboratory reports, computational assignments and research topics), poster and oral presentations and a formative assessment.
Duration
1 year full-time
Your career
Our graduates develop a broad skill set to succeed in a growing discipline, which is at the interface between engineering and the life sciences. 
The breadth of skills you'll acquire also gives you the opportunity to flourish in a more traditional engineering environment, such as the bioengineering industrial sector. For example, you could become a consultant engineer, clinical engineer, research and development engineer or you could follow a research pathway and continue to study on a PhD.
Entry requirements
A 2:2 in a bachelors honours degree in an engineering subject (mechanical engineering, electrical engineering, control engineering, general engineering, chemical engineering) or pure sciences (maths, physics).
English language requirements
Overall IELTS score of 6.5 with a minimum of 6.0 in each component, or equivalent.
You can apply for postgraduate study using our Postgraduate Online Application Form. It's a quick and easy process.
The course information set out here may change before you begin, particularly if you are applying significantly in advance of the start date.