Department of Music, Faculty of Arts and Humanities

Immerse yourself in contemporary music, sharpen your skills and explore your creative voice. The MA in Composition is taught by a diverse team of internationally renowned composers who love to share their knowledge and expertise.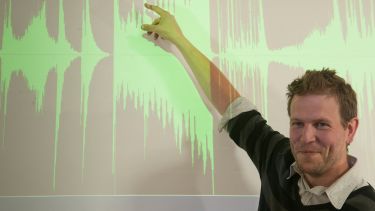 Course description
This MA is a dynamic environment for you to explore and develop your own creative voice in contemporary composition, whether your passion is instrumental composition, electronic/electroacoustic composition, music for film, music for games, or a mix of them all. 
If you choose to study instrumental composition, you'll explore a broad range of approaches and techniques that have a strong emphasis on inquiry-led practice. There will be numerous opportunities for live premieres of your work.
The pathway in electronic/electroacoustic composition allows you to explore creative applications of analogue and digital technologies, studio-based composition techniques, and real-time audio processing techniques. You'll reflect on topics such as the aesthetics of sonic art, historical developments in electronic music, temporal and spatial-audio, and post-digital aesthetics.
In addition, your MA will give you the training you need to pursue collaborations, for example with local film makers and game artists. The course is designed to facilitate your route into the creative industries as a composer, sound designer or game contributor. To help you further prepare for life as a composer, we'll encourage you to form adventurous cross-disciplinary partnerships and work with a variety of venues, including concert halls, galleries, museums or media outlets.
You'll have the chance to develop your skills at the start of the course through intensive training and, after that, to become increasingly independent with your research and the topics you'd like to explore.
By the end of the course, you'll have developed and refined your own compositional voice and you'll able to situate your creative work within a broader contextual framework. Either way, the course will help you launch yourself as a professional composer or continue on to further academic studies.
Our expertise, your future
The University of Sheffield's Department of Music features a broad spectrum of contemporary compositional practice, including instrumental, electronic and mixed-media. We'll encourage you to explore contemporary composition through various approaches to materials, structures and forms, and to define and refine your creative voice in both instrumental and electronic music.
Our distinguished composers bring their expertise to your course. We'll help you develop a diverse portfolio of your work. In recent years many of our postgraduate composers have received international awards in composition competitions around the globe. 
You'll need to provide a portfolio with your application.
Modules
Teaching
The course is taught through lectures, seminars, workshops and tutorials. These are combined with departmental study days and extracurricular listening groups, professional workshops, and performance opportunities, all of which makes for a stimulating and supportive study environment.
Assessment
You'll be assessed through practical, experiential and theoretical methods that include compositions and essays. A written essay will assess your knowledge of a broad range of current artistic practices along with your skills in evaluation, analysis and criticism, information organisation and writing.
Duration
1 year full-time
2 years part-time
MA Composition developed and strengthened my compositional voice with tutorials, live opportunities, and conferences. It gave me the opportunity to collaborate with an engineer on a very unique sound installation. Most significantly, it changed the way I think and write about music with group discussions and focused dissertation study. This is a valuable and rewarding degree for composers who welcome a challenge.

Stephen Theofanous
MA Composition
Entry requirements
You'll need a 2:1 in music or a combined degree with a substantial music component. 
Degrees in other related subjects may be acceptable depending on your background.
Provide a portfolio with your application
When you apply you'll need to provide a portfolio of your compositional work. The portfolio must include one or two examples of your best work and can be in many different formats depending on your style of composition - instrumental composers are invited to submit copies of scores, but any recordings of performances (or even midi files) are most welcome. Electroacoustic composers are invited to upload soundfiles of their works.
To submit your portfolio, you should do one of the following:
upload your video recordings with your postgraduate online application
provide an online link to your composition portfolio in your postgraduate online application
send a DVD by post addressed to: Music Admissions, MA Music Performance Studies, University of Sheffield, Department of Music, Jessop Building, 34 Leavygreave Road, Sheffield S3 7RD
English language requirements
Overall IELTS score of 6.5 with a minimum of 6.0 in each component, or equivalent.
Fees and funding
University and faculty funding is available each year. The department has a number of scholarships available for our strongest candidates.
You can apply for postgraduate study using our Postgraduate Online Application Form. It's a quick and easy process.
The course information set out here may change before you begin, particularly if you are applying significantly in advance of the start date.