School of English, Faculty of Arts and Humanities

Study contemporary creative writing and develop your skills in a variety of genres and styles. Choose to specialise in either poetry or fiction, or to study both, and explore and improve your own writing through practical workshops.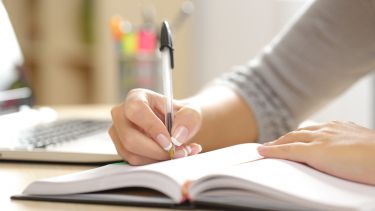 Course description
You'll study contemporary creative writing and develop your skills in different genres and styles. You'll also develop and explore your own writing through practical workshops. You'll complete two core modules, optional modules and a dissertation. Your final portfolio of work may take the form of short stories, a novel extract, script or poetry.
This MA is designed to help you develop your creative writing to a publishable quality, providing a positive and nurturing environment for confident and imaginative development of poetry, prose, creative non-fiction and drama.
You'll study contemporary creative writing and develop your skills in a variety of different genres and styles, exploring your own writing through practical workshops, and learning how to creatively and constructively critique your own and other students' work.
You can choose to specialise in either fiction or poetry, or to study a mixture of both. Our fiction modules will give you practical training in the essentials of fiction writing techniques across a number of genres, whilst our poetry modules allow you to explore a myriad of different poetic forms, including experimental and cross-genre poetry, visual poetics, prose poetry, and the hybrid.
Throughout the course, you'll study creative prose and poetry through appropriate and writer-centred theoretical frameworks, as well as learning the fundamentals of close reading, technical analysis and critical judgement of contemporary writers from a practitioner's point of view.
Writers on the course will benefit from the literary culture at Sheffield and are involved in readings, publications and festivals throughout their time with us. You're encouraged to publish your work and to participate in student-led, peer-feedback editorial sessions.
You'll be required to choose a minimum of two Creative Writing modules, one per semester. You can choose both poetry modules, both fiction modules, or one of each genre.
Modules
Core modules
Choose a minimum of two from:
Creative Writing: Fiction 1

Creative Writing: Fiction 2

Creative Writing: Poetry 1

Creative Writing: Poetry 2
Optional modules
Examples of optional modules may include:
'Tales of the City': the Living Space in Contemporary American Fiction

Memory and Narrative in Contemporary Literature

Language and Literature in the Workplace

Any from the many modules listed under the general MA in English Literature
If you are a part-time student, you will choose just one module per semester. We recommend that you take Creative Writing modules in your first year.
Teaching
For your Creative Writing modules, you will meet for a 2.5 hour workshop each week. These workshops are typically taught in the early evenings. A workshop is an informal, creative environment that allows you to receive feedback on your writing from both the tutor and your fellow students, whilst learning genre-specific skills.
Modules from the MA English Literature programme are taught in seminars, which can vary in length from 1.5 - 2.5 hours, and can be held weekly or fortnightly depending on the module. The majority of these seminars will be held during the day.
Our current staff are active and internationally-recognised authors, academics and creative forces in their fields:
Dr Agnes Lehoczky (

Convenor of Undergraduate and Postgraduate Creative Writing,

Senior Lecturer in Creative Writing

)

Professor Adam PIette

Dr Laura

Joyce (Lecturer in Fiction)

Dr Michael Kindellan
Former teaching staff have included Dr Vahni Capildeo, Professor Simon Armitage, Dr Honor Gavin and Professor Denise Riley.
Assessment
You'll be assessed on your essays, a creative writing dissertation and portfolio.
Fiction writers and dramatists: 12,000 words of creative work. Poets: 50 poems or equivalent. All students complete a 3,000-word critical essay.
Poetry modules are assessed by portfolios of 15 to 20 poems, plus critical commentaries of 2,500 words. Fiction modules are assessed by 2,500 word critical reflection essays, plus 4,500-5,000 word portfolios of prose or drama.
You'll also be required to complete a 15,000 word Creative Writing dissertation. This will be 80% creative and 20% critical reflection. For fiction, you will submit 12,000 words of creative work and a 3000 word critical essay. For poetry, you will submit 20-30 poems or equivalent (roughly 600-1000 lines) and a 3,000 word critical essay. Mixed portfolios are welcome.
Duration
1 year full-time
2 years part-time
Entry requirements
A good first degree (2:1 or above, or the international equivalent) in English literature, language, linguistics, or a related discipline (eg history, philosophy, modern languages).
A portfolio submission of 2,000 words of prose/drama or five poems (or equivalent, roughly 100 lines), to be sent along with the application form.
English language requirements
Overall IELTS score of 7.5 and a minimum of 7.0 in all other components.
Fees and funding
Studentships
There are a number of studentships and fee bursaries available, funded by the University. Deadlines for funding applications are usually in winter/early spring.
You can apply for postgraduate study using our Postgraduate Online Application Form. It's a quick and easy process.
The course information set out here may change before you begin, particularly if you are applying significantly in advance of the start date.