Digital Literacies, Culture and Education
School of Education, Faculty of Social Sciences

Changing digital technologies have an impact on children's lives and present opportunities and challenges for educators. This MA is designed to help those who work with children to respond to these challenges and create new opportunities for literacy, learning, creativity and play.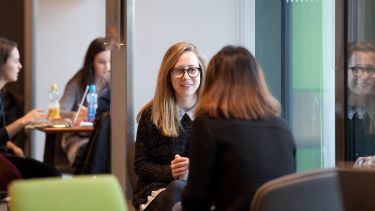 Course description
This course enables teachers, educators and creative practitioners to respond to the challenges that digital culture poses for education. You'll develop a thorough knowledge of the media that children and young people are engaging in, reflecting on how it shapes their literacy and learning at home and at school.
You'll address urgent questions and themes, such as how children learn literacy in the digital age; how we can support young people to be authors as well as players of games; how we ensure that contemporary teaching of literacy is inclusive and socially just.
The course is underpinned by research in the area of new and digital literacies. A key feature of the programme is its link to the Literacy Research Cluster, with opportunities to participate in current projects, an active reading/viewing group and a seminar programme.
Your application
Apply online, with a 750-word statement. We would particularly like you to address the following questions:
What particularly interests you about the course?
What experience do you have of working with children and young people?
What skills would you like to develop?
Why do you want to study at the University of Sheffield?
Teaching
Teaching takes place through lectures, tutorials, seminars and workshops.
Assessment
We incorporate a range of assessment opportunities that allow students to use different modes of communication. These include:
Presentations;
Critical analyses;
A portfolio of teaching resources;
A portfolio of media productions;
A dissertation
The dissertation study consists of a research dissertation of 15,000 words or equivalent.
Duration
1 year, full time
Entry requirements
The minimum entry requirement is a 2:1 honours degree, or equivalent, in a relevant discipline. Applicants with relevant work experience and good academic potential will also be encouraged to apply.
English language requirements
Overall IELTS score of 6.5 with a minimum of 6.0 in each component, or equivalent.
You can apply for postgraduate study using our Postgraduate Online Application Form. It's a quick and easy process.
The course information set out here may change before you begin, particularly if you are applying significantly in advance of the start date.