Department of Chemistry, Faculty of Science

Find out how scientists discover chemical candidates for new pharmaceuticals. You'll learn how to meet the pharmaceutical industry's increasing demands for drugs that can treat illnesses safely and more effectively, overcome antibiotic resistance, and be produced at a lower financial and environmental cost.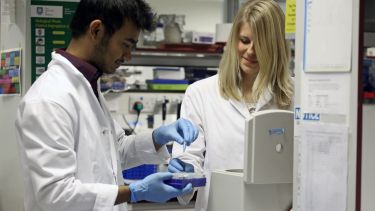 Course description
This course covers the drug discovery and design techniques used in the pharmaceutical industry. You'll study topics such as pharmacology, toxicology and genomics as you learn how target molecules to treat specific diseases are identified, characterised and optimised for potential clinical trials.
Your training will cover the fundamental chemistry and biology of protein interactions, their role in disease and how drugs affect the human body. You'll learn about computer-aided drug design techniques that are used to predict how well a potential drug might work and screening technologies that are used to test a drug's effect on its molecular targets.
The course is taught by world-leading scientists from across chemistry, biology, engineering and medicine. It brings together the University of Sheffield's expertise to give you a complete picture of the drug discovery process.
Intercalation
We accept medical students who wish to intercalate their studies. Find out more on the Medical School's website.
Modules
Teaching
Lectures

Workshops

Laboratory practicals

Individual research projects
Assessment
Examinations
Coursework
Literature review
Dissertation and viva
Duration
1 year full-time
Your career
Graduates from this course are well trained for roles working on drug discovery in the pharmaceutical industry and graduates from the department regularly find jobs at major pharmaceutical companies such as GSK, Pfizer and AstraZeneca. The course also gives you excellent foundations for a PhD in medicinal science.
You'll have access to expertise and equipment in the state-of-art research facilities and centres, including:
Entry requirements
The minimum entry requirement is a 2:1 honours degree, or equivalent, in chemistry, biology, pharmacy or another relevant subject. Applicants with relevant work experience and good academic potential are also encouraged to apply.
English language requirements
Overall IELTS score of 6.5 with a minimum of 6.0 in each component, or equivalent.
You can apply for postgraduate study using our Postgraduate Online Application Form. It's a quick and easy process.
The course information set out here may change before you begin, particularly if you are applying significantly in advance of the start date.