Department of Civil and Structural Engineering, Faculty of Engineering

With increasing concerns about climate change and our safety and security, how can we make our infrastructure more resilient to natural and man-made hazards? This course will help you become skilled in providing technical and sustainable solutions for governments, communities and businesses.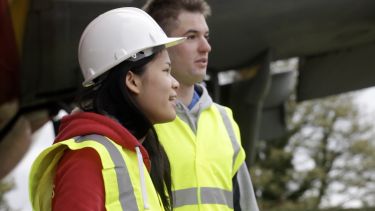 Course description
This course covers the fundamental engineering concepts of hazards and resilience. You'll gain the research skills necessary to independently formulate an approach to civil engineering problems and the technical skills needed to generate appropriate solutions. You'll also explore how to apply these skills in a practical context.
The modules and dissertation topics reflect the unique research expertise of our academic staff, covering topics ranging from blast and impact engineering and fire engineering, to flooding and landslides. You'll be encouraged to develop a holistic vision of the natural and man-made hazards that threaten our lives and infrastructure, and to understand how uncertainties about our future, such as access to resources, shape engineering solutions.
This course teaches you how to design with the least possible environmental impact. We offer a fresh perspective on solving the toughest global engineering problems, such as the causes and effects of climate change.
Our graduates are highly sought after, both nationally and internationally, given the global shortage of professionals with this unique understanding of resilience to hazards.
You'll be taught by research-active academics at the forefront of their fields, and learn through a mixture of lectures, tutorials, seminars, problem-solving classes, project classes, and classroom discussions.
Modules
Core modules
Research and Professional Skills
Structural Health Monitoring and Asset Management
Engineering with Planetary Capacity
Resilience
Risk Management for Earthquake Engineering and Geohazards
Blast and Impact Effects on Structures
Structural Analysis and Design for Fire
Flood Risk Management
Advanced Engineering Research Study
Teaching
You'll be taught through lectures, seminars, tutorials and lab work. Some modules will include site visits and engage our industrial partners.
Assessment
You'll be assessed through exams, coursework, oral presentations and interviews and a dissertation and report.
Duration
1 year full-time
Entry requirements
Minimum 2:1 honours degree (BEng, MEng, BSc) in Civil and Structural Engineering or other appropriate engineering or science subject.
We'll consider your application if you have appropriate professional qualifications and work experience, but you'll need a strong background in the areas covered on the course.
English language requirements
Overall IELTS score of 6.5 with a minimum of 6.0 in each component, or equivalent.
You can apply for postgraduate study using our Postgraduate Online Application Form. It's a quick and easy process.
The course information set out here may change before you begin, particularly if you are applying significantly in advance of the start date.