International Public and Political Communication
Department of Journalism Studies, Faculty of Social Sciences

Become an expert in media relations, political marketing and how organisations shape their messages to persuade, inform and sometimes mislead. Sharpen your knowledge by designing a campaign of your own.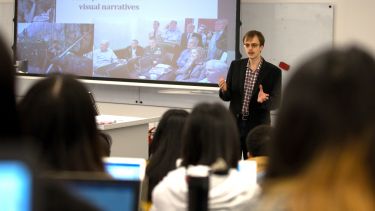 Course description
As places on this course are in high demand, we will give preference to applicants with grades above our minimum entry requirements.  
Messages and viewpoints are all around us at all times. Political parties, public and governmental institutions, pressure groups, charities and NGOs shape messages in particular ways, advocating viewpoints and constructing campaigns to influence public opinion, specific audiences and policymakers. Our course teaches you to be an expert in both the analysis and development of such messages.
You'll learn about media relations, political marketing and the scope and significance of political communication. You'll develop skills in communicating with the media (including media training) and using different media outlets to promote ideas through advocacy and lobbying. Our teaching offers a deep and critical understanding of key debates around the intersection of the media and public and political communication internationally.
The IPPC course combines a rigorous academic foundation with practical content. Taught by both research-active staff and practitioners who are proven experts in their field, you'll analyse public and political communication activities both internationally and historically and put your findings to practical use, developing your own political and public communication campaigns and marketing tools.
After completing the course, you'll be a media and communications expert who can analyse, manage and design campaigns, market and communicate ideas, and undertake effective media relations and lobbying. If you're looking for a career in national or local government, international agencies, NGOs, trade unions, political parties, charities, media organisations and lobbying, it's ideal preparation. The degree also offers a route into further academic study.
Modules
Core modules
Semester 1
Media, Society and International Crises
Research Methods
Comparative Perspectives of Public and Political Communication
Introduction to Political Communication
Semester 2
International Visual Public and Political Communication
Communicating with the Media
Public Diplomacy and Soft Power Statecraft
Dissertation (International Public and Political Communication)
Dissertation
Your dissertation is undertaken in semester 2. You can choose between a traditional-style project and a work-based dissertation.
Teaching
We teach through lectures, seminars, workshops and research exercises.
Assessment
You're assessed by essays, examinations and a dissertation.
Duration
1 year full-time
Anyone who studies in Sheffield will be assured of the following: the best student experience in the UK; resourceful tutors; workshops and seminars to give you practical experiences; being fully equipped for the job market; a network of friends from all over the world; and the satisfaction of having a very useful degree. Plus, Sheffield is a lovely, calm city with lots of get-away destinations that gives me the best study environment.

Laila Abubakari
MA International Political Communication
Entry requirements
To take one of our MA courses you must have one of the following:
A 2:1 undergraduate degree (we will consider a 2:2 if we are sufficiently impressed by your potential).
An alternative qualification approved by the University as degree equivalent.
Substantial previous work experience in a media-related role.
English language requirements
Overall IELTS score of 6.5 with a minimum of 6.0 in each component, or equivalent.
Fees and funding
There are a number of bursaries for students on the journalism, magazine and broadcast courses, from the Scott Trust (owner of The Guardian), Journalism Diversity Fund and others.
You can apply for postgraduate study using our Postgraduate Online Application Form. It's a quick and easy process.
The course information set out here may change before you begin, particularly if you are applying significantly in advance of the start date.