MA
PG Certificate
PG Diploma
Information School, Faculty of Social Sciences

Librarianship is aimed at resourceful people with excellent communication and organisational skills, with ambitions to work in a wide range of library and information roles in a variety of sectors.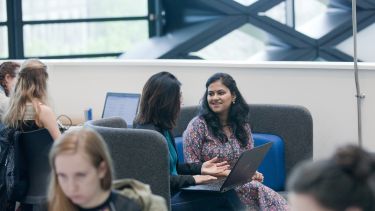 Course description
This course is designed to equip you with the skills you need to enter the library and information profession, or to progress in your existing library or information career.
The course has professional accreditation from CILIP, and provides key skills, such as management of information resources, information literacy support, and effective information retrieval. The course also allows you to specialise in areas that interest you, including academic libraries, archives, public libraries and library services for young people. Modules explore the management of digital as well as traditional libraries. The programme gives you an understanding of the latest thinking and up-to-date good practice, as well as the library profession's enduring values. 
If you're more experienced, you could take the Professional Enhancement Programme.
Professional Enhancement Programme
The Professional Enhancement Programme is designed for experienced professionals. The emphasis is on helping you re-evaluate the way you work in the context of new and emerging ideas.
As an experienced professional, you'll take fewer core modules than students who are starting from scratch. This leaves you free to choose more optional modules, so you can focus on what's most relevant to you in your job.
This course is accredited by CILIP
Modules
Core modules
Management for Library and Information Services
Information Organisation
Information Literacy
Libraries, Information and Society
Research Methods and Dissertation Preparation
Dissertation
Optional modules
Choose from a range of optional modules including:
Archives and Records Management
Information Governance and Ethics
Researching Social Media
Data and Society
Digital Advocacy
Business Intelligence
Database Design
Digital Multimedia Libraries
Public and Youth Library Services
Academic and Workplace Library, Information and Knowledge Services
Teaching
You can expect a mix of:
Lectures
Seminars
Tutorials
Practical laboratory classes
Group work
Online discussion
Case studies
Lectures by visiting speakers
This MA Librarianship course also includes visits to library and information service organisations.
Assessment
You'll be assessed using a wide variety of methods including:
Essays
Reports
Small projects
In-class tests
Presentations
Posters
Group work
Research-based dissertation
Duration
1 year full-time
2 years part-time
3 years part-time
I chose to study at the Information School because of its academic reputation and because it allowed me to specialise in the topics of interest that will help me in my career. The facilities are excellent and the lecturers are very experienced and committed. There are also many different opportunities provided by the School and University to enhance your knowledge.
Entry requirements
You'll need at least a good 2:2 in any subject and you would normally be expected to have some library or related work experience, but there is flexibility around this.
Please contact us if you have any queries about your work experience.
If you don't have a first degree, but you have other qualifications and relevant work experience, you may be able to take the PGDip or PGCert.
English language requirements
Overall IELTS score of 6.5 with a minimum of 6.0 in each component, or equivalent.
You can apply for postgraduate study using our Postgraduate Online Application Form. It's a quick and easy process.
The course information set out here may change before you begin, particularly if you are applying significantly in advance of the start date.