Music Performance Studies
Department of Music, Faculty of Arts and Humanities

Develop as a performer with stylistic awareness and an understanding of how to prepare for the concert platform.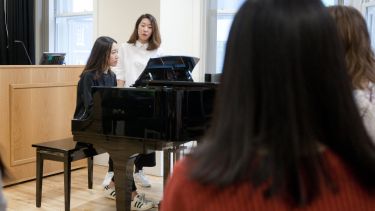 Course description
This MA will help you build the stylistic awareness and advanced techniques you need to perform music at concert level. Through workshops, masterclasses and one-to-one lessons with specialist tutors, you'll hone your abilities as both a solo and ensemble performer. 
This unique course combines traditional areas of study, such as history and composition, alongside newer disciplines, such as music psychology. 
You'll take modules that develop your understanding of performance as a research-informed discipline, and you'll have the opportunity to collaborate on creative projects with other MA students studying music.
We'll help you develop your critical thinking along with your practical skills. There are lots of opportunities for you to gain experience for the concert platform. 
We have a reputation for research of international quality and play an important role in Sheffield's thriving cultural life. Students will have the ability to get involved with a diverse range of musical ensembles, and perform for Sheffield concert series. The Department of Music also has close links with Music in the Round, which brings some of the world's finest musicians to Sheffield.
The course culminates in a public recital demonstrating your stylistic awareness, accomplished technical control, imaginative use of colour and texture for your chosen repertoire at a professional standard.
How to apply
You can choose to take a piano performance pathway or an instrumental performance pathway. Please select the relevant course when you apply:
MA Music Performance Studies (Piano) MUST73

MA Music Performance Studies MUST64
You'll need to provide a portfolio with your application.
Modules
Teaching
The course is taught through lectures, seminars, workshops and tutorials. These are combined with departmental study days and extracurricular individual instrumental or vocal tuition, professional workshops, and performance opportunities, all of which makes for a stimulating and supportive study environment.
Learn more about your supervisors:
Assessment
You'll be assessed through practical, experiential and theoretical methods that include performances, presentations and essays. You will work towards a final recital at the end of the course, and written essays will assess your knowledge of a broad range of current artistic practices along with your skills in evaluation, analysis and criticism, information organisation and writing.
Duration
1 year full-time
2 years part-time
Your career
Many of our graduates have found success in the music profession as performers, while a large number have gone onto teach or establish their own music freelance business. Others have stayed to continue their studies at PhD level, or taken up offers to study further at leading music conservatoires.
Studying a performance-based masters in a university where there are experts in other areas is a great opportunity. Being able to address my performance with new perspectives as a result of cross-specialisation input has brought new ideas and freshness to my own approach as a musician.
MA Music Performance Studies
Entry requirements
You'll need a 2:1 in music or a combined degree with a substantial music component.
Degrees in other related subjects may be acceptable depending on your background.
Provide a portfolio with your application
When you apply you'll need to provide a portfolio in the form of a video. It must include two contrasting pieces of different styles and eras that demonstrate your expressive and technical flexibility. Classical singers should choose works in two different languages. Musicians performing in a popular style can choose works from the same era but they should show sufficient contrast. The portfolio should be approximately 20 minutes.
To submit your portfolio, you should do one of the following:
upload your video recordings with your postgraduate online application
provide an online link to your performance portfolio in your postgraduate online application
send a DVD by post addressed to: Music Admissions, MA Music Performance Studies, University of Sheffield, Department of Music, Jessop Building, 34 Leavygreave Road, Sheffield S3 7RD
English language requirements
Overall IELTS score of 6.5 with a minimum of 6.0 in each component, or equivalent.
Fees and funding
University and faculty funding is available each year. The closing date for applications is mid-January. The department has a small number of tuition studentships available. The closing date for these is the end of April. You can also apply for a small grant to support your postgraduate research project.
You can apply for postgraduate study using our Postgraduate Online Application Form. It's a quick and easy process.
The course information set out here may change before you begin, particularly if you are applying significantly in advance of the start date.