Department of Animal and Plant Sciences, Faculty of Science

Gain hands-on experience of the specialist entomological techniques and practices that underpin the study of insects.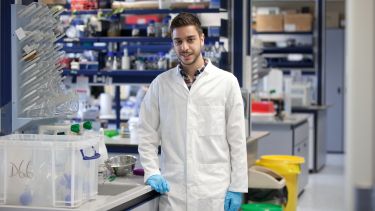 Course description
This 12-month course will address the core skills underpinning any scientific study of insects. You'll learn how to produce museum-quality levels of sample preparation, material and archiving and how to establish and maintain insect cultures to be able to apply your skills to your entomological interests. Topics that you'll cover include Taxonomy and Archiving, Husbandry, and Anatomy and Imaging.
As part of your Individual Research Project, you'll spend 3 months conducting independent research, putting your new skills into practice to address an insect-related research question. Some students will have the opportunity to work with specialists at the Natural History Museum.
You'll also spend a week in a research station undertaking experiments on insect-pollinator systems to cement your learning.
After your degree
With hands-on experience of the specialist entomological techniques, you'll be ready to pursue careers in insect-related research, policy and science communication, collecting and archiving insects, or working within seeds, food, crop, agri-tech and pest control roles for commercial and government organisations. This course is also great preparation for a PhD.
Modules
Core modules
Taxonomy and Archiving
Husbandry
Anatomy and Imaging
Field Course
Scientific Skills and Project Management
Individual Research Project
Teaching
Lectures
Tutorials
Workshops
Field course
Individual research
Assessment
Essays
Portfolio work
Practical work
Research project
Presentation
Duration
1 year full-time
Entry requirements
A 2:2 honours degree, or equivalent, in biological sciences or a related subject.
English language requirements
Overall IELTS score of 6.5 with a minimum of 6.0 in each component, or equivalent.
You can apply for postgraduate study using our Postgraduate Online Application Form. It's a quick and easy process.
The course information set out here may change before you begin, particularly if you are applying significantly in advance of the start date.