Advanced Aerospace Technologies
Aerospace Engineering, Faculty of Engineering

Ambitious aerospace graduates with a BEng can choose to specialise further, enabling you to enhance your skills and knowledge.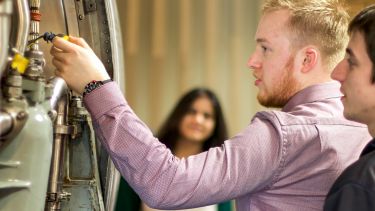 Course description
Take your knowledge of aerospace engineering to the next level on this specialist one-year course.
Alongside traditional aeronautical subjects such as materials, structures, aerodynamics and propulsion, you will study concepts of systems integration and flight control, essential to the production of more efficient and environmentally-friendly aircraft and aerospace systems. You will get to choose the direction your studies take by specialising further in aeromechanics or avionics.
You will have the unique opportunity to work alongside professionals through our 12-week industrial training programme, as well as designing and building an unmanned air vehicle as part of the group design project.
The course draws upon expertise from six departments in the faculties of engineering and science, as well as the University's management school. This breadth and depth of study will ensure you graduate as a highly knowledgeable aerospace engineering specialist.
Modules
Core modules
Aerospace Group Design Project: Design
Aerospace Group Design Project: Build and Test
Aerospace Individual Investigative Project
Optional modules
Aeromechanics stream
Industrial Training Programme: Aeromechanics
Advanced Manufacturing: Part 1
Design and Manufacture of Composites
Finite Element Techniques
Computational Fluid Mechanics
Managing Innovation and Change in Engineering
Industrial Applications of Finite Element Analysis
Advanced Engineering Fluid Dynamics
Advanced Dynamics
Aviation Safety and Aeroelasticity
Advanced Aerospace Propulsion Technology
Avionics stream
Industrial Training Programme: Avionics
Hardware-in-the-Loop and Rapid Control Prototyping
Industrial Training Programme: Avionics
Advanced Industrial Control
Mobile Robotics and Autonomous Systems
Multi-Sensor and Decision Systems
Advanced Space Systems and Space Weather
Real-Time Embedded Systems
Modern Control and System Identification
Theory of Distributed Systems
Testing & Verification in Safety Critical Systems
Antennas, Radar and Navigation
Energy Storage Management
Motion Control and Servo Drives
Electronic Communication Technologies
Teaching
Lectures
Laboratory classes
Tutorials and example classes
Design classes
Industrial and research seminars
Group projects
Assessment
Exams
Coursework assignments
Oral and poster presentations
Class tests
Duration
1 year full-time
Entry requirements
2:1 BEng in aerospace engineering.
BEng mechanical engineers who have taken significant aerospace modules will also be considered.
English language requirements
Overall IELTS score of 7.0 with a minimum of 6.5 in each component.
We're currently working on £40.4m of aerospace and defence-related research projects with companies such as Airbus, Rolls-Royce and BAE Systems.

Dr Martin Jackson
Director of Aerospace Engineering
You can apply for postgraduate study using our Postgraduate Online Application Form. It's a quick and easy process.
The course information set out here may change before you begin, particularly if you are applying significantly in advance of the start date.