2021 start
Advanced Mechanical Engineering
Department of Mechanical Engineering, Faculty of Engineering

Strengthen your knowledge and understanding of mechanical engineering. Choose from a wide selection of optional modules to tailor your studies to your interests.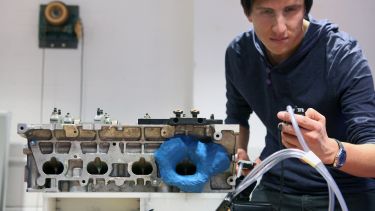 Course description
This highly flexible course is designed to strengthen your knowledge and understanding of mechanical engineering. It offers a wide selection of optional modules, allowing you to tailor your studies to reflect your interests, and graduates go on to work in many areas of engineering. You'll also have the chance to further explore a subject that interests you through your individual research project.
Previous study
To give you a fair chance of succeeding on your course, we need to make sure you have enough experience in relevant subjects. All of our MSc courses are designed for students who have completed a degree similar to our BEng Mechanical Engineering.
Many of our MSc students come from different subject backgrounds, including aerospace, automotive, civil and marine engineering courses, as well as mechatronics, manufacturing, mathematics and physics.
We would like to see evidence of experience in the key subject areas listed below:
| | |
| --- | --- |
| Key Subject | Some (but not all) of the topics you should be familiar with: |
| Solid mechanics | Mohr's circle, 2D elasticity including plane stress and plane strain, bending of beams, buckling of columns, plasticity, fracture mechanics. |
| Statics, dynamics and control | Equilibrium, free body diagrams, kinematics and kinetics of mechanisms, vibrations, resonance, block diagram representation of feedback control, Laplace domain models. |
| Fluid mechanics | Laminar and turbulent flows, Reynolds number, Bernoulli's equation, calculation of pressure drop in pipework. |
| Thermodynamics and heat transfer | First and Second Laws, Carnot, Rankine and Otto cycles, general conduction equation, convection, Nusselt number, emissivity, view factors. |
We would normally expect to see these subjects on your transcript. If you have studied these topics as part of modules with very different titles, you will need to indicate this on your application form.
Accreditation
This course is accredited by the Institution of Mechanical Engineers and meets, in part, the academic requirements for Chartered Engineer status. Our MSc graduates who also have an accredited BEng (Hons) will be able to show they have met all the academic requirements for Chartered Engineer (CEng) status.
Modules
Explore core and optional modules
The content of our courses is reviewed annually to make sure it's up-to-date and relevant. Individual modules are occasionally updated or withdrawn. This is in response to discoveries through our world-leading research; funding changes; professional accreditation requirements; student or employer feedback; outcomes of reviews; and variations in staff or student numbers. In the event of any change we'll consult and inform students in good time and take reasonable steps to minimise disruption. We are no longer offering unrestricted module choice. If your course included unrestricted modules, your department will provide a list of modules from their own and other subject areas that you can choose from.
Teaching
We use a variety of teaching methods to support your learning, including tutorials, lectures, practical work, group project work, virtual learning environments and individual research.
Our MSc programmes provide students with the technical expertise and professional skills expected of modern engineers, along with a supportive environment for them to experiment with and integrate these skills. Furthermore, our programmes are designed to provide individuals with the flexibility to customise their MSc to support their own career goals and aspirations.
Assessment
Our assessment methods are designed to support the achievement of learning outcomes and develop your professional skills. This may include integrated projects, examinations and portfolio work.
Regular feedback is also provided, so you can understand your own development throughout the course.
Duration
1 year full-time
Entry requirements
A 2:1 honours degree or equivalent in mechanical engineering or a related subject.
If you have a qualification in another science/engineering subject, such as maths or physics, or you have relevant professional experience, we'll also consider your application.
Overall IELTS score of 6.5 with a minimum of 6.0 in each component, or equivalent.
You can apply for postgraduate study using our Postgraduate Online Application Form. It's a quick and easy process.
Any supervisors and research areas listed are indicative and may change before the start of the course.
Recognition of professional qualifications: from 1 January 2021, in order to have any UK professional qualifications recognised for work in an EU country across a number of regulated and other professions you need to apply to the host country for recognition. Read information from the UK government and the EU Regulated Professions Database.