2021 start
Advanced Metallurgy (Distance Learning)
Department of Materials Science and Engineering, Faculty of Engineering

Our online version of the full-time course offers you an in-depth and up-to-date understanding of developments in metallurgy and metallurgical engineering.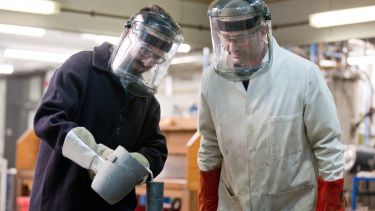 Course description
This degree programme is fully accredited by the Institute of Materials, Minerals and Mining (IoM3)
The MMet Advanced Metallurgy is available to study by distance learning, over 2 years. The course content is similar to the face-to-face version of the course, and the end qualification is the same; it's just the method of delivery that is different. 
The distance learning version of the course is only available to individuals either directly working in, or with the support of a metals/materials related industry. This is important as your 60 credit project module will be directly related to this industry, and will require the necessary facilities to carry out the research.
---
We teach an in-depth and up-to-date understanding of current developments in metallurgy and metallurgical engineering.
You'll learn the fundamentals of thermodynamics, structure and mechanical behaviour, and study more advanced topics like engineering alloys, processing, physical metallurgy, modelling and performance in service.
Many of our graduates go on to senior positions within their current employers or in the wider metallurgical community. The course also provides the ideal background for pursiuing a PhD degree in engineering materials.
Modules
Core modules
Metals
Science of Materials
Materials Processing and Characterisation
Materials Selection, Properties and Applications
Technical Skills Development
Metallurgical Processing
Advanced Materials Manufacturing
Deformation, Fracture and Fatigue
Heat and Materials with Application
Research project in an area of your choice
The content of our courses is reviewed annually to make sure it's up-to-date and relevant. Individual modules are occasionally updated or withdrawn. This is in response to discoveries through our world-leading research; funding changes; professional accreditation requirements; student or employer feedback; outcomes of reviews; and variations in staff or student numbers. In the event of any change we'll consult and inform students in good time and take reasonable steps to minimise disruption. We are no longer offering unrestricted module choice. If your course included unrestricted modules, your department will provide a list of modules from their own and other subject areas that you can choose from.
Teaching
Working alongside students and staff from across the globe, you'll tackle real-world projects, and attend lectures, seminars and laboratory classes.
Assessment
You'll be assessed by formal examinations, coursework assessment, research reports and poster presentations. You will be required to make one visit to Sheffield at the end of the course for the examination and project presentation.
Duration
2 years, part-time
Student profile
I was so impressed with the work of the academics in the department that I chose to study the MMet course. In receiving the scholarship, I'm not only more secure financially but with such an honour from a world-class institution, it will help me in future career applications.
MMet Metallurgy graduate from India, now PhD Researcher at ETH Zurich in Switzerland
Entry requirements
A good honours degree in materials, metallurgy, a physical science (chemistry or physics) or a related engineering subject.
A significant part of the course involves completing a research project. This project will need to be done in the workplace under the day-to-day supervision of a manager. A company working in a relevant sector will need to sponsor your project. This could be your current employer or a company for which you will perform a research project.
Overall IELTS score of 6.5 with a minimum of 6.0 in each component, or equivalent.
You can apply for postgraduate study using our Postgraduate Online Application Form. It's a quick and easy process.
Any supervisors and research areas listed are indicative and may change before the start of the course.
Recognition of professional qualifications: from 1 January 2021, in order to have any UK professional qualifications recognised for work in an EU country across a number of regulated and other professions you need to apply to the host country for recognition. Read information from the UK government and the EU Regulated Professions Database.