Department of Molecular Biology and Biotechnology, Faculty of Science

This course gives you a real-world insight into the approaches used to tackle the global threat of antimicrobial resistance and prepares you for an exciting career in this area. You'll receive hands-on training from our Florey Institute scientists, NHS clinicians and biotechnology industry experts.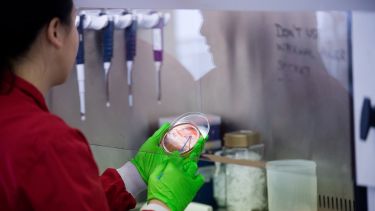 Course description
Designed in collaboration with the NHS, throughout your course you'll learn about the latest clinical practice in the fast-moving area of antimicrobial resistance. Guest lectures from experts in the biotechnology and pharmaceutical industry, and public health policy introduce you to the different approaches that are being used to overcome this global threat
You'll get hands-on in the lab with modules led by our scientists and clinicians to address basic biological problems in understanding the breadth of host-pathogen interaction.
The biggest part of the course is the Research Project in Antimicrobial Resistance. Here you'll spend three months researching an area of your choice that matches your future career aspirations and may include microbiology and host-pathogen interactions, public health, or drug discovery and new therapies. Some students may have the opportunity to complete their research project with the NHS.
After your degree
This course is designed to equip students with the specialist knowledge and transferable skills to pursue careers in public health, with the NHS or similar organisations around the world, policy making for NGOs or in industry, consultancy, and in research scientist or infection control roles for biotechnology or pharmaceutical companies. It's also great preparation for a PhD.
Intercalation
We accept medical students who wish to intercalate their studies. Find out more on the Medical School's website.
Modules
Core modules
Infectious Disease and Antimicrobials
AMR and Current Clinical Practice
Global Policy, Disease Control and New Therapies
Developing Communication Skills
Research and Communication across the Disciplines
Research Project in Antimicrobial Resistance
Teaching
Our masters courses give you a solid grounding in experimental science, with personal supervision and tutorials by experienced scientists, based in modern, well-equipped labs, leading to a project in which you design and conduct your own research. You will learn cutting edge science from research leaders, and gain practice in reading scientific literature and writing reports.
Assessment
Assessment is based on a combination of coursework, project work, formal examinations and a dissertation.
Duration
1 year full-time
2 years part-time
Entry requirements
A 2:1 degree or equivalent university qualification in molecular biology or a related subject (eg biochemistry, genetics, biotechnology, and microbiology).
We also accept medical students who wish to intercalate their studies.
Candidates with professional experience may also be considered following interview.
English language requirements
Overall IELTS score of 6.5 with minimum of 6.0 in each component, or equivalent.
You can apply for postgraduate study using our Postgraduate Online Application Form. It's a quick and easy process.
The course information set out here may change before you begin, particularly if you are applying significantly in advance of the start date.