Department of Journalism Studies, Faculty of Social Sciences

Learn how to hunt down stories, then record and edit your content for TV, radio and online. Sharpen up your skills in our Broadcast Zone, which simulates a real studio.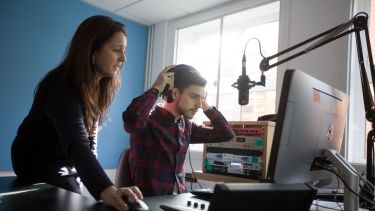 Course description
Determined, articulate, and fascinated by current affairs and radio and television news? Learn journalism in our purpose-built Broadcast Zone, using industry-standard tech, then go out into the city to put your skills to the test.
We've invested heavily in audio and video facilities, so you'll be immersed in TV, radio and online techniques right from day one. Nurture your skills using our TV news studio and gallery, radio studios and production booths, and high-tech editing suite – all laden with the same industry-standard equipment and software used by the professionals. You'll learn how to record and edit material using our tech, and how to tell stories online. We'll show you mobile journalism techniques so you can create and publish digital content wherever you are, with some bespoke treatments for social media.
You'll learn how to hunt down stories and develop your interview technique so you can ask the high-impact questions that matter. Our experts in media law, regulation and public administration will make sure your journalism is responsible and ethical as well as hard-hitting. On production newsdays, you'll work against the clock as part of a team that goes out into the city to find the news, shoot footage and create bulletins to meet tough deadlines back at the Broadcast Zone. It's demanding work – but that's how our students finish the degree newsroom-ready, as complete broadcast journalists.
This degree is professionally accredited by the Broadcast Journalism Training Council, an important benchmark of quality recognised across the UK media industry.
Accredited by the Broadcast Journalism Training Council
Modules
Core modules
Researching News
Broadcast News
Law for Journalists
Ethics and Regulation
Power and Society
Advanced Broadcast Journalism
Portfolio (PGDip students don't take this module)
Optional modules
Dealing with Data: Statistics for Journalists
Communicating with the Media
Radio and NGO Communication in Conflict-Affected Areas
Media Freedom: European, UK and US Perspectives
Teaching
There are lectures, seminars, group workshops, individual and team assignments.
Assessment
You're assessed on essays, examinations and practical broadcast journalism – producing news stories, radio and TV news items and features, web pages and portfolios.
Duration
MA - 1 year full-time
Postgraduate Diploma - 9 months full-time
I did the Broadcast Journalism MA at Sheffield. The most valuable part of the course was the work experience. That gave me a real idea of what working in the industry would be like. When I did get a job, I felt like I was already up and running.
Over the years I've worked in local and regional radio and TV and was a presenter on the BBC News Channel for a few years before moving into network TV about 12 years ago. I currently present BBC Breakfast three days a week and host Football Focus every Saturday.
Broadcaster and MA Broadcast Journalism graduate
Entry requirements
You must have one of the following:
A 2:1 honours degree (we will consider a 2:2 if we are sufficiently impressed by your potential).
An alternative qualification approved by the University as degree equivalent.
Substantial previous work experience in a media-related role.
English language requirements
Overall IELTS score of 7.5 with a minimum of 7.0 in each component, or equivalent.
Fees and funding
There are a number of bursaries for students on the journalism, magazine and broadcast courses, from the Scott Trust (owner of The Guardian), Journalism Diversity Fund and others.
You can apply for postgraduate study using our Postgraduate Online Application Form. It's a quick and easy process.
The course information set out here may change before you begin, particularly if you are applying significantly in advance of the start date.