Information School, Faculty of Social Sciences

All organisations face the challenge of how to analyse and use data. On this course, you'll learn data science concepts and how to support data-driven approaches to problem-solving within complex organisational and societal contexts.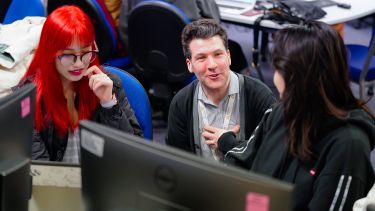 Course description
This course is accredited by CILIP
Gain an in-depth understanding of the theory and practice of Data Science and its application in different organisational contexts. You'll be provided with a set of fundamental principles that support ethical extraction of information and knowledge from data. Case studies will help to show the practical application of these principles to real life problems.
The programme is centred on three key aspects of data science: fundamental data-related principles, supporting infrastructures and organisational context. You'll gain practical skills in handling structured and unstructured data, analysing and visualising data, data mining, as well as gaining hands-on experience of software tools used and their use in real-world settings. You'll gain the skills of a data manager who understands what the algorithms (e.g., for data mining or handling 'Big Data') can do and when to use them for the benefit of the organisation.
Throughout the programme, there will be opportunities to gain hands-on experience using a variety of tools, such as R, Python and SPSS, Weka or Tableau/Spotfire. You'll conduct in-depth research into your particular areas of interest for your dissertation.
Modules
Teaching
A variety of teaching methods are used combining lectures from academic staff and professional practitioners with seminars, tutorials, small-group work, and computer laboratory sessions. There is a strong emphasis on new ways of exploiting data to support decision-making for a range of domains and problems in an organisational context. In addition to the taught components, you will be expected to engage in independent study, reading and research in support of your coursework.
Assessment
Assessments are designed to test your grasp of the theoretical principles, technologies and frameworks used to collect, store, analyse and exploit data; they may include essays, report writing, oral presentations, in-class tests and group projects.
There is a dissertation of 10-15,000 words, which provides you with the opportunity to focus in depth on a topic of your choice with one-to-one supervision. Opportunities exist for both project and dissertation studies to be carried out with our collaborating organisations, which can provide the opportunity to tackle real-life problems.
Duration
1 year full-time

2 years part-time

3 years part-time
Entry requirements
You'll need at least a 2:1 in any subject.
English language requirements
Overall IELTS score of 6.5 with a minimum of 6.0 in each component, or equivalent.
We use a staged admissions process to assess applications for this course. You'll still apply for this course in the usual way, using our Postgraduate Online Application Form.
The course information set out here may change before you begin, particularly if you are applying significantly in advance of the start date.