European Public Health Master
Europubhealth: European Masters Programme in Public Health
School of Health and Related Research, Faculty of Medicine, Dentistry and Health

We tackle some of the world's greatest health challenges to improve the health and care of people across the globe.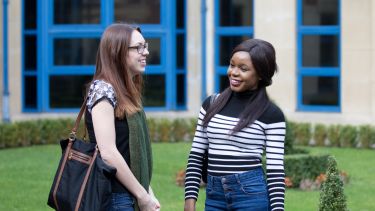 Course description
This is a two-year dual degree programme provided by the Europubhealth Erasmus consortium of which the University of Sheffield is a member. The course draws on the expertise of eight European universities and, through a competitive application process, offers scholarships and self-funded places each year.
In your first year, you will study core competencies in public health at either the University of Sheffield, University
College Dublin, taught in English, or the University of Granada, taught in Spanish. In your second year, you will choose to specialise in a specific area of public health practice at a consortium member university in France, the Netherlands, Poland, Belgium or Spain, and also undertake a placement and dissertation. At the end of the first year, you will join other students and study on a 3 week integration module in Rennes.
Students who successfully complete the two-year programme will receive a Masters degree awarded by the university where the first year was studied and a Masters degree awarded by the university where the second year was studied.
Apply now via europubhealth.org
Modules
Duration
2 years, full-time (the first year of study is at the University of Sheffield)
Your career
Our public health masters graduates go on to work in very diverse areas, although many find work in a health or public health setting. Of particular note is that a significant percentage go on to undertake further doctoral/PhD study or to work in research or academic settings, which we feel reflects the quality of our research-led teaching in preparing and inspiring students.
Recent graduates from our public health course are now working in public health consultant roles, in data analysis positions, and project management. Students have also found excellent opportunities at the World Health Organisation (WHO), Organisation for Economic Co-operation and Development (OECD) and Save the Children.
I study for two years, and my second year is at a different European institution. Next year I will be in Paris studying Environmental and Occupational Health at EHESP (École des Hautes Études en Santé publique). The course is so broad, it gives students space to develop their own interests within public health.
EuroPubHealth (European MPH programme)
English language requirements
Overall IELTS score of 6.5 with a minimum of 6.0 in each component, or equivalent.
Fees and funding
You may be eligible for a scholarship from Erasmus+. For further information, and how to apply for a place, visit: www.europubhealth.org
You'll need to apply for this course via the Europubhealth website:
The course information set out here may change before you begin, particularly if you are applying significantly in advance of the start date.