2021 start
Evolution and Behaviour
Department of Animal and Plant Sciences, Faculty of Science

Work alongside students and staff who are at the forefront of research into organism evolution and behaviour.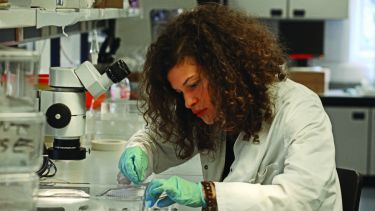 Course description
The connection between how organisms have evolved and how they behave is a fundamental principle of biology. It can show us why organisms are the way they are, and answer deep questions about the diversity of life on earth.
Our world-class research in this area spans topics including animal behaviour, molecular ecology, sexual selection and sexual conflict, speciation, the evolutionary genomics of adaptation, evolutionary developmental, ecological immunity, and bioinformatics and life history evolution, giving you the opportunity to carry out cutting-edge research in an area of evolution and behaviour that interests you most.
Research experience
This research-focused course allows you to spend an academic year embedded in one of our research groups, working alongside students and staff who are at the forefront of their research field. Throughout your course, you'll develop your research skills, giving you the opportunity to contribute new knowledge in your chosen area.
Whether you complete your research in the field, the lab or in industry, in the UK or abroad, you'll be provided with a research budget for your project. Previous students have conducted fieldwork in locations including Brazil, South Africa and Sweden as well as closer to home in the wonderful Peak District National Park on our doorstep.
Example research projects include:
The diet restriction response in Drosophila melanogaster: precise mechanisms and a novel genetic screen using fecundity
The effect of breeding interactions on the post-breeding social system of a cooperative bird
Reconstructing ROMA population history
How to apply
Because of the research-intensive nature of this course, we ask you to include a short supporting statement with your application. This should explain how your interests and experience relate to the evolution and behaviour research we do in the Department of Animal and Plant Sciences, including which particular supervisors or research groups you would be most interested in working with.
Please submit your application by 15th August if you require a student visa and by 31st August if you do not require a visa.
Potential supervisors
Choose a subject area:
Animal behaviour

Animal evolution

Plant evolution

Population modelling

Dr Dylan Childs

 - How demographic processes and environmental factors interact to shape population-level processes. Combines mathematical and statistical modelling with lab and field data population dynamics and natural selection in a wide range of laboratory and free-living animal and plant populations

Dr Kai Zeng

 - Population genetics; fundamental evolutionary processes such as mutation, genetic drift, genetic recombination, and natural selection. How these processes interact with one another, and the impact of these interactions on evolution

Microbial evolution

Dr Ellie Harrison -

Ecology and evolution of plant associated microbial communities. Specifically, how communities are shaped by mobile genetic elements and horizontal gene transfer
Modules
The content of our courses is reviewed annually to make sure it's up-to-date and relevant. Individual modules are occasionally updated or withdrawn. This is in response to discoveries through our world-leading research; funding changes; professional accreditation requirements; student or employer feedback; outcomes of reviews; and variations in staff or student numbers. In the event of any change we'll consult and inform students in good time and take reasonable steps to minimise disruption. We are no longer offering unrestricted module choice. If your course included unrestricted modules, your department will provide a list of modules from their own and other subject areas that you can choose from.
Teaching
You'll learn through a mixture of working in a research laboratory or on a field-based research project, tutorials, discussion groups, seminars, and statistics and other workshops.
Assessment
Assessment includes, but is not limited to, a project report, literature review, critiques, short reports and essays and oral presentations.
Duration
1 academic year full-time
Your career
This degree provides an ideal springboard for a research career in your chosen field, including crop and soil science, evolutionary and behavioural research, genomics and related technologies and ecological and environmental research. Past students have gone on to study for PhDs, as well as taking up positions in government science, environmental consultancy and industry.
Student profile
As part of my MRes, I carried out the fieldwork for my project investigating local adaptation in snails while working at the Sven Lovén Centre in Tjärnö, Sweden. It's such an incredible country and the chance to be there on a Masters budget is pretty incredible.
MRes Evolution and Behaviour
Entry requirements
A 2:1 BSc honours degree, or equivalent, in biology or a closely related quantitative subject. In addition, you should be able to demonstrate evidence of aptitude and enthusiasm for research eg an undergraduate research project.
Overall IELTS score of 6.5 with a minimum of 6.0 in each component, or equivalent.
Because of the research-intensive nature of this course, we ask you to include a short supporting statement with your application. Please see the course description above for more details.
Any supervisors and research areas listed are indicative and may change before the start of the course.
Recognition of professional qualifications: from 1 January 2021, in order to have any UK professional qualifications recognised for work in an EU country across a number of regulated and other professions you need to apply to the host country for recognition. Read information from the UK government and the EU Regulated Professions Database.