MSc
PG Certificate
PG Diploma
Health Economics and Decision Modelling
School of Health and Related Research, Faculty of Medicine, Dentistry and Health

We tackle some of the world's greatest health challenges to improve the health and care of people across the globe.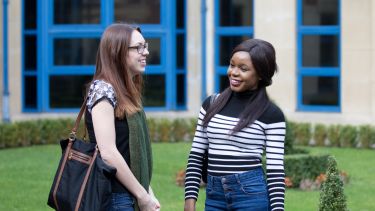 Course description
On this course you'll study a growing area with a worldwide demand for qualified specialists.
The importance and use of health technology assessment and health economic modelling is rapidly increasing. This course helps you to become highly employable by developing the analytical skills required to evaluate the clinical outcomes and cost-effectiveness of health technologies such as new drugs, public health initiatives, screening programmes and diagnostic tools.
Sheffield has nine professors of health economics and decision sciences, including the world-renowned Prof John Brazier and in Professors Alan Brennan, Jim Chilcott and Matt Stevenson who are some of the most experienced health economic modelling experts in the country. You'll develop the transferable skills and knowledge to work anywhere in the world as a professional decision-analytic modeller or health economist.
Modules
Explore core and optional modules
Continuing Professional Development
All modules on this course can be studied as standalone CPD modules. It is possible to complete standalone modules and then apply to transfer to an MSc/PGDip/PGCert qualification. Any time spent on the CPD route counts toward the time-limit a student has to complete their chosen qualification.
Teaching
You'll be taught through lectures, seminars, tutorials and independent study.
Assessment
Assessment is by coursework, examinations and a dissertation.
Duration
1 year full-time
2/3 years part-time
Your career
You will find career opportunities exist around the world (including the UK, Europe, USA, Australia, Africa, and Canada) in:
health-economics related consultancies that conduct health technology assessment projects for governments, reimbursement agencies or other clients outside of academia
health economics and decision science groups within academia – as a modeller or health-economic analyst working on projects for a range of clients – HEDS itself often employs graduates from the course
academia studying for a PhD in modelling, health economics or related disciplines such as informing trial design
the pharmaceutical industry in a health economics or reimbursement team
government or other health policy organisations such as NICE
health insurance companies
healthcare purchase or provider organisations
Outside of the field of health economics and health technology assessment, graduates will be well equipped with quantitative and modelling skills sought for jobs within government agencies such as the Government Operational Research Service (GORS) and quantitative or modelling roles within the commercial sector.
This course helped me get up to speed on health economics modelling terminology and techniques fast enabling me to progress considerably more quickly than would have been the case without.

Dawn Lee
MSc Health Economics and Decision Modelling graduate
Entry requirements
2:1 honours degree in a numerate subject such as economics, operational research, mathematics, statistics, pharmacy, industrial engineering, management science, physics, pharmacy or systems control.
English language requirements
Overall IELTS score of 6.5 with a minimum of 6.0 in each component, or equivalent.
You can apply for postgraduate study using our Postgraduate Online Application Form. It's a quick and easy process.
The course information set out here may change before you begin, particularly if you are applying significantly in advance of the start date.