2021 start
Healthy Musculoskeletal Ageing
The Medical School, Faculty of Medicine, Dentistry and Health

The course provides multidisciplinary research training on the musculoskeletal system as a whole in the context of ageing. The training has a strong focus on employability.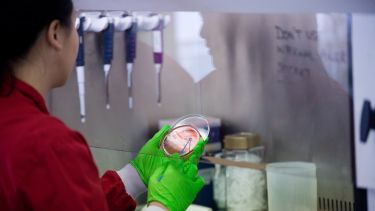 Course description
Lead academic: Dr Jennifer Walsh MBChB PhD FRCP FHEA
This unique one-year programme provides access to modules, placements and experts from three universities. The course is run by the Centre for Integrated research into Musculoskeletal Ageing (CIMA) and funded by the Medical Research Council and Arthritis Research UK.
CIMA is a collaboration between the University of Sheffield, the University of Liverpool and the University of Newcastle. Although you'll be registered at the University of Sheffield, you'll enjoy modules, placements and an expert supervisory team from all three sites.
The course provides multidisciplinary research training on the musculoskeletal system as a whole in the context of ageing. You'll focus on the functionality of bones, joints, ligaments and muscles as they age and learn about the prevention and treatment of age-related clinical disorders. Topics range from basic science to clinical aspects, from in vitro to in vivo models, and from the latest advances in the assessment of the musculoskeletal system to lifestyle interventions.
This MRes is ideal preparation for a PhD and for those interested in following career paths in Orthopaedics, Geriatrics, Sports and Exercise Science, Rheumatology, Physiotherapy, Bioengineering.
Musculoskeletal ageing is fast becoming one of the key global health challenges of the future, with increasing demand for experts in the field, so the course has a strong focus on employability. We'll train you to take ownership of the development of your own skills, advise you as you choose activities specific to your own needs and support you as you create an e-portfolio of your work. We have strong links with industry and can even offer you the chance to have industrial mentoring.
Intercalation
We accept medical students who wish to intercalate their studies. Find out more on the Medical School's website.
Modules
The content of our courses is reviewed annually to make sure it's up-to-date and relevant. Individual modules are occasionally updated or withdrawn. This is in response to discoveries through our world-leading research; funding changes; professional accreditation requirements; student or employer feedback; outcomes of reviews; and variations in staff or student numbers. In the event of any change we'll consult and inform students in good time and take reasonable steps to minimise disruption. We are no longer offering unrestricted module choice. If your course included unrestricted modules, your department will provide a list of modules from their own and other subject areas that you can choose from.
Teaching
The taught element is online over 12 weeks and may be taken remotely (depending on student status, live interactions will take place between 9–5pm UK time). This includes live lectures, wikis and blogs, and tutor support.
The research project involves hands-on laboratory or clinical work, and can be taken at whichever of the three universities holds the relevant expertise.
You'll also have the chance to take part in seminars, workshops and networking events, with some events involving industry and funders.
Assessment
You'll be assessed through exams, coursework, a mock grant proposal and a research project dissertation.
Duration
1 year full-time
Your career
You will be equipped for a career in wide range of areas including, clinical or veterinary practice, allied health professions, sports science, biomedical research and the commercial/private sector.
Our graduates have gone on to have careers in medicine, veterinary science, dentistry, biomedical research, teaching, the pharmaceutical industry and scientific writing.
The course provides an ideal foundation to continue your studies at PhD level.
You can apply for postgraduate study using our Postgraduate Online Application Form. It's a quick and easy process.
Any supervisors and research areas listed are indicative and may change before the start of the course.
Recognition of professional qualifications: from 1 January 2021, in order to have any UK professional qualifications recognised for work in an EU country across a number of regulated and other professions you need to apply to the host country for recognition. Read information from the UK government and the EU Regulated Professions Database.