MSc
PG Certificate
PG Diploma
Information School, Faculty of Social Sciences

Aimed at graduates from any discipline, this course will teach you to design and implement information systems and effective project management techniques alongside practical computing skills, including computer programming.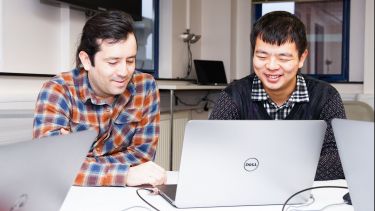 Course description
This course is accredited by CILIP
By the end of the course, you'll have an in-depth understanding of information systems within an organisational context, emphasising issues related to information, people, information technologies and the business environment. You'll have gained practical skills related to the design and analysis of information systems. Your knowledge and skills will be highly valued in industry, commerce and academia.
We have world-leading research groups in areas such as database systems, information retrieval, speech recognition, information extraction and information management. This means you'll not only gain knowledge of the well-established fundamentals, but also the most current and advanced theories and techniques.
The course focuses on core topics in information systems including information systems modelling, project management and the impact of information systems on organisations and society. These are complemented by practical skills in computer programming and the study of professional issues in computing. You can then tailor the course to your own interests by choosing from more specialised topics including those with a strong technical focus such as advanced programming and computer security and topics that focus on how information management can be used to benefit organisations through e-business and e-commerce and business intelligence.
If you have two or more years' relevant work experience in the information sector and wish to study for a higher degree, you may be interested in our Professional Enhancement programme. The programme is designed for people already in work who want to further their careers, and allows greater freedom in module choice in recognition of your existing expertise.
Modules
Teaching
A variety of teaching methods are used, combining lectures from academic staff and professional practitioners with seminars, tutorials, small-group work and computer laboratory sessions. There is strong emphasis on problem-solving and individual aspects of learning, with the expectation that you will engage in independent study, reading and research in support of your coursework.
Assessment
Assessments vary depending on the modules you choose but may include essays, report writing, oral presentations, in-class tests and group projects.
There is also a dissertation of 10–15,000 words, which provides the opportunity, under one-to-one supervision, to focus in depth on a topic of your choice. You may choose to carry out your dissertation with an external organisation, for instance if you are a Professional Enhancement student, your project could be directly related to your own work situation. In the past, students who have carried out such dissertations have welcomed the opportunity to tackle real-life problems.
Duration
1 year full-time

2 years part-time

3 years part-time
Entry requirements
You'll need at least a 2:1 in any subject. Relevant work experience is an advantage but we'll give consideration to candidates without experience.
If you don't have a first degree, but you have other qualifications and relevant work experience, you may be able to take the PGDip or PGCert.
English language requirements
Overall IELTS score of 6.5, with a minimum of 6.0 in each component.
We use a staged admissions process to assess applications for this course. You'll still apply for this course in the usual way, using our Postgraduate Online Application Form.
The course information set out here may change before you begin, particularly if you are applying significantly in advance of the start date.