International Criminology
School of Law, Faculty of Social Sciences

Deepen your knowledge of developments in criminology, criminal justice and restorative justice with this short, tailored programme.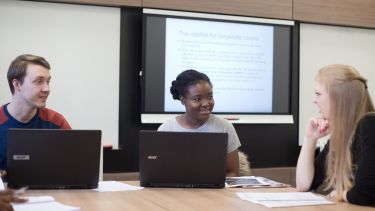 Course description
This course is directed at students seeking a short, tailored programme in international criminology and criminal justice as well as practitioners and policy-makers in these fields who may wish to deepen their knowledge and understanding of recent domestic and international developments.
The certificate will suit people who wish to gain expert, relevant and up-to-date information about contemporary and emergent theoretical, empirical and policy-related developments in these fields, with a particular emphasis on the comparative aspects of these developments.
You'll take fewer modules than classmates studying toward the MA International Criminology. The PG Certificate allows you to choose four taught modules from the MA programme, with the option to study on a full or part-time basis.
Upon successful completion, you also have the option to apply for transfer to the MA International Criminology, with the completed modules counted towards the masters degree.
Modules
Core modules
Students will choose four modules including:
Policing and Society
Responding to Crime in Europe
Restorative Justice
Issues in Comparative Penology
The Cultures of Criminology
Gender and Violence
Teaching
Teaching in each module takes place through seminars.
Assessment
Modules will be assessed by 3,000 words of written work, normally in the form of an essay.
Duration
1 year full-time
2 years part-time
Entry requirements
We require a minimum 2:1 honours degree, or international equivalent, in law, social sciences or humanities.
Other qualifications will be considered and relevant work experience will be taken into consideration alongside qualifications.
English language requirements
Overall IELTS score of 6.5 with a minimum of 6.0 in each component, or equivalent.
You can apply for postgraduate study using our Postgraduate Online Application Form. It's a quick and easy process.
Contact
The course information set out here may change before you begin, particularly if you are applying significantly in advance of the start date.