2021 start
International Postgraduate Certificate in Education (iPGCE)
School of Education, Faculty of Social Sciences

Enhance your professional performance by developing a deeper understanding of planning, teaching and assessment strategies, new technologies and links between practice, theory and research.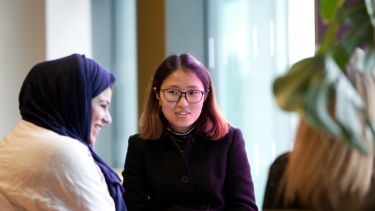 Course description
This course will help you develop a deep understanding of planning, teaching and assessment strategies, along with helping you to get the most out of new technologies.
It will help you to develop links between practice, theory and research through reflection on your own teaching, in order to enhance your professional performance.
Although you don't need to be a practising teacher to apply for the programme, you'll need to engage actively with current teaching, including planning, conducting and reflecting on a lesson (module 1). If you don't currently teach, you should be in a position where you have access to an education environment, for example through volunteering in a classroom setting or as a personal tutor.
Learning and teaching
The course is fully online. An introductory period during the first weeks of the course consists of reflective tasks, learning to use the library and online discussions, setting the expectations for the rest of the programme and ensuring all students begin the first module on a similar footing. Teaching and learning takes place at a variety of levels.
Personal supervision
Each student is assigned a personal supervisor. Your supervisor will advise on assignment proposals and drafts, and mark your work.
Independent study
Independent study is fundamental to the course. You'll critically engage with, reflect on and formulate perspectives on important issues and debates concerning teaching, schools and other teaching institutions, and explore education from relevant academic and other literatures.
Interactive collaboration
Because nearly all students on the course are professionals and based all over the world, core teaching and learning is asynchronous. This means you can work in your own time at your own pace. We encourage you to interact with fellow professionals on the course through discussions on a range of topics. You'll have lots of opportunities to share ideas and your own progressing work and development, and to explore current developments in education as well as course materials.
Qualified Teaching Status
While the iPGCE does not offer Qualified Teacher Status, many international schools recognise the value of our postgraduate education certificate. Please see our explanation of Qualified Teaching Status for more information.
Modules
Education, Teaching and Learning

This module will provide you with a solid grounding in the general principles of pedagogy, from a range of different theoretical perspectives, and will explore key topics such as aspects of teaching, planning, assessment, policy, classroom management, special educational needs, learner motivation and learner autonomy. Through guided reading, structured discussions and the use of other online materials, you will explore educational practice and issues particularly related to both your context and your teaching subject, comparing and contrasting your own experiences with those of other course participants and the literature, leading to critical reflection on yourself as an educational practitioner, and, ultimately, to the development of new educational practice.

30 credits

Practice-based Inquiry

This module provides you with the opportunity to devise and carry out a small scale research study on a topic relevant to your own practice. Supported by guided readings and online discussions surrounding research methods, methodology, ethics and the evaluation and writing up of research data, you will be able to reflect on your practice through the process of original research, culminating in a research report. The module gives you the opportunity to explore opportunities for change in your own context, either at classroom or institutional level, or, in some cases, going beyond, enabling you to base innovation on reading, research, and reflection.

30 credits
The content of our courses is reviewed annually to make sure it's up-to-date and relevant. Individual modules are occasionally updated or withdrawn. This is in response to discoveries through our world-leading research; funding changes; professional accreditation requirements; student or employer feedback; outcomes of reviews; and variations in staff or student numbers. In the event of any change we'll consult and inform students in good time and take reasonable steps to minimise disruption. We are no longer offering unrestricted module choice. If your course included unrestricted modules, your department will provide a list of modules from their own and other subject areas that you can choose from.
Assessment
You'll be assessed on:
a learning and teaching portfolio, which consists of a lesson plan, a teaching reflection, a pedagogical essay and a blog post, totalling 4,500 words (module 1)
a report on a small-scale research project, equivalent to 4,500 words (module 2).
Duration
1 year part-time (online)
Student profiles
It's very exciting to be able to use our findings, through research, to further/better inform not only our own teaching practice and learning journey, but also to have a positive impact on our work environment, and ultimately our students.

Matt Green
iPGCE Student
You can apply for postgraduate study using our Postgraduate Online Application Form. It's a quick and easy process.
Any supervisors and research areas listed are indicative and may change before the start of the course.
Recognition of professional qualifications: from 1 January 2021, in order to have any UK professional qualifications recognised for work in an EU country across a number of regulated and other professions you need to apply to the host country for recognition. Read information from the UK government and the EU Regulated Professions Database.