MA
PG Certificate
PG Diploma
2021 start
September
Librarianship
Information School, Faculty of Social Sciences

Aimed at resourceful people with excellent communication and organisational skills, this course is ideal for those with ambitions to work in library and information roles across a wide variety of sectors. The MA and PG Diploma awards are CILIP accredited.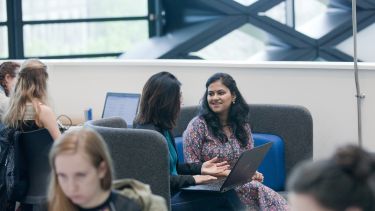 Course description
You'll be introduced to the best current thinking and practice needed to enter this fast developing sector. You'll learn core competencies in IT, management and information handling, together with a wide range of specialisms.
Library and information professionals need strong information handling, managerial and interpersonal skills, plus an understanding of the power of technology to transform information services provision. They must also have the imagination, commitment and enthusiasm to play a part in the exciting changes taking place in the fast-developing information world.
The skills of librarians and information specialists are essential to identify, control, organise and make accessible the ever-increasing amounts of information available in paper, digital and multimedia formats. This course prepares you for a professional role in areas ranging from public service to business.
There are a number of opportunities made available to students to gain experience of the workplace. These include part-time paid roles reserved for our students at the University of Sheffield Library, internships organised as part of the University internship scheme, and volunteering opportunities in various community-based projects. We support students in gaining places on these various schemes (taking particular care to ensure that student volunteers do not replace paid roles in any organisation), and those that choose to take advantage of them always find them very useful.
If you have two or more years' relevant work experience in the information sector and wish to study for a higher degree, you may be interested in our Professional Enhancement programme. The programme is designed for people already in work who want to further their careers, and allows greater freedom in module choice in recognition of your existing expertise.
Accreditation
CILIP accredited for the MA and PG Diploma awards
Modules
The content of our courses is reviewed annually to make sure it's up-to-date and relevant. Individual modules are occasionally updated or withdrawn. This is in response to discoveries through our world-leading research; funding changes; professional accreditation requirements; student or employer feedback; outcomes of reviews; and variations in staff or student numbers. In the event of any change we'll consult and inform students in good time and take reasonable steps to minimise disruption. We are no longer offering unrestricted module choice. If your course included unrestricted modules, your department will provide a list of modules from their own and other subject areas that you can choose from.
Teaching
The Information School has an international reputation for teaching and research in library management, and the latest ideas are fed directly into the Librarianship MA programme.
A variety of teaching methods are used, combining lectures from academic staff and professional practitioners with seminars, tutorials, small-group work and computer laboratory sessions, as well as visits to library and information services. There is strong emphasis on problem-solving and individual aspects of learning, with the expectation that you'll engage in independent study, reading and research in support of your coursework.
Teaching consists of two 15-week semesters. After this you will write your dissertation.
Assessment
Assessments vary depending on the modules you choose but may include essays, in-class tests, briefing papers and literature reviews, and creation of a website or database, or production of a library design, plus presentations.
There is also a dissertation of 10–15,000 words, which provides the opportunity, under one-to-one supervision, to focus in depth on a topic of your choice. You may choose to carry out your dissertation with an external organisation, for instance if you are a Professional Enhancement student, your project could be directly related to your own work situation. In the past, students who have carried out such dissertations have welcomed the opportunity to tackle real-life problems.
Duration
1 year full-time
2 years part-time
3 years part-time
Your career
A postgraduate qualification in library and information management is essential for many roles in the library and information profession. Our Librarianship MA programme has been designed for people who want to enter the profession or who are preparing to take the next step up in their careers.
Modern library and information services require professionals who can manage large volumes of information in both digital and traditional forms. You'll be equipped with the skills that are needed for the developing role of the library and information professional in organisations today.
Student profile
I chose to study at the Information School because of its academic reputation and because it allowed me to specialise in the topics of interest that will help me in my career. The facilities are excellent and the lecturers are very experienced and committed. There are also many different opportunities provided by the School and University to enhance your knowledge.
Entry requirements
You'll need at least a good 2:2 in any subject and work experience would be helpful, but it is not a necessity.
Please contact us if you have any queries about your work experience.
If you don't have a first degree, but you have other qualifications and relevant work experience, you may be able to take the PGDip or PGCert.
Overall IELTS score of 6.5 with a minimum of 6.0 in each component, or equivalent.
You can apply for postgraduate study using our Postgraduate Online Application Form. It's a quick and easy process.
Any supervisors and research areas listed are indicative and may change before the start of the course.
Recognition of professional qualifications: from 1 January 2021, in order to have any UK professional qualifications recognised for work in an EU country across a number of regulated and other professions you need to apply to the host country for recognition. Read information from the UK government and the EU Regulated Professions Database.