Nuclear Science and Technology
Department of Materials Science and Engineering, Faculty of Engineering

This course is run jointly with the members of the Nuclear Technology Education Consortium (NTEC). Learn from world-leading academics in the important area of nuclear waste immobilisation, decommissioning and clean-up.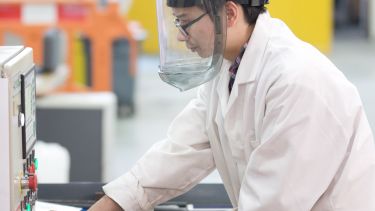 Course description
Accredited by The Institution of Engineering and Technology (IET), The Energy Institute (EI), The Institute of Materials Minerals and Mining (IoM3) and The Institution of Mechanical Engineers (IMechE)
This course is run in partnership with fellow members of the Nuclear Technology Education Consortium (Sheffield is one of the lead partners, along with Manchester and Liverpool) and gives you access to more than 90 per cent of the UK's academic expertise in nuclear waste immobilisation, decommissioning and clean-up. 
You'll be based in the department's world-leading NucleUS Immobilisation Science Laboratory, and will take eight modules on the nuclear fuel cycle. Topics include Decomissioning, Nuclear Technology and Environment and Safety. Each module includes a week at one of our partner universities.
Some modules require overseas travel.
Modules
Sample modules include:
Nuclear Waste Immobilisation and Disposal
Nuclear Fuel Cycle
Reactor Physics, Criticality and Design
Radiation Shielding
Teaching
Working alongside students and staff from across the globe, you'll tackle real-world projects, and attend lectures, seminars and laboratory classes.
Assessment
You'll be assessed by formal examinations, coursework assignments and a dissertation.
Duration
1 year full-time
Entry requirements
A good honours degree in materials, a physical science (chemistry or physics) or a related engineering subject.
English language requirements
Overall IELTS score of 7.0 with a minimum of 6.5 in each component, or equivalent.
You can apply for postgraduate study using our Postgraduate Online Application Form. It's a quick and easy process.
The course information set out here may change before you begin, particularly if you are applying significantly in advance of the start date.