School of Clinical Dentistry, Faculty of Medicine, Dentistry and Health

Develop your paediatric dentistry career with our DClinDent, taught by some of the UK's leading experts in the field.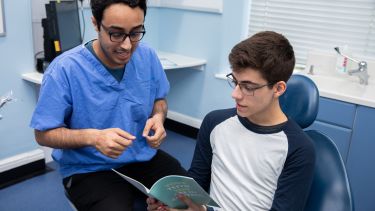 Course description
This DClinDent covers all aspects of the oral care of children and adolescents. The course is taught by leading experts in paediatric dentistry, and provides the academic and clinical skills you need to practise. You'll develop an evidence-based and critical approach to this specialism and to general clinical dentistry.
A focus on research skills will give you the confidence to complete future clinical or laboratory-based research programmes. In addition, the curriculum and clinical training provided by this course would allow you to sit the Intercollegiate Membership in Paediatric Dentistry or the Surgical Royal Colleges.
By attending consultant clinics and multidisciplinary clinics, you'll gain experience of diagnosis and treatment planning. The academic basis of paediatric dentistry is taught by lectures, tutorials and coursework. You'll also come together with other students to learn about behaviour management, clinical management and dental public health.
Once you've graduated, you'll be competent in diagnosing oral conditions in children and adolescents, and you'll be able to care for the common oral and dental needs of paediatric patients.
You'll develop a comprehensive knowledge of the advantages and disadvantages of paediatric restorative materials, as well as knowledge of the common non-pharmacological behaviour management techniques for children and adolescents.
You'll also know the principles of joint care involving dentoalveolar surgery, oral and maxillofacial surgery, periodontology, restorative and orthodontics.
Additional costs
The following costs aren't included in your course fees:
dissertation binding
essential textbooks
registration, travel and accommodation expenses for any external conferences and meetings
examination fees and related expenses for external examinations
Modules
Core modules
Research Methods in Clinical Dentistry
Principles of Clinical Management
Dental Public Health: Application and Critique
Dental Public Health: Foundation and Theory
Principles of Paediatric Dentistry I and II
Paediatric Dentistry Case Studies
Systematic Reviews and Evidence Synthesis Principles
Research Project Literature Review
Clinical Paediatric Dentistry Practice Programme I, II and III
Introduction to Statistics
Paediatric Dentistry Thesis
Teaching
Lectures
Tutorials
Seminars
Demonstrations
Clinical skills laboratory sessions
Case-based discussion
Extensive practical clinical experience
Parts of the course are taught with other disciplines. This creates a rich and lively environment for your learning.
Assessment
Continuous assessment
Examinations with clinical and academic components
Dissertation based on a research project
Presentation of selected patients
Duration
3 years full-time
Entry requirements
You need a basic dental qualification, and a minimum of two years' post-qualification clinical experience. MFDS or FDS is essential for UK students, and desirable if you are based elsewhere.
You must also meet our health and Disclosure and Barring Service requirements for clinical courses.
English language requirements
Overall IELTS score of 7.0 with a minimum of 6.5 in each component, or equivalent.
You can apply for postgraduate study using our Postgraduate Online Application Form. It's a quick and easy process.
The course information set out here may change before you begin, particularly if you are applying significantly in advance of the start date.