2021 start
Polymers for Advanced Technologies
Department of Chemistry, Faculty of Science

On this specialist course in polymer science and engineering, you'll learn how polymers are made and behave, how important polymer-based products are developed and how to use cutting-edge techniques to create new advanced materials.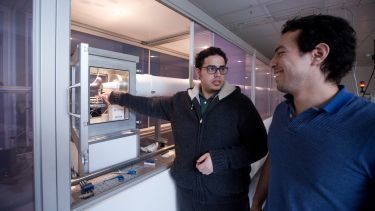 Course description
This specialist course in polymer science is designed to train and expose you to the most modern aspects of polymer science. This course is excellent preparation for a career in industry or continued academic studies at the forefront of polymer science.
Laboratory training covers a range of polymer synthesis methods and analytical techniques including size-exclusion chromatography, viscosity analysis, and IR and NMR spectroscopy. Other modules highlight how polymer chemistry overlaps with other areas of science, by focusing on concepts from physics that explain polymers' unique physical properties, and engineering principles to look at the effects that polymer microstructures have on polymer performance.
You will also take part in a research training programme and complete your own research project, which will take up around a third of your course. Some students work on projects with an industry partner.
Facilities
We have state-of-the-art research laboratories and we're home to several multimillion pound research facilities. These facilities include the Lord Porter Laser Laboratory, which has three laser stations that can be used in studies ranging from energy transport in molecules and materials to artificial photosynthesis, and our Soft Matter Analytical Laboratory, where scientists can study samples that are 100 times smaller than a human hair.
Modules
The content of our courses is reviewed annually to make sure it's up-to-date and relevant. Individual modules are occasionally updated or withdrawn. This is in response to discoveries through our world-leading research; funding changes; professional accreditation requirements; student or employer feedback; outcomes of reviews; and variations in staff or student numbers. In the event of any change we'll consult and inform students in good time and take reasonable steps to minimise disruption. We are no longer offering unrestricted module choice. If your course included unrestricted modules, your department will provide a list of modules from their own and other subject areas that you can choose from.
Teaching
Lectures

Workshops

Laboratory practicals

Individual research projects
Recently I've published papers on topics ranging from micro-meteorites in our solar system to hydrogels we can use to store human stem cells. That is why I love polymer chemistry – the diversity of applications is remarkably broad if you have an open mind for both problems and opportunities

Professor Steve Armes FRS
Teaches on Fundamental Polymer Chemistry module.
Assessment
Examinations

Coursework

Assessed workshops

Dissertation (15,000 words) and viva
Duration
1 year full-time
Your career
Graduates from this course apply their polymer chemistry expertise in many different industries – from oils, paints and coatings, to food, cleaning agents and cosmetics, to medical, agricultural and aerospace technologies.
This course is also great preparation for a PhD and a career in chemistry research. It's led by the experts behind the Polymer Centre – the UK's largest polymer research network within a single institution, made up of 48 research groups at the University of Sheffield, which has fostered many collaborations with businesses.
Student profiles
I chose this course because of its popularity among the scientific community worldwide. We can participate in the academics' research during the research project part of our dissertation. I would like to work in research and development in the polymers industry.

Eduardo Hernandez Portugal

MSc Polymers for Advanced Technologies
You can apply for postgraduate study using our Postgraduate Online Application Form. It's a quick and easy process.
Any supervisors and research areas listed are indicative and may change before the start of the course.
Recognition of professional qualifications: from 1 January 2021, in order to have any UK professional qualifications recognised for work in an EU country across a number of regulated and other professions you need to apply to the host country for recognition. Read information from the UK government and the EU Regulated Professions Database.