2021 start
Sustainable Agricultural Technologies
School of Biosciences, Faculty of Science

This course will equip you with the knowledge needed to understand the challenges of sustainable agriculture, and the skills to pursue an exciting career in the agronomy sector.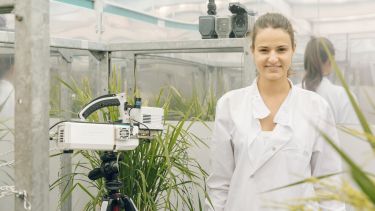 Course description
This course will give you a breadth of understanding of the agri-food system as a whole. You'll learn about the major issues in sustainable agriculture and the cutting-edge techniques used in crop and soil science. Guest environmental and sustainability speakers give seminars regularly, and you'll get the opportunity to cultivate your work experience with placements with our industrial, government and NGO partners. You'll cover topics such as global food security, the origins of agriculture and agricultural ecology in a changing world.
You'll conduct an independent research project, spending three months over the summer in our Institute for Sustainable Food. Here you'll work with our world-leading researchers, taking the latest scientific knowledge and applying it in real-world settings to ensure that the production and consumption of the world's food is sustainable and resilient.
Modules
Core modules:
Agricultural Ecology in a Changing World

This unit will introduce the concept of agriculture as an ecological system and explore agriculture in the context of global change. Specifically, this unit will consider the value of biodiversity in agricultural ecosystems, the role of ecosystem services in the sustainability of food production and the vulnerabilities of agriculture to a changing climate.

15 credits

Issues in Global Food Security

Food security is a pressing concern for humanity, and science is constantly shaping our response to it. This module encourages a critical analysis of current major issues in food security, drawing on interdisciplinary research expertise and experience working in public and private sectors. It features seminars from TUOS and guest speakers covering topics at the cutting edge of issues in plant sciences and food security, with seminars followed by in-depth discussion sessions with expert speakers. The focus is on applying this knowledge to specific real-world problems and on producing outputs that are accessible non-specialist senior policy makers or managers.

15 credits

Advanced Analytical Techniques in Agricultural Research

In this module, we will explore the diversity of methods used in 'omics' biology including genes and the genome, the proteome and the metabolome and how these methods are applied in an agricultural context.

15 credits

Future Crop Systems

In this module, we will explore the current issues with our global food system, concentrating on the three major threats to food security; yield gaps, increasing populations and a changing climate. The module will provide the essentials in crop physiology, soil science and plant pathology, and look at the breadth and depth of current research in these areas to develop the cropping systems we need to ensure future agricultural practices are sustainable, sufficient and safe.

30 credits

Literature Review

The literature review requires the student to write a critical review of a biological topic of choice. The literature review will involve extensive reading of original research papers, reviews and books together with information extracted from other media. The student will be required to critically analyse hypotheses in the field and critically analyse the quality of the evidence used to support them. Where controversies exist the student should be prepared to indicate which side has the stronger case. The literature review should also identify gaps in our current knowledge and understanding and make suggestions for the future developments in the field.

15 credits

Scientific Skills and Project Management

This module provides training in the skills and approaches necessary to design, manage, conduct, analyse and present research in whole organism biology and environmental science. Generic skills involve designing and planning an effective and reproducible study, making best use of available resources; collecting and managing data to address study aims; conducting research in an ethical manner; and communicating results orally and in writing to different audiences. There are also workshops explaining key aspects of the research process, introducing peer review and describing the science funding landscape. The module also covers advanced principles of experimental design, data interpretation, and graphical presentation, introduced in the statistical computing environment R using a series of workshops and student-centred learning assignments to develop skills and proficiency.

30 credits

Individual Research Project

This module gives students the opportunity to develop to high level skills relevant to a career in research or management. Based on their interests and career aspirations, students will conduct either a laboratory of field-based research project, a computational project, a theoretical modelling project or a systematic literature review. There is the potential to work with external organisations. A common element is the independent production of a piece of research and its presentation, with guidance from an academic supervisor in the department.

60 credits
The content of our courses is reviewed annually to make sure it's up-to-date and relevant. Individual modules are occasionally updated or withdrawn. This is in response to discoveries through our world-leading research; funding changes; professional accreditation requirements; student or employer feedback; outcomes of reviews; and variations in staff or student numbers. In the event of any change we'll consult and inform students in good time and take reasonable steps to minimise disruption. We are no longer offering unrestricted module choice. If your course included unrestricted modules, your department will provide a list of modules from their own and other subject areas that you can choose from.
Teaching
You'll learn through a mixture of lectures, seminars, tutorials and discussion groups, practical and field classes, and individual research.
Assessment
Your assessment includes, but is not limited to, written examinations, essays, extended project reports, policy briefing notes, reflective journal entries, statistics exercises and oral presentations.
Duration
1 year full-time
Your career
Graduates will be well equipped to pursue careers working in the agronomy and agricultural consultancy sectors, in agricultural extension, farming, or contributing to agricultural and environmental policy for sustainable food production systems. This course is also great preparation for a PhD.
You can apply for postgraduate study using our Postgraduate Online Application Form. It's a quick and easy process.
Contact
Any supervisors and research areas listed are indicative and may change before the start of the course.
Recognition of professional qualifications: from 1 January 2021, in order to have any UK professional qualifications recognised for work in an EU country across a number of regulated and other professions you need to apply to the host country for recognition. Read information from the UK government and the EU Regulated Professions Database.