Traditional and World Music (Distance Learning)
Department of Music, Faculty of Arts and Humanities

World Music Studies encompasses the study of any and all musical activity in the world: Western as well as 'exotic', popular as well as classical, amateur as well as professional.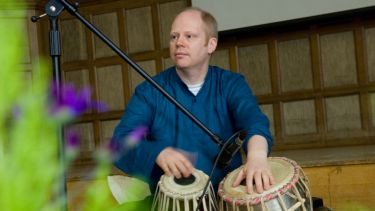 Course description
This distance learning course combines annual residential weeks in Sheffield with longer periods of online-supported learning which means students can study from anywhere in the world. Traditional and world musics and their associated cultures are studied through practical methods such as fieldwork and direct participation in music-making, as well as library research and theoretical interpretation. Students gain both a deeper knowledge of the music and a set of skills for discovering and communicating new knowledge about music. The courses are intended for musicians, educators and other enthusiasts who want to know more about traditional and world musics and about ways of studying and understanding music in its social and cultural context.
The course allows students to specialise in an area of their choice, while providing the opportunity to study musical phenomena from a global perspective. Some students take advantage of Sheffield's position as a major hub of both English and 'Celtic' musical activity to pursue in-depth studies on traditional musics of the British Isles. Others enjoy the opportunity to develop new understanding of musical sounds, practices and cultures from elsewhere in the world. In this course, 'World Music' is interpreted quite literally as encompassing, in principle, the study of any and all musical activity in the world: Western as well as 'exotic', popular as well as classical, amateur as well as professional.
Modules
Core modules
Year 1
Research Skills
Case Studies in Ethnomusicology
Approaches to Fieldwork
One of the following:
Music of the World
Traditional Music of the British Isles
Year 2
Teaching and Transmission
Dissertation
Teaching
Lectures, seminars, world music performance workshops and email tutorials with supporting course texts and guidance notes.
Distance learning means that most of the teaching is done through online course materials and readings supported by email, phone or Skype tutorials. You will need to attend the University for one residential each year.
Learn more about your supervisors:
Assessment
Assessments take a variety of forms such as reports and essays, fieldnotes and recordings, and a final dissertation or folio.
Duration
2 years part-time by distance learning
Since completing my MA I have had the opportunity to make great strides professionally. I have presented my dissertation at conferences in Athens, Madrid, Lisbon and Florence, and assisted other international school teachers in setting up alternative percussion ensembles in their schools. The course helped me define a new direction in my teaching career and I am so thankful for that opportunity.

Joy Edenfield
MA World Music Studies
Entry requirements
2:1 undergraduate degree. If your undergraduate degree is not in music, you'll need to provide evidence of substantial engagement with music.
We also recognise the value of experience, and may accept applications from people who have been in practice, or who bring other experience to their studies. 
English language requirements
Overall IELTS score of 6.5 with a minimum of 6.0 in each component, or equivalent.
How to apply
If you're interested in applying for the course, please register you interest by emailing music@sheffield.ac.uk and we'll email you when the application system is open for 2021 entry.
The course information set out here may change before you begin, particularly if you are applying significantly in advance of the start date.