Urban Design and Planning
Department of Urban Studies and Planning, Faculty of Social Sciences

Develop your skills in urban design and the planning and the development of cities by studying both the UK urban experience and rapidly urbanising cities in Asia and Africa.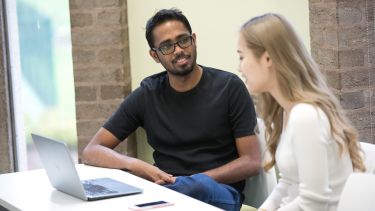 Course description
A Specialist Planning Programme partially accredited by the Royal Town Planning Institute (RTPI)
To deal with the complex challenges of urban development, planners have to know how to work with other professionals. This course equips you with the skills to produce sensitive plans and creative designs, taking into account the financial and practical issues associated with property development.
This course will develop your skills in urban design, planning and the development of cities.
You'll study the UK urban experience and rapidly urbanising cities in Asia and Africa. The course draws on leading teaching and research at the University, combining the urban design expertise of the School of Architecture and the international planning expertise of the Department of Urban Studies and Planning.
The course is recognised as a Specialist Planning Programme and partially accredited by the Royal Town Planning Institute. This means that the course is accredited by the RTPI but graduates are required to complete further 'spatial' study and/or gain requisite professional experience before they can become a chartered planner.
Costs for field classes are not included in the tuition fee.
Modules
Duration
1 year full-time
Your career
The employability of our graduates is of paramount importance to us. The development of skills, knowledge and personal attributes that enhance your career underpins our programme design. We have a dedicated Employability Manager, Amy Woolley, to support you. We'll prepare you for employment after graduation.
I chose to study at Sheffield because of its good international rankings and the scholarship I was awarded. After completing my MA I would like to stay in the UK to acquire professional experience and then return to work in my home country. Urban studies is all about social research, I see myself working with communities to improve the physical and social conditions of urban areas.
Ana Maria Monsalve Sanchez
MA Urban Design and Planning
Entry requirements
For UK students, the usual entry requirement is a 2:1 degree or evidence of equivalent achievement (for example, a professional qualification combined with work experience).
We will consider your application if you have a 2.2 degree but we would expect you to have evidence of work experience or other relevant activity.
English language requirements
Overall IELTS score of 6.5 with a minimum of 6.0 in each component, or equivalent.
You can apply for postgraduate study using our Postgraduate Online Application Form. It's a quick and easy process.
The course information set out here may change before you begin, particularly if you are applying significantly in advance of the start date.