2022 start
September
Biomedical Science
School of Biosciences, Faculty of Science

Our research-led masters is taught by experts in the key areas of modern biology. The course will give you a broad understanding of biomedical science today.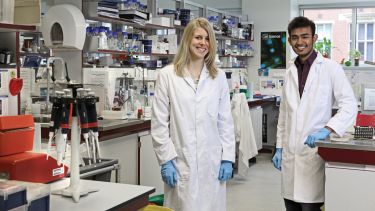 Course description
Biomedical science is about understanding our bodies and our ability to control them during health and disease. It's the basic science that underpins medicine. Breakthroughs in biomedical science feature regularly in the news, from radical new treatments for cancer patients to innovative advances in reproductive technologies and regenerative medicine. Over the last twenty years, research into the human genome and molecular processes has revolutionised our understanding of biological systems.
Intercalation
We accept medical students who wish to intercalate their studies. Find out more on the Medical School website.
Modules
Core modules:
Literature Review

This unit involves an in-depth survey of the current literature relevant to the student's laboratory research project. It runs before the practical laboratory commences in order to give the student the academic background necessary to complete the laboratory work successfully. Students will carry out an exhaustive search of material relevant to their project using the resources of the University, including appropriate databases and specialist search engines, as well as paper-based resources in the University Library. The unit involves primarily private study by the student under the direction of the project supervisor who will meet the student at regular intervals to ensure satisfactory progress.

30 credits

Research Project

The module aims to provide students with experience of conducting a research project, and develop analytical and organisational skills required for a career in science. Students undertake a research project which reflects the research activities in the Department/Faculty/University. Projects will be supervised by a member of the academic staff, although students may have additional contact with various staff contributing to their training. Students will gain experience of experimental design, and in execution, collation, interpretation and presentation of scientific data.
Assessment of the project will be based on a written dissertation, an evaluation of the research skills developed during the tenure of the project, including keeping a lab book, and delivery of an individual poster presentation.


60 credits

Critical Analysis of Current Science

This module is designed to develop the student's ability to read and understand the scientific literature relating to their own research area and also enable them to integrate their own work into the wider scientific field. The module consists of the following components; a seminar and seminar analysis programme designed to develop student skills in listening, understanding and appraising scientific research presented by external invited speakers; contribution, preparation and presentation of journal clubs reporting on the literature published in the field of biomedical science. In the latter component, students will be expected to demonstrate critical analysis skills, which will be encouraged through questions and discussions in classes. Each component is assessed through formal examination and oral presentation.

15 credits

Ethics and Public Awareness of Science

Those working within public health need to be familiar with secondary data sources that support research, management and practice. This module will consider the main types of secondary data - relating to demography, epidemiology, clinical effectiveness and cost-effectiveness. Strengths, uses, interpretation and limitations of secondary data sources will be examined, assessing these with regard to completeness, accuracy, relevance and timeliness. Students will explore these issues in connection with a case study for a specific country. Scenario planning, confidentiality and the use of computers are other key topics that are illustrated and explored within the module.The module will begin with an introduction to the areas in which legislation impinges on biomedical research. We will then proceed to analyse the processes by which such legislation is made including, especially, the ethical bases for such legislation. To do this we will introduce the students to the philosophical bases of ethical thought and get them to analyse existing laws to discover the ethics that underlies these laws. The students will then be asked to discuss the ethics of specific topics in the form of a formal debate. In addition, we examine how society perceives science and how the process of science itself works and how this influences scientists' abilities to present their work to the wider community. 

15 credits
Optional modules - two from:
Practical Developmental Genetics

The practical unit aims to provide students with experience of research techniques in developmental biology. Students will perform experiments designed to reveal molecular and cellular principles underpinning developmental mechanisms. Emphasis will be placed on exploiting classical genetic and molecular resources available in model organisms such as zebrafish, Drosophila melanogaster, and chick for studying gene function in development. Students will gain experience of performing experimental work, data collection and interpretation of results.

15 credits

Practical Cell Biology

The practical unit will provide students with experience of practical cell biology. Students will be given the opportunity to establish and optimise ELISA-based assays for fundamental cellular processes, specifically the endocytic pathway. Particular emphasis will be placed on the development, execution and interpretation of experimental protocols as is standard practice in a research laboratory.

15 credits

Neuroscience Techniques

The module is based around teaching students a range of modern neuroscience techniques by trying to answer the overall question: Can the MED cells provide a replacement for primary Dorsal Root Ganglia (DRG)?

15 credits

Physiology and Pharmacology

The unit will provide lectures on traditional receptor theory. Practical classes will give experience of isolated tissue responses and data analysis, interpretation and presentation. Representative techniques employed by the pharmaceutical industry will be used to generate data from in vitro ex vivo and in vivo models. In problem solving sessions students will be shown how to enter and manipulate the data in relevant software in order to determine drug affinities, potency and intrinsic activities. Students will devise a programme for the development of a drug including associated regulatory applications, to be submitted as a dissertation.

15 credits
Optional modules - two from:
Sensory Neuroscience

This module covers the adult function and functional development of the auditory system, including sensory transduction and information processing. It will focus primarily on the periphery but will include representation of information in central pathways, with attention to mammalian animal models. The aims will be to show how physiological and developmental mechanisms combine to create the exquisite structural and functional tuning of the auditory system to the external world and how complex sensory information is encoded in the nervous system.

15 credits

Principles of Regenerative Medicine and Tissue Engineering

This unit will provide students with an overview of the multidisciplinary concepts underpinning tissue engineering. Through detailed examples of tissue engineering strategies for replacing specific organs and tissues, students will be introduced to the key steps of the tissue engineering process from bench to bedside. The course will present topical research in tissue engineering and enable students to critically assess the current limitations and potential applications of tissue engineering for medical applications, drug discovery and food manufacturing.The unit will provide an overview of the central topics of tissue engineering, including cell sourcing for tissue engineering, biomaterial properties and design, and cell-material interactions. Particular emphasis will be given to the recent cutting-edge examples of applying tissue engineering to restore function of various organ systems.

15 credits

Molecular Physiology of Ion Channels in Health and Disease

The module will examine ion channels found in electrically excitable cells, focusing on their physiological role in health and disease. Students will learn about ion channel molecular physiology, and the importance of ion channels in channelopathies, diseases associated with ion channel mutations. Examples of diseases covered will include myotonia, ataxia and long QT syndrome. The emphasis throughout will be to appreciate how experimental research informs our understanding of ion channel physiology, reflecting the University's mission statement to lead teaching by current research.

15 credits

Cancer Biology

The unit will provide a description of the nature of genomic complexity as revealed using next generation sequencing technology. It will explore cancer genotypes and phenotypes in the context of 8 essential characteristics that are common to all cancers, and which collectively dictate malignant growth. These characteristics are : self-sufficiency in growth signals, insensitivity to growth-inhibitory signals, evasion of programmed cell death, limitless replicative potential, sustained angiogenesis, tissue invasion/metastasis, avoidance of immune destruction, and de-regulated cellular energetics. It will discuss how genome instability arises, and together with tumour-promoting inflammation, how these enable the emergence of all other cancer characteristics. It will utilize this conceptual framework to discuss recent and future developments in cancer therapeutics. A brief review of fundamental principles in genetics and molecular cell biology will be given. Nevertheless, students should have a basic understanding of genetics, molecular biology and cell biology.

15 credits

Modelling Human Disease and Dysfunction

The module will provide students with an understanding of how post-genomic biology impacts on our ability to understand, and treat, chronic diseases of the body. Students will be introduced to major experimental systems and approaches that are pertinent to disease modelling. These include genetically-tractable animal model and in vitro cellular systems (including stem cells). We will explore the principles involved in how these systems are exploited to develop new strategies for intervention, including new therapeutics. Critical evaluation of research papers will allow students to gain experience of analysing experimental work, data presentation and interpretation of results.

15 credits

Stem Cell Biology

This lecture course will provide a thorough grounding in the biology of stem cells and regenerative medicine, with special reference to the molecular and genetic control of cell fate specification and differentiation. Students will also be enouraged to consider the clinical use of stem cells and their derivatives as well as the ethical issues that these raise. As this is a rapidly developing field, strong emphasis will be placed on understanding the current controversies in the literature.

15 credits

Membrane Receptors

To provide an understanding of membrane receptors for extracellular signalling molecules, including their molecular structure and transduction mechanisms, their roles in cell physiology, and their exploitation as targets for therapeutic drugs.

15 credits

Neurodevelopment and Behaviour

This course examines the mechanisms that underlie development of the nervous system during embryogenesis. Examples will be described from a variety of model organisms to introduce key steps in the establishment of the CNS and PNS, steps that include neural induction, neural patterning, early segregation of CNS and PNS, the establishment and refinement of connectivity in the nervous system. Recent research from teachers of this course, and from both the classical and current literature is used to analyse and evaluate theories and mechanisms of establishment of the functional nervous system.

15 credits

Epithelial Physiology in Health and Disease

The aim of this course is to provide an understanding of the strategies used by epithelia to effect transport of ions and water, and to explore the pathophysiological states associated with a number of inherited diseases, such as cystic fibrosis. Teaching will consist of conventional lectures together with problem solving exercises. The module initially considers the general properties of epithelia, before focusing on the molecular basis of epithelial transport in health and disease. The emphasis throughout will be to appreciate how experimental research informs our understanding of these issues, reflecting the University's mission statement to lead teaching by current research

15 credits
The content of our courses is reviewed annually to make sure it's up-to-date and relevant. Individual modules are occasionally updated or withdrawn. This is in response to discoveries through our world-leading research; funding changes; professional accreditation requirements; student or employer feedback; outcomes of reviews; and variations in staff or student numbers. In the event of any change we'll consult and inform students in good time and take reasonable steps to minimise disruption. We are no longer offering unrestricted module choice. If your course included unrestricted modules, your department will provide a list of modules from their own and other subject areas that you can choose from.
Duration
1 year full-time
Teaching
Throughout your degree, you'll be taught through lectures, practical sessions, lab placements, tutorials and seminars. In small group teaching classes you'll discuss, debate and present on scientific and ethical topics. The biggest part of the course will be your individual research project, working alongside professional scientists.
Our teaching covers ethics, practical scientific skills and an overview of the current literature. You'll also develop useful career skills such as presentation, communication and time management.
Assessment
Assessment is by formal examinations, coursework assignments, debates, poster presentations and a dissertation.
You can apply for postgraduate study using our Postgraduate Online Application Form. It's a quick and easy process.
Any supervisors and research areas listed are indicative and may change before the start of the course.
Recognition of professional qualifications: from 1 January 2021, in order to have any UK professional qualifications recognised for work in an EU country across a number of regulated and other professions you need to apply to the host country for recognition. Read information from the UK government and the EU Regulated Professions Database.