2022 start
September
Education
School of Education, Faculty of Social Sciences

With our flexible course you can study a broad range of educational and pedagogical concepts, gain an understanding of recent trends and debates, explore changing conceptions of curriculums and assessment, and consider the impacts of globalisation and psychological research.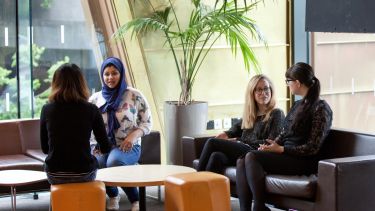 Course description
During this one-year, full-time course you will explore theory and research relating to learning, teaching and assessment and educational policy. The programme is suitable whether or not you have professional experience in teaching.
Modules
Core modules:
Critical Issues in Education and Educational Research

This module introduces students to key issues in education and educational research that will underpin their studies, regardless of which pathway they take through the full-time masters programme.

It outlines historical and theoretical approaches to education and introduces the key paradigms of educational research. The module moves on to consider critical issues in education and educational research, drawing on the research strengths of the module team focusing on a range of areas including educational psychology, globalisation, disability and inequalities, enabling the module to provide a foundation for other modules on the programme.

The module thus offers students an opportunity to develop a critical stance towards some of the most pressing issues in educational research in contemporary societies.

30 credits

The Practice of Research

This module introduces students to the processes involved in designing a research project, conducting the study and completing the research report.

The module focuses on research design, on identifying issues, formulating research questions and choosing appropriate methods to use in particular instances and settings. It explores various approaches to data analysis and outlines issues to be considered in the writing-up process.

It aims to provide students with the skills and knowledge required to complete a dissertation in an education-related field.

30 credits
Optional modules:
Early Childhood 1: Development, Learning and Curriculum

This module introduces learners to recent ideas related to development, learning and curriculum in Early Childhood Education. Sessions to be taught include the following: key figures in the history of ECE; birth to five child development and learning; tracing UK policies on curriculum and learning; alternative perspectives on curriculum and learning: Reggio, Forest Schools, international schools; play and learning; learning to communicate: literacy and multimodal practices; early intervention studies: REAL, inclusion, equality and diversity. This will be followed by student-led presentations on topics related to the above. It is intended that this will prepare them for their assessment.

30 credits

Early Childhood 2: Contemporary Issues in Early Childhood Education

This module introduces learners to recent ideas related to contemporary issues in Early Childhood Education. Sessions to be taught include the following: children's rights; quality in Early Childhood Education and care; creativity in arts and contemporary communication practices; popular culture; digital literacies; gender; traditional and digital play; including children in research. This will be followed by student-led presentations on topics related to the above. It is intended that this will prepare students for their assignment.

30 credits

Developmental Psychology

This module examines the core concepts of Developmental Psychology, for example, cognition and emotional development (intelligence, language, learning), behaviour, social development (including family and attachment, trauma) as well as the study of individual differences (with reference to psychopathologies such as autism, attention deficit/hyperactivity disorder). The ways in which psychological research and theory has affected a range of governmental policies, services and professional practices and wider societal attitudes to young people will be considered within transnational contexts.

30 credits

Critical Psychology and Education

This module introduces different approaches to conceptualising learners and learning which fall within the broad field of critical psychology. The module begins with an introduction to the development of mainstream psychology in Europe and America, and an exploration of the subsequent development of alternative and critical psychological perspectives. Within the broader critical psychology landscape are a number of different threads (such as discursive psychology, indigenous psychology and feminist psychology). This module will examine the key principles of these various critical psychological perspectives with particular attention to their concepts of learning, learners, and learning communities. It will offer a challenge to some of the dominant ideas around learning which have emerged from mainstream fields of psychology since the 19th Century.

30 credits

Language Acquisition, Learning and Pedagogy

This module will explore key theories and approaches in language acquisition, learning and associated pedagogies.

Various theoretical and empirical issues will be addressed together with learner-internal and learner-external factors that influence the processes of second language development in education.

For example, the course provides students with an opportunity to consider critically second language acquisition (SLA), Universal Grammar (UG) and the roles of learner factors such as age, first language and interference.

The theory and application of new technologies in the field are addressed. The application of SLA theory and research to aspects of second language teaching and learning is also explored.

30 credits

Language, Society and Education

The Language, Society and Education module provides students with an advanced understanding of the relationship between linguistic structures and social categories. It covers key research methods in the interdisciplinary field of sociolinguistics and their application to a range of areas including language and identity, discourse, performance and social interaction, ideologies and social structure, culture and education. By the end of the module, students will have developed solid theoretical knowledge in a range of research traditions as well as an advanced competence in qualitative research methods for the study of language, society and education. Students have the opportunity to explore topics relating, to the evolution and transmission of culture, intercultural communication, bi/multilingualism, attitudes to language varieties, voice, narrative and inequality in ordinary and institutional settings, media representations of social worlds, global spreads of language and cultural forms with specific reference to English and new media.

30 credits
The content of our courses is reviewed annually to make sure it's up-to-date and relevant. Individual modules are occasionally updated or withdrawn. This is in response to discoveries through our world-leading research; funding changes; professional accreditation requirements; student or employer feedback; outcomes of reviews; and variations in staff or student numbers. In the event of any change we'll consult and inform students in good time and take reasonable steps to minimise disruption. We are no longer offering unrestricted module choice. If your course included unrestricted modules, your department will provide a list of modules from their own and other subject areas that you can choose from.
An open day gives you the best opportunity to hear first-hand from our current students and staff about our courses. You'll find out what makes us special.
Duration
1 year full-time
Teaching
Teaching and learning takes place via lectures, weekly seminars, individual tutorials, discussion, active inquiry and investigations. Regular meetings with a personal tutor support and encourage your learning and understanding.
Assessment
Entry requirements
2:1 honours degree in a related field.
We will consider your application if you have a 2:2 degree in a related field and at least one year of relevant work experience.
Overall IELTS score of 6.5 with a minimum of 6.0 in each component, or equivalent.
Any supervisors and research areas listed are indicative and may change before the start of the course.
Recognition of professional qualifications: from 1 January 2021, in order to have any UK professional qualifications recognised for work in an EU country across a number of regulated and other professions you need to apply to the host country for recognition. Read information from the UK government and the EU Regulated Professions Database.