2022 start
September
English Language and Linguistics
School of English, Faculty of Arts and Humanities

This course is designed to balance a diverse range of language study with the opportunity to explore more specific fields. You'll explore the sociocultural, historical and structural complexities of the English language, with the option to study other modern languages as well.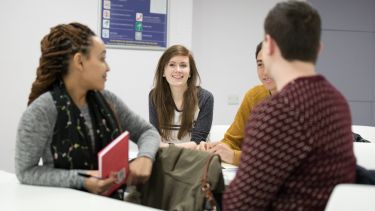 Course description
You'll study the sociocultural, historical and structural complexities of the English language with the option to study other modern languages as well.
The course is designed with flexibility and choice in mind. You are able to follow different routes through the course that allow you to focus on specific areas of English language and linguistics. You will be able to study literary linguistics and examine a range of approaches including cognitive poetics, corpus stylistics and narratology.
We offer specialisms in social and historical approaches to language and linguistics in which you can investigate complex real-world language problems in different social and historical contexts. You will also have the option to examine structural and theoretical linguistics, exploring the foundational mental structures and processes underlying language.
You can also study modules in the School of Modern Languages and Cultures which will afford you the opportunity to study similar aspects of Slavic, Germanic and/or Romance languages. 
As your understanding of theory develops, you'll learn how to analyse language and how to carry out research projects. If you choose a work placement, you might also develop skills in marketing, archiving, teaching or publishing.
Modules
Core modules:
Dissertation (English Language and Literature)

This module enables students to pursue an extended independent research project in an area of interdisciplinary literary-linguistic study. With the guidance of the module convenor, students will formulate an appropriate research question based on the 500-word dissertation proposal submitted as part of their assessment for EGH6040 Interdisciplinary Research Metods. Students will then be assigned to a supervisor who will help them establish a workable research schedule and provide advice and feedback in regular one-to-one meetings. The project will be written up as a 15,000-word dissertation during the summer months.

60 credits
Examples of optional modules:
Linguistics in Context

This module will allow students to develop a comprehensive understanding of one area of linguistics. Students may choose to focus on one particular sub-discipline of linguistics (including, but not limited to, conversation analysis, dialectology, historical linguistics, language acquisition, phonetics, phonology, philology, sociolinguistics, or syntax). They will explore the theoretical frameworks, analytical methods and data sources used in their chosen sub-discipline, and consider how these developed relative to larger trends in linguistic study. The module will give students the opportunity to work alongside an expert in their chosen sub-discipline and tutorials will focus on close-reading, critical evaluation of different kinds of evidence, and historical/contextual analysis.

30 credits

Linguistics in Practice

This module will focus on the handling and management of linguistic datasets. Students will be encouraged to focus on one particular sub-discipline of linguistics (including, but not limited to, conversation analysis, dialectology, historical linguistics, language acquisition, phonetics, phonology, philology, sociolinguistics, or syntax) and to analyse a pre-existing dataset. This may involve exploring archive materials and data, and/or established corpora. The aim of the module is to equipped students with up-to-date practical skills in data management and processing, working on real data, with active researchers. In the process of developing these skills, students will have the opportunity to explore research questions relevant to their linguistics interests.

30 credits

Research Practice

This module enables students to work on a practical research project that will extend their research skills in an appropriate area. The student will discuss their research training needs with the programme director, and then be matched with an appropriate supervisor who will assist them in designing and undertaking the practical project. The supervisor will provide the necessary research skills training through a combination of practical training and directed reading. Possible projects will include designing a corpus, undertaking a research question using existing corpora, collecting and analysing data from informants, undertaking an ethnographic study, creating an archive or database.

15 credits

Literary Language (Narrative and Cognition)

This module examines the relationship between literary narrative and the human mind. It provides an opportunity for students to explore a variety of cognitive, narratological, and stylistic theories about how literary narrative is structured on the page and conceptualised in the mind. Students will be encouraged to make use of the theories and frameworks they encounter on the module to investigate a diversity of literary texts from a range of different genres and periods.

30 credits

Literary Language (History and Culture)

This module focuses upon the investigation of literary language with reference to its historical and cultural contexts. It provides opportunities to explore the ways in which literary style was conceptualised in earlier periods of history (in Renaissance rhetoric, for example) and to consider contemporary debates about the politics of literary language (among postcolonial writers, for example). Throughout the module, we shall focus on the relationship between ideas about literary style, as they are expressed in critical, theoretical, or pedagogical texts, and literary practice as it is revealed through the stylistic analysis of prose, poetry, and drama.

30 credits

Work Placement with Research Project

This module provides students with the experience of working with an external organisation (for example, a library, gallery, theatre, school) and undertaking a short research project related to that organisation. Students will choose a placement from those offered at the start of the academic year and will work on a defined project agreed between the academic co-ordinator and the partner institution. Alongside this project, students will undertake a programme of related reading and research directed by the academic co-ordinator. The module has three aims: (1) to enable students to develop their discipline-specific vocational skills (2) to enable students to gain practical research skills through undertaking research related to their project (3) to promote reflection on the relationship between academic research and external organisations.

30 credits
The content of our courses is reviewed annually to make sure it's up-to-date and relevant. Individual modules are occasionally updated or withdrawn. This is in response to discoveries through our world-leading research; funding changes; professional accreditation requirements; student or employer feedback; outcomes of reviews; and variations in staff or student numbers. In the event of any change we'll consult and inform students in good time and take reasonable steps to minimise disruption. We are no longer offering unrestricted module choice. If your course included unrestricted modules, your department will provide a list of modules from their own and other subject areas that you can choose from.
An open day gives you the best opportunity to hear first-hand from our current students and staff about our courses. You'll find out what makes us special.
Teaching
We have expertise in all areas of English language and linguistics so that we can offer the best possible support for students' interests. You'll benefit from our expertise in many fields, from language variation and change, psycholinguistics and phonology to conversation analysis, dialectology and the language–literature interface. Our enthusiastic staff publish internationally. Within the School of English, we hold research seminars which give you the chance to hear about the latest developments.
You'll be taught through seminars and workshops. There are also work placement opportunities in schools, museums, libraries or local businesses.
I have always been interested in social variation and have been keen to find ways to address social inequality. Using language as a measure of social difference, it is possible to provide empirical data that can be used to challenge prejudice and evaluate social change.
Teaches: Linguistics in Context; Linguistics in Practice; Research Methods.
Assessment
Assessment varies by module, but includes essays, data analysis, and research proposals.
Entry requirements
A minimum 2:1 undergraduate degree in linguistics, English language and/or literature, or a modern language.
The School of English has particular strengths and teaching expertise in four main areas:
language and society
historical linguistics
literary linguistics
theoretical linguistics.
Prior experience in one or more of these areas is required to succeed on this programme. Please contact us if you require any further details about these areas of expertise.
Overall IELTS score of 7.0 with a minimum of 6.5 in each component, or equivalent.
Fees and funding
There are a number of studentships and fee bursaries available, funded by either the University or the Arts and Humanities Research Council. Deadlines for funding applications are usually in winter/early spring.
You can apply for postgraduate study using our Postgraduate Online Application Form. It's a quick and easy process.
Any supervisors and research areas listed are indicative and may change before the start of the course.
Recognition of professional qualifications: from 1 January 2021, in order to have any UK professional qualifications recognised for work in an EU country across a number of regulated and other professions you need to apply to the host country for recognition. Read information from the UK government and the EU Regulated Professions Database.