2022 start
September
Real Estate Planning and Development
Department of Urban Studies and Planning, Faculty of Social Sciences

Prepare for a career in real estate. This course will enhance your understanding of real estate and its role in the wider economy, with particular focus on the challenges of new developments.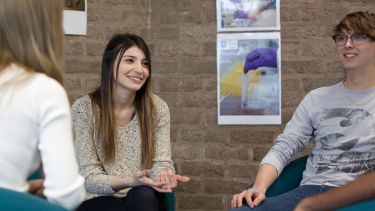 Course description
This course focuses on providing you with the knowledge and skills necessary to succeed in this important area of surveying.
It combines both property valuation and management knowledge with skills in planning and regeneration to allow you to gain a full perspective not only on the physical aspects of the built environment, but the social and environmental aspects as well. It is designed for students from a wide range of academic and professional backgrounds, who wish to specialise in this growing area.
Accreditation
Accredited by the Royal Institution of Chartered Surveyors (RICS).
Modules
The focus of the first semester is on the acquisition and understanding of core knowledge and skills.
Core modules:
Applied Real Estate Valuation

Students studying this module will be introduced to the five methods of valuation that form the basis for working in the profession. Basic financial maths will be introduced and applied using client-related scenarios. At this stage learning is also supported by a bespoke online valuation tool. Lectures will provide introductory examples and students will be able to practice using weekly problem-solving tasks and tutorials/help-sessions. Linked to the lectures, professional employability skills will be further developed through the coursework that, firstly, focuses on providing advice to a client through the production of a valuation report and, secondly, requires students to consider the ethical dimensions of professional surveying practice and the rules of professional conduct.

15 credits

Real Estate Economics

This course is concerned with the economic analysis of real estate markets. It examines the economic characteristics of property and the way in which these impact on the structure and operation of the property market. It also examines the functional divisions within the property market: use, investment and development and their interactions; and the role of property in the local, regional and national economy.

15 credits

Planning Design and Professional Ethics

This module introduces core knowledge and skills for understanding how planning and design shape the built environment. It will explore key factors that shape the quality of development outcomes including planning policies and urban design principles. It develops critical awareness of the potential impacts of development projects on people and places and introduces the importance of professional ethics for built environment professional practice in spatial planning and surveying.

The module will be taught in three blocks where students will learn: i. site appraisal and how to assess the potential of development sites in planning and policy terms; ii. how to identify key principles of good urban design, and; iii. The importance of professional ethics and reflective practice in the built environment.

Each block will be taught through lectures that introduce core principles and foundational concepts. Throughout, this will be supplemented by a focus on learning from case studies of urban development and ethical dilemmas. This will enable students to begin to apply their understanding to real world examples and to develop skills in critically assessing key factors that shape the quality of urban development and the importance of ethical professional conduct.

15 credits

Perspectives on Spatial Planning and Development

This module is seen as core in developing initial knowledge and understanding of planning and urban development. It critically explores the role of spatial ideas in planning policy and practice and plays a key part in developing critical skills and understanding of different contexts and environments relevant to that practice. The module covers urbanisation in a range of contexts and examines how spatial planning seeks to respond to key economic, environmental and social challenges.

15 credits
The second semester focuses on the development, application and integration of knowledge and skills.
Core modules:
Real Estate Development

The module explores the structure and behaviour of the development industry; the real estate development process and its various stages and activities; and the roles and objectives of the actors involved in the process. In particular, it considers those factors that affect development profitability and the techniques used by developers to decide whether to pursue particular schemes.

15 credits

Planning Law

The course is intended to give students an expertise in the legal framework for the planning system and to set that legal framework within the wider context of law in the United Kingdom. It considers the origins of planning law and seeks to provide explanations for the powers that the law confers on decision makers. The course focuses particularly on the development control aspects of planning law and looks at the rights and duties of applicants, local authorities and the Secretary of State in making and determining planning applications. It considers the criteria for decision making and the possibilities for the redress of grievance. It considers planning law in the light of wider discussions about human rights and planning gain.

15 credits
Optional modules - two from:
Transport Planning

This module will provide students with an introduction to transport planning and policy. The module develops students' ability to think critically about the framing of transport policy using UK transport planning as an example. It will focus on how planners in localities give shape to effective transport strategies, which balance a range of environmental, social and economic objectives.

15 credits

Investment Valuation

This module builds on the principles of valuation introduced in the Autumn Semester and enables students to develop in-depth specialist knowledge of the investment method of valuation. It therefore focuses on the valuation of commercial real estate investments (office, retail and industrial property), both on a freehold and leasehold basis, for a variety of investment purposes. You will learn to deal with a variety of valuation scenarios by developing and using spreadsheets and provides a further opportunity to prepare a professional valuation report for a client.

15 credits

Law of Business Leases

The aim of the module is to introduce and explore pertinent aspects of the legal system relating to commercial and business leases. The module covers areas essential to the work of the surveyor involved in managing assets and the built environment. It thus enables students to develop abilities in offering professionally defensible legal surveying advice.

15 credits

Mega Urban Projects

In many cities nowadays, mega urban projects such as mega events like the Olympic Games or Central Business Districts like Canary Wharf are seen as an effective means to boost the local economy and to promote the city on a global scale. However, many of them often fail to contribute to the local economy whilst having detrimental impacts on local residents and the wider society. This module offers an in-depth understanding of the development processes and outcomes of large-scale urban projects by exploring aspects of why such projects are developed, how they are governed and their socio-economic impacts.

15 credits

Issues in Housing

The aims of the module are twofold: to build both on substantive knowledge, theory and skills about housing gained in earlier parts of both the UG and PG courses, with an emphasis on policy analysis; and to look more closely at the links between housing and planning (in its widest sense) at the local and regional level.

15 credits

Health, Wellbeing and the City

This module explores the urban environment as a determinant of health and well-being and examines how planning and urban design can contribute to improvements in health. Beginning with an exploration of the historic relationship between planning and public health, the module focuses on how the urban environments support or undermine health in relation to mental health, ageing, obesity, air quality and noise pollution. The module also introduces the notion of health impact assessment and further reflects on the contribution of planning to environmental justice and the reduction of inequalities in health.

15 credits

International Real Estate Market Analysis

This module will provide a comprehensive introduction to key concepts and approaches to the analysis of international real estate markets. This module makes a simple operational distinction between mature, emergent and transitional markets as a first step towards a systematic framework for analysis. It gives an introduction to specific real estate markets and the ways in which they function, and offers generalizable conclusions about the wider operation of global real estate markets. Students will develop knowledge and understanding of global political economy as a context for interpreting real estate markets.

15 credits

GIS for Built Environment Professionals

This module aims to introduce key Geographical Information Systems (GIS) principles and techniques to students in fields where GIS is becoming an increasingly relevant tool. The focus is on enabling students to develop an understanding of the potential of GIS and some fundamental GIS skills, through a series of workshops using a range of common software. Assessment is through a written report incorporating visualisations and analysis.

15 credits

Transport and Connectivity

This module provides students with an introduction to GIS network and connectivity analysis as it applies to debates in the field of transport planning. The module develops students' ability to apply geospatial techniques to transport and network connectivity challenges and to think critically about how these techniques can be used to understand spatial mobility in complex urban environments. The module is taught in a series of lectures and inter-related computer workshops focusing on real-world data and policy problem scenarios.

15 credits

Citizen Participation in Planning and Development

Recent decades have seen a proliferation of initiatives to involve citizens in policy-making, planning and urban governance. There is widespread agreement that 'citizen engagement' can play a positive role in democratizing urban development. However, public participation raises a range of significant challenges for urban professional practice. This module will draw on critical debates about the roles citizens and publics can and should play in shaping the city to reflect on the theory and practice of participation. The module is taught through seminars which structure learning, and help students to research case studies of participatory initiatives.

15 credits
You will complete your dissertation over the summer.
Core module:
Dissertation

This is a core module which allows students to develop and manage an individual research project. The module aims to help students to develop and apply research skills and an appreciation of the issues involved in managing a research project; to develop an understanding of the role of research in relation to theoretical and practical dimensions of the chosen discipline; and to further and deepen knowledge in their chosen field of planning, real estate, urban design, development, or related interests.

60 credits
The content of our courses is reviewed annually to make sure it's up-to-date and relevant. Individual modules are occasionally updated or withdrawn. This is in response to discoveries through our world-leading research; funding changes; professional accreditation requirements; student or employer feedback; outcomes of reviews; and variations in staff or student numbers. In the event of any change we'll consult and inform students in good time and take reasonable steps to minimise disruption. We are no longer offering unrestricted module choice. If your course included unrestricted modules, your department will provide a list of modules from their own and other subject areas that you can choose from.
An open day gives you the best opportunity to hear first-hand from our current students and staff about our courses. You'll find out what makes us special.
Duration
1 year full-time
Teaching
There are lectures, seminars, computer workshops and tutorials.
Assessment
You're assessed on your coursework and a dissertation.
Your career
The employability of our graduates is of paramount importance to us. The development of skills, knowledge and personal attributes that enhance your career underpins our programme design. We have a dedicated Employability Manager, Amy Woolley, to support you. We'll prepare you for employment after graduation.
Entry requirements
For UK students, the usual entry requirement is a 2:1 degree or evidence of equivalent achievement (for example, a professional qualification combined with work experience).
We will consider your application if you have a 2.2 degree but we would expect you to have evidence of work experience or other relevant activity.
Overall IELTS score of 6.5 with a minimum of 6.0 in each component, or equivalent.
You can apply for postgraduate study using our Postgraduate Online Application Form. It's a quick and easy process.
Any supervisors and research areas listed are indicative and may change before the start of the course.
Recognition of professional qualifications: from 1 January 2021, in order to have any UK professional qualifications recognised for work in an EU country across a number of regulated and other professions you need to apply to the host country for recognition. Read information from the UK government and the EU Regulated Professions Database.