2023 start
September
Cultural Heritage Management
Department of Archaeology, Faculty of Arts and Humanities

Management School, Faculty of Social Sciences

Learn key management techniques and how to apply them in the distinctive field of historical preservation.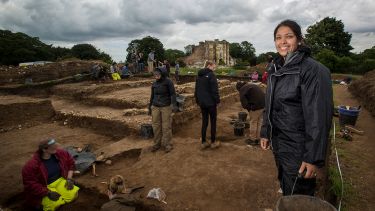 Course description
Our strong links with the heritage industry mean you can apply what you learn in real-world situations – during the course. Students work with organisations such as Historic England, the National Trust and regional museums – experience that can be a deciding factor when you compete for jobs in the sector.
You can come to the course from either an archaeology or a business/management background. Taught in partnership with colleagues from the Sheffield University Management School, it provides training in heritage interpretation and conservation, as well as marketing and site management.
Modules
Core modules:
Research Design: Planning, Execution and Presentation

This module provides students with the advanced understanding they need to design an effective research project, that addresses a question relevant to current debate in archaeology, and in particular to plan a successful MA/MSc dissertation. It comprises six group seminar sessions and three seminars in which students from different courses are streamed to be taught subject-specific material by experts in the field. The module culminates in a research day during which students present their dissertation plans to their peers and staff assessors. Assessment is in two parts: a succinct powerpoint presentation of dissertation proposal and outline; and a grant proposal.

15 credits

Dissertation (Cultural Heritage Management)

This module requires students to plan, execute and write-up an original research project. Dissertation topics must be chosen with, and approved by, the Course Director; they must be based on original research; they must be academically worthwhile, affordable, manageable within the time limits, capable of supervision within the contributing Departments, and related to the subject-matter of the MSc in Cultural Heritage Management. Learning is supported by original research guided by ongoing individual tutorials.This module requires students to plan, execute and write up an original research project. This dissertation project is chosen with, and approved by, the Course Director. Dissertation topics must be based on original research and on the students' own ideas: they must be worthwhile, affordable, manageable within time limits, capable of supervision within the contributing Departments and related to the subject matter of the MA Cultural Heritage Management.

45 credits

Heritage, History and Identity

This module highlights the diversity of cultural heritage, ranging from cultural and 'natural' landscapes, through monuments to music, dress, cuisine, 'traditional' crafts, and language and dialect. It explores the role of these various forms of heritage in shaping local, regional and national identity; the extent to which they reflect or misrepresent local, regional and national history; the legal and ethical issues surrounding conservation and preservation of heritage; and how study of 'traditional' lifeways may contribute to understanding of history.

15 credits

Heritage, Place and Community

The aim of this module is to introduce the theory and practice of heritage, conservation and public archaeology. The module will encourage debate on issues that affect how we define and apply the term 'heritage'. It also offers an opportunity to focus on the historic 'value' of a site or landscape, with an evaluation of how it is currently managed, and strategies for its future conservation and presentation.

15 credits

Introduction to Critical Theories and Concepts in the Creative and Cultural Industries

This is a core module that introduces and defines what we mean by the Creative and Cultural Industries (CCI), not least exploring their role in society. From theatres, to museums, to the music industry, to film, this module explores ideas around the purposes of, and changes and challenges to the CCI sector. The module provides an overview of critical theories and concepts within CCI, and seeks to equip students with the necessary knowledge and tools to assess critically the advantages and disadvantages of existing frameworks, and apply these to understand and research the Creative and Cultural Industries today.

15 credits

Managing Museums and Cultural Heritage Sites

The module defines and critically appraises the concepts and dimensions of museums and heritage spaces and examines the politics and uses of such sites. It considers local museums, World Heritage Sites and 'Starchitecture' new builds such as the Guggenheim, Bilbao and the Louvre Abu Dhabi. It examines policy, funding and the day to day management of individual museums and heritage spaces against the background of national government agendas and inter-governmental agreements that underpin large scale developments. It looks at provision of such cultural spaces from both the operator and visitor management perspectives and includes site visits within the locality.

15 credits
Optional modules:
Landscapes in archaeology: methods & perspectives

This unit introduces the ways in which researchers have thought about landscape in archaeology and situates these perspectives within the methods that are commonplace in landscape research. Through a mix of lectures, seminars and practicals we will explore a variety of themes that together reflect the broad range of contemporary issues in landscape studies. These approaches will be applied through an analysis of a specific landscape using skills in observational survey, cartographic analysis, archival research and aerial photography gained during the practical classes. The emphasis is upon grasping both the methods and their application to specific archaeological questions.

15 credits

Digital Cultural Heritage: Theory and Practice

This module examines the theoretical and methodological advances in Digital Cultural Heritage and their
broader implications in fields concerned with the interpretation and presentation of the past. We will draw on
theoretical readings as well as analyse the potential benefits and drawbacks of certain digital and online
approaches. Topics include: principles and theories underlying Digital Cultural Heritage, understanding
processes of creating digital surrogates, establishing principles for user experience, and exploring digital
narratives for public dissemination. A major component of this module will be a semester-long project that will
require the development of a proposal for a digital cultural heritage project.

15 credits

Accounting and Financial Management

This module is designed to provide knowledge and understanding of the roles of accounting and financial management in modern business organisations. The module will introduce students to the objectives, techniques and limitations of accounting for the purposes of external accountability and internal decision-making and control. The module will also introduce students to the objectives, techniques and limitations of financial investment appraisal and provision of financial resources.

15 credits

Cultural Marketing

Cultural Marketing aims to develop students' understanding, knowledge and analytical skills in relation to marketing and consumption practices within the Creative and Cultural Industries (CCIs), and specifically in relation to the CCI business context, types of CCI organisations and marketing management practices. The module content includes theoretical approaches to marketing and consumption practices in a range of CCI sectors, for example, film, fine art, music, literature, and heritage.

15 credits

Fundraising management: sponsorship, philanthropy and the state

This module provides students with an understanding of the various income-generating sources available to the creative and cultural industries. It focuses on how the private sector, business and individuals, has financed the sector, and how these forms of finance have changed historically. The module will also explore the changing role of public, government funding as well as assessing the strengths of cultural policy in supporting the financial viability of the sector. The module will be delivered through lectures and group discussion of case studies during seminar sessions.

15 credits

Cultural and Creative Entrepreneurship

Entrepreneurship is vital to a flourishing cultural and creative sector. This module bridges the gap between creativity, culture, and business by enabling learners to develop techniques that move their creative and critical thinking to entrepreneurial thinking. The module equips those who have previously studied or engaged with an area of creative or cultural practice, such as music, media, theatre and performance, heritage, craft, design, or digital games, to start a new business arising from existing or new creative and cultural practices, to manage a portfolio of loosely connected projects in the cultural and creative industries, and to develop intrapreneurial skills for innovation in existing organisations in the cultural and creative industries. It enhances learners' skills as creative leaders who can respond to emerging trends and opportunities to realise value in the creative economy.

15 credits

Branding

This unit engages students with different theoretical perspectives on the nature of brands, their management, and the relationship between brands and their socio-cultural context. The learning process exposes the students to a wide range of brand examples. Students draw on the theoretical perspectives to write an analytical critique of a specific leisure brand.

15 credits

Managing Festivals, Events and Creative Performances

This module explores the growth development, characteristics, issues and influences relevant to international art fairs, festivals, artistic performances and events and their impact on localities in terms of income generation, providing added value to tourist spaces, and their role in showcasing cultures and cultural products and places. It is primarily concerned with management of those art fairs, exhibitions and events that either showcase cultures or are located within the broad field of Creative and Cultural Industries, providing access to cultural products and cultural capital.

15 credits
You can also select 30 credits of modules from across the Department.
The content of our courses is reviewed annually to make sure it's up-to-date and relevant. Individual modules are occasionally updated or withdrawn. This is in response to discoveries through our world-leading research; funding changes; professional accreditation requirements; student or employer feedback; outcomes of reviews; and variations in staff or student numbers. In the event of any change we'll consult and inform students in good time and take reasonable steps to minimise disruption. We are no longer offering unrestricted module choice. If your course included unrestricted modules, your department will provide a list of modules from their own and other subject areas that you can choose from.
An open day gives you the best opportunity to hear first-hand from our current students and staff about our courses. You'll find out what makes us special.
Duration
1 year, full-time
2 years, part time
Teaching
You can expect a balanced timetable of lectures, seminars and practicals. You'll have access to specialist labs and world-class reference collections. Many of our masters courses include a fieldwork or project-based component.
We integrate humanities and science-based approaches to nurture a deeper understanding. You'll have the opportunity to explore different viewpoints and make up your own mind about their strengths and weaknesses.
We'll help you to develop your critical thinking as well as your practical skills. What we ask of you, as a member of our lively academic community, is that you challenge, question, and explore.
Fieldwork
All our masters students have the option to get involved in research projects – in the UK, Europe and elsewhere – even if fieldwork isn't part of your course.
Assessment
Your assessments will include essays, portfolio work, practical work, exams and a dissertation.
Department
The Department of Archaeology at Sheffield has a reputation for world-leading research and teaching in archaeology. We're among the top 50 archaeology departments in the world (QS World University Rankings by Subject 2020).
You'll be taught by experts in their field who are at the forefront of their research. Our research-led teaching draws directly on the work of our inspirational academics who are experts in the specialist fields of bioarchaeology, medieval archaeology, cultural materials, funerary archaeology, Mediterranean archaeology and landscape archaeology.
We take an interdisciplinary approach to teaching, bringing science, the humanities and other related areas to your studies. Our multidisciplinary teaching helps you develop a strong set of skills. Our graduates are articulate, analytical and creative. They are also adaptable, curious and culturally aware. We have alumni working all over the world in a diverse range of fields, including archiving, archaeology, teaching, museums, charities, publishing, and national and local government.
Our staff and students play an important role in the life of the city through projects and partnerships with heritage groups, commercial archaeologists and heritage providers. You'll share your understanding with others, and by doing this you'll help local communities make sense of their origins, and get a sense of their place in the wider world.
Student profiles
This course is split between the archaeology and management schools and is a mix of lectures and seminars. The mix of archaeology and management means that I am learning about archaeology and heritage, as well as the wider heritage industry. There are also a number of field trips for some of the modules, which have allowed me to see different approaches to heritage management and discover new places!

Rosalind MacDonald
MA Cultural Heritage Management
Entry requirements
Minimum 2:1 undergraduate honours degree in an arts, humanities or science subject.
Your interest in and understanding of archeology is more important than what you studied at undergraduate level: we may consider degrees in other subjects if you display an interest in archeology in your application.
Overall IELTS score of 6.5 with a minimum of 6.0 in each component, or equivalent.
Fees and funding
Studentships
If you accept a place on a course, you may be eligible to apply for White Rose College of the Arts and Humanities (WRoCAH) and University of Sheffield studentships. We also offer a number of department and course-specific scholarships.
See the department's fees and funding page for more information.
You can apply for postgraduate study using our Postgraduate Online Application Form. It's a quick and easy process.
Any supervisors and research areas listed are indicative and may change before the start of the course.
Recognition of professional qualifications: from 1 January 2021, in order to have any UK professional qualifications recognised for work in an EU country across a number of regulated and other professions you need to apply to the host country for recognition. Read information from the UK government and the EU Regulated Professions Database.