2023 start
September
Human Anatomy with Education
School of Biosciences, Faculty of Science

Develop an in-depth understanding of anatomy through cadaveric dissection, and begin the hands-on training that's needed to become an effective and accredited anatomy teacher.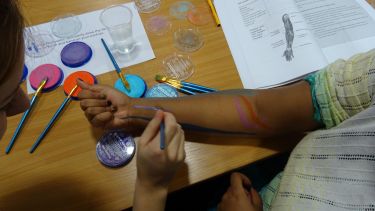 Course description
This 12-month course has been designed to train the anatomy experts of tomorrow. The course covers two major themes:
A detailed study of the whole human body
Hands-on training to become an effective, engaging teacher
We're proud to be one of only a few universities in the UK to offer students the opportunity to learn human anatomy through cadaveric dissection, with dissection classes taking place in the University of Sheffield's Medical Teaching Unit throughout your studies. During these practical sessions, you'll develop advanced dissection skills as you work through the different regions of the human body. You'll enhance your anatomical expertise using a wide range of resources including plastinated specimens, professionally dissected wet specimens and anatomical models.
You'll be supported to gain regular hands-on teaching experience, with the chance to share your knowledge and understanding of anatomy by teaching the subject to undergraduate biomedical science students. 
As part of your training to become a skilled anatomy educator, you'll learn about teaching strategies and curriculum development from our award-winning academics which include Senior Fellows of the Higher Education Academy. You'll have the opportunity to discuss and reflect on varied pedagogical issues alongside your peers before applying your knowledge to create your own engaging teaching materials and sessions. You'll also have the opportunity to use different teaching software to deliver teaching, ensuring you're equipped to teach to a modern anatomy curriculum.
The biggest part of the course is the research project. Here you'll spend time conducting independent research in an area of teaching and learning that interests you, under the supervision of one of our teaching specialists. You'll have the opportunity to apply and test theories and techniques that you'll learn about during your studies. Many students are able to use their findings from their research project to shape their own future teaching.
Example research projects include:
Representation of gender, body type, and disabilities in human anatomy resources in the University of Sheffield, and students' perceptions of them
The impact on in-class interaction of students choosing to turn off their cameras during online classes, and the factors behind student choice
The efficacy of a student designed and led, mixed method, near peer anatomy teaching program
Students' perceptions on whether open book examinations are more authentic assessments and better prepare them for life after university in comparison to closed-book examinations
Exploring etymology and specialist terminology in anatomical education
Student awareness and perceptions of metacognition
MSc research projects can form the basis of publications in peer-reviewed journals. Here is an example of a  past student publication:
Burr J, Winter R, Heyerdahl-King I, Warren A, Redman A & Nicholls O (2019) A qualitative study of how students learn from human cadavers. European journal of anatomy : official journal of the Spanish Society of Anatomy, 6, 447-452. 
Whether you're coming to the end of your undergraduate studies and keen to kick-start your teaching career, a medical student looking for an intercalation year, or you're interested in gaining new knowledge to complement your existing career, this course has been designed to ensure that you gain an in-depth knowledge of human anatomy and pedagogy, at your own pace.
Accreditation
This course is accredited by Advance HE. Successful completion of the course will result in you being awarded Fellowship of the Higher Education Academy (FHEA).
This qualification is increasingly sought by employers across the education sector and demonstrates your commitment to teaching, learning and the student experience.
Modules
Core modules:
Students and the Learning Environment

This module supports participants to develop the skills and confidence to become a credible, authentic and collegiate teacher. Participants attend a transdisciplinary Workshop Week engaging in peer supported learning, collegiate observation and feedback, critical reflection on practice and the Scholarship of Teaching and Learning. A range of strategies, methods, tools and working practices are introduced through experiential learning that participants then explore and experiment with in their own learning and teaching context.

15 credits

Anatomy of the Trunk and Limbs

This module affords the opportunity to gain detailed topographical knowledge of the anatomy of the thorax, abdomen, pelvis, upper and lower limb. Through gross cadaveric dissection, supported by small group tutorials and seminars, students devlop an in-depth understanding of the relationship between anatomical structure and function. Students are given the opportunity to demonstrate their subject knowledge and laboratory based exams as well as teaching anatomy to the undergraduate students within the department.

45 credits

Anatomy of the Head, Neck and Brain

This module is taught from a functional perspective with emphasis on the correlation between anatomical structures and their purpose within the body. Through gross cadaveric dissection, seminars and tutorials, students learn detailed topographical anatomy of the head, neck and brain. Once acquired, students have the opportunity to share their knowledge and understanding of anatomy by teaching the undergraduate students in the department.

45 credits

Curriculum and Programme Development

This module focuses on curriculum design. Participants attend a series of half day workshops engaging in peer supported learning and collegial dialogue to explore key themes in Higher Education, the development of programmes, module design and relationship to the programme, assessment and feedback. These themes build on those explored in the previous module (Students and the Learning Environment), which focussed on the individual's immediate sphere of practice with their learners.

15 credits

Action Research Project: Scholarship in Learning and Teaching

This module enables students to complete a significant piece of independent scholarship with a tangible output which may contribute to the learning and teaching agenda within their department or faculty. Individuals identify an area of teaching and learning that intrigues, interests or excites them that they might wish to critically engage with to explore and develop into a suitable project. Findings and conclusions from this in-depth research and scholarship will be assessed via both a written dissertation and at a 'showcase' event where students disseminate their findings to peers.

60 credits
The content of our courses is reviewed annually to make sure it's up-to-date and relevant. Individual modules are occasionally updated or withdrawn. This is in response to discoveries through our world-leading research; funding changes; professional accreditation requirements; student or employer feedback; outcomes of reviews; and variations in staff or student numbers. In the event of any change we'll consult and inform students in good time and take reasonable steps to minimise disruption. We are no longer offering unrestricted module choice. If your course included unrestricted modules, your department will provide a list of modules from their own and other subject areas that you can choose from.
An open day gives you the best opportunity to hear first-hand from our current students and staff about our courses. You'll find out what makes us special.
Duration
1 year full-time
Teaching
Throughout your degree, you'll be taught through communities of learning where peers discuss pedagogical issues and experiences, practical sessions, tutorials and seminars. In small group teaching classes you'll discuss, debate and present on scientific, pedagogical and ethical topics.
Assessment
Assessment is by formal examinations, coursework assignments, debates, formal teaching observations, a showcase presentation and a dissertation.
Your career
Human anatomy is at the heart of many disciplines, from bioscience, medicine and dentistry, to archaeology and forensic science. This opens up a number of doors to students when it comes to career progression.
If you're aiming to pursue a career in education, this course is a great way to springboard your career.
Upon successful completion of the course you'll be awarded Fellowship of the Higher Education Academy (FHEA), a qualification that's increasingly sought by employers across the education sector.
This recognition, coupled with the advanced skills you'll gain in dissection and teaching mean that each year our graduates are successful in securing posts with leading universities in the UK and beyond, such as Anatomy Lecturers, Anatomy Teachers, Anatomy Teaching Fellows, and Anatomy Teaching Prosectors.
Department
The School of Biosciences brings together more than 100 years of teaching and research expertise across the breadth of biology.
It's home to over 120 lecturers who are actively involved in research at the cutting edge of their field, sharing their knowledge with more than 1,500 undergraduate and 300 postgraduate students. 
Our expertise spans the breadth and depth of bioscience, including molecular and cell biology, genetics, development, human physiology and pharmacology through to evolution, ecology, biodiversity conservation and sustainability. This makes us one of the broadest and largest groupings of the discipline and allows us to train the next generation of biologists in the latest research techniques and discoveries.
Student profiles
Entry requirements
Minimum 2:1 undergraduate honours degree in a biomedical-related subject.
We also accept medical students who wish to intercalate their studies.
Overall IELTS score of 6.5 with a minimum of 6.0 in each component, or equivalent.
You can apply for postgraduate study using our Postgraduate Online Application Form. It's a quick and easy process.
Any supervisors and research areas listed are indicative and may change before the start of the course.
Recognition of professional qualifications: from 1 January 2021, in order to have any UK professional qualifications recognised for work in an EU country across a number of regulated and other professions you need to apply to the host country for recognition. Read information from the UK government and the EU Regulated Professions Database.