2023 start
September
Music Management
Department of Music, Faculty of Arts and Humanities

Management School, Faculty of Social Sciences

We combine theory with live projects to give you a real taste of what it takes to succeed in music management. The course brings together experts from our music department and management school, and from the creative and cultural industries.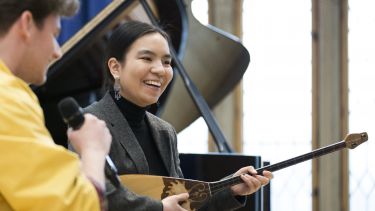 Course description
Taught by the Department of Music and the Management School, this programme allows you to specialise in your areas of interest while gaining insight into the principles and strategies of management across the creative industries.
It's suitable for those looking to launch a management career in the music industry and for music creators wishing to enhance their prospects of success.
As the music industries are rapidly changing, private and public sector organisations are looking for graduates who can bring a high degree of flexibility and critical insight, which are transferable skills that are taught throughout the programme.
Sheffield is a city with a thriving music and cultural scene, so practical work is embedded within the course to allow students to gain skills and an understanding of working for local and national arts organisations.
Accreditation
We are an All-Steinway School.
Modules
Core modules:
Strategic planning for music business clients

The module consists of students working as a team with a live client from the world of professional music to address an issue of the client's choice. The issues sought from prospective client organisations will be those which either have a long term strategic bearing on the organisations's work and existence, or which address an immediate operational issue or set of issues. In both instances the issues to be studied will be typical of what might be expected to be encountered in the real world of music management. Once the definition of the issue to be studied has been fully agreed with the cilent, the course will consist of weekly seminars at which the team will plan reasearch into the issue and will discuss on a regular basis its ideas and proposals for action with the course tutor. The progress of the team will be checked with the client at the mid-point of the semester. The final outcome of the project will be a live presentation by the team to the client outlining its research findings, its interpretation of these, followed by conclusions and recommendations. This presentation in turn will be followed by the creation of a written group report which will be the subject of formal assessment and then made available for the client to use as they choose Assessment will also include peer-group assessment by the students of themselves.

15 credits

Principles of Music Management

The module consists of weekly lectures and seminars, each of which is devoted to exploring key principles underpinning successful music management practice. Thus for example seminars will focus upon music policy, digital rights revenues and audience research and engagement. The module will give students the opportunity to investigate the principle(s) of most interest to them in the context of a specific management environment such as the grant-in-aid, independent and global music sectors. The intention of the module is to enable students to broadly identify multiple principles in context and specifically apply one to a chosen specialist area.

30 credits

Dissertation (Music Management)

The unit provides the final element in the MA in Music Management. It comprises a dissertation of c.15,000 words requiring original investigation and research by the student on a topic within the area of music management approved by the unit tutor. Learning is supported by original research guided by ongoing individual tutorials.

60 credits

Academic Skills

This module provides a general introduction to academic skills in music, assisting with the transition to PGT study, with particular reference to : (1) accessing library resources (2) critically evaluating academic literature (3) developing feedback literacy (4) understanding employability skills and career opportunities (5) reflective writing skills (6) understanding the wider field of music research beyond their discipline

These skills are taught in the context of a number of sessions split equally between first and second semester.

Students submit a short portfolio of two pieces of critical writing (concert review and article/chapter review) and a piece of reflective writing that charts their skill development and is closely tied to Myskills.

. As part of the portfolio, students are encouraged to engage with department activities outside these contact hours, such as attending performances in the concert series, talks in the department seminar series, and taking part in study skill development through activities such as reading groups.

15 credits
Optional modules - up to two from:
Accounting and Financial Management

This module is designed to provide knowledge and understanding of the roles of accounting and financial management in modern business organisations. The module will introduce students to the objectives, techniques and limitations of accounting for the purposes of external accountability and internal decision-making and control. The module will also introduce students to the objectives, techniques and limitations of financial investment appraisal and provision of financial resources.

15 credits

Critical Theories and Concepts in the Cultural and Creative Industries

This module is designed to help students learn about the variety of theoretical and conceptual approaches that have been applied to the study of the creative and cultural industries. It thus seeks to equip them with the necessary knowledge and tools to be able to assess critically the dis/advantages of existing theoretical frameworks and discourses used to understand the nature of cultural work, and its location within wider constructs such as `organisation', `networks', `fields', and `artworlds'. The module will be taught in lectures and seminars, which will discuss existing case studies, examples of research, to illustrate the dis-advantages of leading concepts and approaches. It is formulated to make students think critically about the tools they use and apply to understand and research the cultural and creative industries today.

15 credits

Cultural Marketing

Cultural Marketing aims to develop students' understanding, knowledge and analytical skills in relation to marketing and consumption practices within the Creative and Cultural Industries (CCIs), and specifically in relation to the CCI business context, types of CCI organisations and marketing management practices. The module content includes theoretical approaches to marketing and consumption practices in a range of CCI sectors, for example, film, fine art, music, literature, and heritage.

15 credits
Optional modules - up to two from:
Fundraising management: sponsorship, philanthropy and the state

This module provides students with an understanding of the various income-generating sources available to the creative and cultural industries. It focuses on how the private sector, business and individuals, has financed the sector, and how these forms of finance have changed historically. The module will also explore the changing role of public, government funding as well as assessing the strengths of cultural policy in supporting the financial viability of the sector. The module will be delivered through lectures and group discussion of case studies during seminar sessions.

15 credits

Branding

This unit engages students with different theoretical perspectives on the nature of brands, their management, and the relationship between brands and their socio-cultural context. The learning process exposes the students to a wide range of brand examples. Students draw on the theoretical perspectives to write an analytical critique of a specific leisure brand.

15 credits

Cultural and Creative Entrepreneurship

Entrepreneurship is vital to a flourishing cultural and creative sector. This module bridges the gap between creativity, culture, and business by enabling learners to develop techniques that move their creative and critical thinking to entrepreneurial thinking. The module equips those who have previously studied or engaged with an area of creative or cultural practice, such as music, media, theatre and performance, heritage, craft, design, or digital games, to start a new business arising from existing or new creative and cultural practices, to manage a portfolio of loosely connected projects in the cultural and creative industries, and to develop intrapreneurial skills for innovation in existing organisations in the cultural and creative industries. It enhances learners' skills as creative leaders who can respond to emerging trends and opportunities to realise value in the creative economy.

15 credits

Staging Music in Theory and Practice

This unit is practice based as students develop and run a one day music related event within the local community. There will be theoretical input on the nature and impacts of, and planning for, art oriented festivals and events including marketing and the practical application of legal and health and safety principles.

15 credits

Managing Festivals, Events and Creative Performances

This module explores the growth development, characteristics, issues and influences relevant to international art fairs, festivals, artistic performances and events and their impact on localities in terms of income generation, providing added value to tourist spaces, and their role in showcasing cultures and cultural products and places. It is primarily concerned with management of those art fairs, exhibitions and events that either showcase cultures or are located within the broad field of Creative and Cultural Industries, providing access to cultural products and cultural capital.

15 credits
The content of our courses is reviewed annually to make sure it's up-to-date and relevant. Individual modules are occasionally updated or withdrawn. This is in response to discoveries through our world-leading research; funding changes; professional accreditation requirements; student or employer feedback; outcomes of reviews; and variations in staff or student numbers. In the event of any change we'll consult and inform students in good time and take reasonable steps to minimise disruption. We are no longer offering unrestricted module choice. If your course included unrestricted modules, your department will provide a list of modules from their own and other subject areas that you can choose from.
An open day gives you the best opportunity to hear first-hand from our current students and staff about our courses. You'll find out what makes us special.
Duration
1 year full-time
2 years part-time
Teaching
Lectures and tutorials. These are combined with departmental study days and extracurricular performance opportunities, all of which makes for a stimulating and supportive study environment. Projects may include students undertaking consultancy and promotions work with national partners.
Department of Music students study at the heart of the campus in our Jessop Building, Soundhouse and performance facilities. We timetable teaching across the whole of our campus. Teaching may take place in a student's home.
Learn more about your supervisors

Changes to the teaching staff on the programme are possible, but are likely to include:
Assessment
Assessment takes a variety of forms such as reports and essays.
Department
Our department ethos combines high achievement with a sense of community and a shared passion for music. Our internationally recognised research informs our high-quality teaching and our student experience is collaborative, supportive and inspiring.
Sheffield is celebrated as one of the UK's leading music cities, with dozens of major venues from the City Hall and Crucible to Yellow Arch Studios and the Foundry, covering all music genres. This brings with it a host of opportunities for our students to get involved in professional music-making of the highest quality.
We work closely with the University's Concerts Series and oversee ensembles such as the Symphony and Chamber Orchestras, the Chamber Choir and the Folk Group, so our MA students have the opportunity to perform and develop ensemble skills with their peers.
Entry requirements
Minimum 2:1 undergraduate honours degree in music or a combined degree with a substantial music component.
We may accept other undergraduate degrees in a related subject, depending on your experience.
Overall IELTS score of 6.5 with a minimum of 6.0 in each component, or equivalent.
Fees and funding
University funding and scholarships opportunities are available each year. Please check the department funding webpages for music specific scholarships. Department scholarships details are released in the January prior to the start of your course.
You can apply for postgraduate study using our Postgraduate Online Application Form. It's a quick and easy process.
Any supervisors and research areas listed are indicative and may change before the start of the course.
Recognition of professional qualifications: from 1 January 2021, in order to have any UK professional qualifications recognised for work in an EU country across a number of regulated and other professions you need to apply to the host country for recognition. Read information from the UK government and the EU Regulated Professions Database.