Applications for 2024 entry are now open. Register your interest to hear about postgraduate study and events at the University of Sheffield.
2024 start
September
Advanced Cell and Gene Therapies
Neuroscience, School of Medicine and Population Health, Faculty of Health

Work with scientists and industry to study the genetics behind rare inherited diseases, and how discoveries in the lab are translated into innovative new treatments.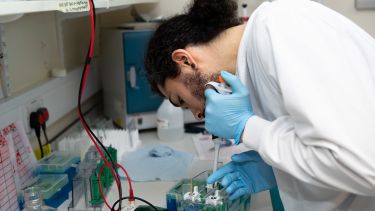 Course description
Lead academics: Professor Mimoun Azzouz and Professor Janine Kirby
This course is designed to give you knowledge and training in a cutting-edge area of science, which you can apply to a wide range of roles in a growing industry. You'll study the genetics behind rare inherited diseases, and how cell and gene therapies provide treatment options that can be tailored to individual patients.
In the laboratory, you will explore a range of topics and techniques in molecular and cellular biology. You will also learn how scientists work with industry to translate a discovery into a marketable healthcare product, covering topics such as manufacturing, quality control, regulation, safety and clinical trials.
As an Advanced Cell and Gene Therapies student, you will be learning from the experts who run our Gene Therapy Innovation and Manufacturing Centre (GTIMC). Researchers at this multi-million-pound facility are working to accelerate the development of gene therapies into life-changing treatments. The Sheffield team work with pharmaceutical companies and other organisations in an expanding global gene therapy network, which creates unique learning opportunities throughout the degree. Some of our collaborators give lectures, and you may have the opportunity to be part of a project with one of our industry partners during your 20-week research project.
You will be based within the Sheffield Institute of Translational Neuroscience (SITraN) – an internationally recognised centre of excellence, where top researchers are working on groundbreaking treatments to improve the lives of patients with neurodegenerative disorders.
Modules
Introduction to Human Inherited Diseases

This module provides a brief introduction to human genetics and the clinical presentation and manifestations of inherited diseases. The module will also illustrate how traditional and current advanced strategies and techniques have been used to identify genes responsible for both common multifactorial and rare inherited diseases. The module will also develop skills for communicating biomedical research to a lay audience.

15 credits

Omics Techniques & Application to Genomic Medicine

This module will introduce 'omics' technologies, such as genomics, transcriptomics, proteomics and metabolomics, and how they are applied in disease areas such as cancer, rare inherited diseases and infectious diseases. Students will experience the experimental and bioinformatic pipelines used to evaluate pathogenicity of variants and learn about the use of different methodologies, such as microarrays and RNA sequencing in estimating levels of mRNA, micro RNAs and long non–coding RNAs. Students will also learn about the advantages and limitations of each method, to assess which is the best method for a particular experimental question.

15 credits

Principles of Gene and Cell Therapies

This module will offer a comprehensive overview of the principles of advanced therapies (cell and gene therapies), including introduction to viral and non-viral vectors, vector design, gene editing, gene replacement, gene silencing, vector delivery, stem cell and pluripotency, tissue engineering, ex-vivo gene therapeutics and CAR T cell technology. Gene and cell therapeutics for monogenic rare diseases and other common diseases (e.g. cancer, heart, immune system) will be discussed. Students will be delivered tutorials on cell and gene therapy study design. They will also have a chance to learn about career opportunities in advanced therapeutics.

15 credits

Beyond Cell and Gene Therapy

This module will offer an overview of advanced therapy approaches other than cell and gene therapy. These include small molecule drug development, intermediate molecules (protacs, peptide), antibody therapeutics and their variants, electroceuticals and scaffolding for regenerative medicine. The module will focus on the different stages of preclinical drug discovery and highlight any specific issues relating to toxicology and clinical trials for each approach. The module will also cover IP and commercialisation in and explore the growing fields of novel therapeutic modalities such as protacs and bicyclic peptides, applied to therapeutic areas, from neurology to cancer, and how this complements cell and gene therapy.

15 credits

Clinical development in gene & cell therapeutics

This module will offer a comprehensive overview of the translational pathway of advanced therapies (cell and gene therapies), including the regulatory requirement overseeing the clinical development of advanced therapies, Good Laboratory Procedures (GLP) pre-clinical regulatory studies, Good Manufacturing Procedures (GMP) for plasmid, vector and cell manufacturing, quality control and assurance. This module will also give an overview on procedures to secure clinical trial approval (CTA) and Market Authorisation for advanced therapy products. Students will have a chance to learn about career opportunities in regulatory and GMP manufacturing through interaction with industry.

30 credits

Literature Review

This module is to allow students to carry out an in depth literature based project on specific subjects relevant to their area of interest, within the field of advanced therapies, which is suitable for publication. This unit aims to develop abilities in information retrieval from appropriate sources, and synthesis and critical analysis of published literature. New titles are provided each year by academics to address an unmet need for an original review, an updated review or that question a paradigm in the wider literature.

15 credits

Research Project

The aim of the module is to provide the opportunity to learn and apply research methodologies to test a specific scientific hypothesis. A list of projects will be made available and students will be asked to select their top choices. Having been assigned a project of their choice, the students will carry out a 20 week research project, culminating in an oral presentation and dissertation concisely written in the style of a scientific paper describing their research. Students will be expected to join in with the Departmental seminars, journal clubs and supervisor meetings, to learn and experience the role of a scientific researcher.

75 credits
The content of our courses is reviewed annually to make sure it's up-to-date and relevant. Individual modules are occasionally updated or withdrawn. This is in response to discoveries through our world-leading research; funding changes; professional accreditation requirements; student or employer feedback; outcomes of reviews; and variations in staff or student numbers. In the event of any change we'll consult and inform students in good time and take reasonable steps to minimise disruption.
Open days
An open day gives you the best opportunity to hear first-hand from our current students and staff about our courses. You'll find out what makes us special.
Duration
1 year full-time
Teaching
You will learn through lectures by academics and industry experts, seminars, tutorials, student-led group work, practical sessions, and research placements in clinical, regulatory and industry settings. You may also have the opportunity to attend a gene and cell therapies conference.
Assessment
You will be assessed through written assignments, coursework, short answer exams, posters, presentations and blogs. The research project is assessed by a dissertation and presentation.
Your career
Cell and gene therapies are a growing field, and there is a high demand for graduates with the specialist knowledge and skills this course provides. Potential employers include universities and research institutes where scientists are studying cell and gene therapies, organisations in the healthcare industry that are developing, manufacturing and trialling new treatments, and the government bodies that regulate medical products.
The course is also great preparation for a PhD.
Student profiles
Entry requirements
You'll need at least a 2:1 undergraduate honours degree in a relevant science, engineering, law or medical subject.
A 2:2 degree may be acceptable depending on an interview and assessment of your previous experience in areas related to the course.
Overall IELTS score of 6.5 with a minimum of 6.0 in each component, or equivalent.
Apply
You can apply for 2024 postgraduate study using our Postgraduate Online Application Form. It's a quick and easy process.
Any supervisors and research areas listed are indicative and may change before the start of the course.
Recognition of professional qualifications: from 1 January 2021, in order to have any UK professional qualifications recognised for work in an EU country across a number of regulated and other professions you need to apply to the host country for recognition. Read information from the UK government and the EU Regulated Professions Database.