2024 start
September
Advanced Clinical Practice (Neonatal)
School of Allied Health Professions, Nursing and Midwifery, Faculty of Health

Play a leading role in caring for newborn babies, and expand your clinical knowledge and practical skills in neonatal care.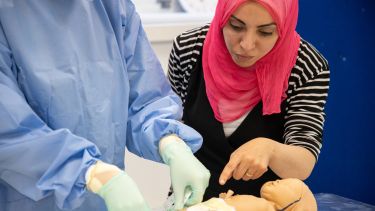 Course description
This course allows you to expand the role you play in neonatal care and the support you provide for newborn babies. It is designed to build on the experience you have from working in neonatal care to become an advanced clinical practitioner in this area. The course can be taken as a standard degree programme or apprenticeship.
You will cover all four pillars of advanced practice: clinical practice, leadership and management, education, and research. You will gain advanced skills in anatomy, history taking and clinical examination, develop your understanding of evidence-based practice, learn how to deal with complex clinical situations and improve services, and cover the training necessary to become an independent prescriber.
The programme is designed for working healthcare professionals. It is led by a multidisciplinary team of academics and practitioners who are experienced in supporting mature and distance learners. You will combine your university studies with work-based learning under the supervision of a local mentor who can support and assess your knowledge, skills and capabilities.
Applying
All applications for 2024 entry must be received by 1 August. 
It can take up to six weeks for an offer to be made. Please do not contact us for a decision before this time has passed.
Before you complete your application, please ensure you have been interviewed and secured a trainee ACP post as this will ensure you have the correct funding and supervision in place.
After this, you will receive a link to a University of Sheffield online application form and be asked to download and complete our ACP admissions checklist. Your completed checklist and all required information should then be uploaded to the application form for your programme. Failure to do this will mean your application can not be considered.
If you are applying for the Advanced Clinical Practice apprenticeship route, which is a part-time integrated three-year degree apprenticeship masters programme,  ACP apprentices must ensure they are employed by their organisation for a minimum of 30 hours per week to undertake a job with training to recognised industry standards. 
HCPC registrants can also apply if they already hold the independent prescriber qualification.
HEE 4 Pillars (Professional Framework)
Accreditation
This programme is accredited by the NHS Centre of Advancing Practice. It will make you eligible to be listed on the Advanced Practice Directory and work as an advanced clinical practitioner in neonatal care.
Modules
Neonatal Episode Management

The clinical focus of this module is designed to enable students to integrate the knowledge gained through completion of the Advanced Neonatal Practitioner Foundation module into their clinical practice. This will enable the trainee to develop capability as a neonatal practitioner and provide a robust base for transition to an advanced level of practice.
The module is designed to enable trainees to integrate knowledge gained through completion of the Evidence Based Practice and Advanced Neonatal Practitioner Foundation modules into clinical practice. Trainees will be working at neonatal practitioner level, but will start to develop advanced skills and knowledge which will be developed further in successive modules.


15 credits

Advanced Neonatal Clinical Assessment

This module is designed to provide qualified healthcare professionals working with neonates with the theoretical knowledge and core skills underpinning advanced neonatal practice. It will provide students with the relevant underpinning anatomy, physiology and pathophysiology knowledge to gain mastery in their role. The module focuses on the acquisition of in depth bioscience knowledge and how this relates to the clinical conditions frequently seen in newborn infants and the development of core clinical skills.

30 credits

Evidence Based Practice (Online)

This unit is designed to enable the student to consider sources of knowledge that impact on the development of health and social care practices. The nature of evidence and the skills of searching, retrieval, appraisal, utilisation, dissemination and implementation of evidence will be conceded in the light of health and social care service efficacy. A variety of teaching and learning strategies will be offered to facilitate the development of the knowledge and skills required for evaluation of evidence in practice, culminating in the development of a defensible proposal to support practice/service enhancement.

15 credits
Core modules:
Clinical Leadership

Healthcare professionals strive to provide care that is continuously improving, high quality, safe and compassionate. Such care needs to be adaptive to local and national organisational strategies, learns from incidents and is aligned to patient opinions, behaviours and service demand. Effective leadership behaviours are central to high quality clinical care, and focused on a patient safety culture that can transcend professional and organisational boundaries to drive quality improvements.

Within this module, we will critically explore and analyse the theories and evidence underpinning practice improvement, human factors, service redesign and transformational leadership, ensuring the student has the creative ability to propose and develop a practice-based report and use innovative approaches to disseminate their findings.

15 credits

Managing complexity in neonatal advanced clinical practice

This module provides an opportunity for experienced neonatal practitioners to explore and identify contemporary issues in neonatal practice whilst critically reflecting on their development. In partnership with clinical supervisors, students develop bespoke skills relevant to their specialist practice and clinical work environment. This module is designed to develop the knowledge, skills and experience gained as a neonatal practitioner in year 1, thus enabling the trainee to transition into an advanced practice role. The focus of this module will be work-based learning, enabling the students to develop a professional knowledge base acquired in the workplace whilst playing a key role in the multidisciplinary neonatal team.

15 credits
Optional modules:
Independent & Supplementary Prescribing for Nurses and Midwives

This module will enable qualified nurses and midwives to critically evaluate the principles underpinning nurse prescribing, including exploring the pharmacology of drugs and to examine the issues faced when prescribing in clinical practice as part of an interdisciplinary team. This will allow them to prescribe safely, appropriately, and cost effectively. Students are required to undertake supervised clinical practice under the mentorship of a designated prescribing practitioner. Successful completion of the module will in fulfil the Nursing and Midwifery Council (NMC) criteria to allow annotation in the professional register as an independent/supplementary prescriber.

Applicants must be a registered nurse (level 1), a registered midwife or a SCPHN (registered with the NMC) before being considered as eligible to apply for entry onto an NMC approved prescribing programme

Applicants for V300 supplementary/independent prescribing programmes must have been registered with the NMC for a minimum of one year prior to application for entry onto the programme (change to NMC requirements 2018)

Applicants will also need to evidence that they have the necessary skills in clinical and health assessment, diagnostics, care management and the planning and evaluation of care

For level 7 applications It is expected that participants have 120 credits at level 6 (degree) or demonstrate the ability to study at this level.

All Registrants must have an up-to date Disclosure and Barring Service check i.e. within last three years, before they commence educational preparation to prescribe as a Nurse Independent Prescriber. This includes applicants who are self-employed or work in non NHS settings.

30 credits

Effective advanced practice for independent prescribers

This unit is designed for those already with a prescribing qualification at undergraduate level who are training for advanced practice roles, which bring greater demands for autonomy and critical thinking. It aims to develop the knowledge and skills to fully integrate their prescribing practice into their new advanced role. The unit builds on the knowledge and skills already gained through completion of a previous course in independent prescribing and uses principles of reflective practice and work based learning to further develop effectiveness in relation to advanced practice.

30 credits
Apprentice route:
Critical review of clinical practice

Advanced clinical practitioners need to be able to translate and apply learning in order to make a meaningful contribution to practice. The module enables students to undertake an in-depth critical review of the evidence in an area of clinical practice. This review draws together prior programme learning and facilitates the student to develop a critical review of a subject before proposing an implementation plan. The module is undertaken towards the end of the apprenticeship and in addition to the critical review of clinical practice the apprentice needs to meet the requirements of clinical competence to pass through the gateway.

40 credits

Advanced Clinical Practitioner Apprentice End Point Assessment (EPA)

This end point assessment (EPA) is undertaken towards the end of year three of the Integrated Degree
Apprenticeship for Advanced Clinical Practitioner at Level 7. The EPA provides independent synoptic assessment of the knowledge, skills and behaviours of the apprenticeship standard (ST0564). The assessment will deliver a valid, reliable and independent judgement that the apprentice has achieved the standard required in order to be awarded the Integrated Degree Apprenticeship for Advanced Clinical Practitioner at Level 7. The University must uphold all requirements for independent assessment in the EPA. The EPA will be completed in a maximum three month period. The three month period includes the time needed for the apprentice to prepare for and undertake the EPA but does not include the period required to conclude subsequent academic confirmation of results and degree award processes.

20 credits
Non-apprentice route:
Critical review of clinical practice

Senior health and social care professionals need to be able to translate and apply learning from academic programmes in order to make a meaningful contribution to practice. The unit will enable students to complete a substantial piece of work that has the potential to stimulate development or innovation in their practice. It draws together learning from the programme and engages the academic skills of critical appraisal with development of a proposal of application to practice. Students identify a relevant issue and subject this to systematic analysis to produce an evidence based report which addresses improvement objectives through deliverable recommendations.

60 credits
The content of our courses is reviewed annually to make sure it's up-to-date and relevant. Individual modules are occasionally updated or withdrawn. This is in response to discoveries through our world-leading research; funding changes; professional accreditation requirements; student or employer feedback; outcomes of reviews; and variations in staff or student numbers. In the event of any change we'll consult and inform students in good time and take reasonable steps to minimise disruption.
Open days
An open day gives you the best opportunity to hear first-hand from our current students and staff about our courses.
Find out what makes us special at our next online open day on Wednesday 17 April 2024.
You may also be able to pre-book a department visit as part of a campus tour.Open days and campus tours
Duration
3 years, part-time
Teaching
You will learn through lectures, skills workshops, simulations, seminars, case-based discussions, supervised clinical practice, tripartite reviews and reflection.
Assessment
You will be assessed through case presentations, reports, examinations including objective structured clinical exams (OSCEs), presentations, essays and a specialist electronic portfolio.
Your career
After successfully completing your course, there are a wide variety of roles you can pursue, including:
Nurse consultant
Research nurse
Matron
University teacher
Patient transport lead
Past students have gone on to work in a variety of health settings such as the NHS, The Resuscitation Council and the Department of Health, as well as UK universities.
Entry requirements
You will:
have a minimum 2:2 undergraduate honours degree in nursing or midwifery which is regulated by the Nursing and Midwifery Council
have a minimum of a grade 4/C in GCSE English Language and Maths or equivalent (please upload evidence of this to your application)
be a qualified UK-registered healthcare professional, working in the pathway-specific area for a minimum of two years
hold a current relevant employment contract in the pathway-specific setting for the duration of the programme for a minimum of 30 hours per week
be able to provide evidence of support from a manager and a lead consultant/general practitioner
Overall IELTS score of 7 with a minimum of 6.5 in writing and a minimum of 7 in each other component.
Fees and funding
Apprenticeship route
Full funding for the cost of the apprenticeship programme fee is available for levy-paying employers (up to the relevant funding cap).
Partial funding for the cost of the apprenticeship programme fee is available for non levy-paying employers (up to the relevant funding cap). The government will fund up to 90 per cent of the apprenticeship programme fees
MMedSci
Apply
To apply for this course, you must have been interviewed for and secured a trainee advanced clinical practitioner post. After this, you will receive a link to a University of Sheffield online application form and further instructions to complete your application.
Any supervisors and research areas listed are indicative and may change before the start of the course.
Recognition of professional qualifications: from 1 January 2021, in order to have any UK professional qualifications recognised for work in an EU country across a number of regulated and other professions you need to apply to the host country for recognition. Read information from the UK government and the EU Regulated Professions Database.