2024 start
September
Chemistry
Department of Chemistry, Faculty of Science

Securing a place on a chemistry PhD programme at a top institution, or joining a research and development lab in industry, is a competitive process. This masters course is designed to make you stand out. Get professional research experience and learn advanced laboratory techniques in a state-of-the-art setting to help provide you with the skills to take the next step in your career.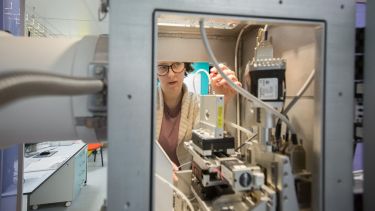 Course description
Securing a place on a chemistry PhD programme at a top institution, or joining a research and development lab in industry, is a competitive process. This masters course is designed to help you stand out.

For most of this one-year course, you will be working full-time as a chemistry researcher on your own research project. You'll get to choose a topic that you're interested in, be assigned an academic supervisor who specialises in that area and work in their laboratory as part of a team of scientists. Some students' projects even lead to publications in academic journals.

We'll teach you advanced lab techniques and train you to use state-of-the-art chemistry equipment. You'll also choose lecture modules from across organic, inorganic, physical and analytical chemistry. Current topics range from catalysis and the chemistry of light to theoretical chemistry and technologies for sustainability.
Modules
Core module:
Chemistry Research Project

This module is the major research project associated with the Masters programmes in Chemistry. Students are trained in research methodology, and undertake a project in the research laboratory of a member of academic staff. Projects use state-of-the-art research facilities. Students undertake a throrough literature search, give a research talk and a poster, have a viva, and present a thesis.

120 credits
Optional modules – four from:
Methods and Models in Theoretical Chemistry

The principles of theoretical chemistry can explain and predict chemical phenomena across all the main branches of chemistry (organic, inorganic, physical, analytical), and can shed light on molecular aspects of physics and biology. A wide range of methods and models are covered, including density functional theory, coupled cluster, time-dependent quantum mechanics, and more. Students are taught to assess these methods and models' suitability for different tasks, and put the theory into practice by using them to interpret chemical phenomena in hands-on projects.

15 credits

Pharmacology, Medicinal Chemistry and Drug Design

The discovery and development of new drugs requires a multidisciplinary approach, bringing together anatomy, physiology, pharmacology and toxicology. In this module, students learn about these areas as they build on their organic and medicinal chemistry knowledge from earlier in their degrees. It covers concepts including pharmacodynamics, pharmacokinetics and basic toxicology, and looks in detail at strategies for optimising the pharmacodynamic, pharmacokinetic properties of drugs. There is also a focus on computing technologies, including computer-aided drug design tools and quantitative structure:activity relationship models. Students learn about the fundamental chemistry behind the synthesis of specific drugs throughout the module.

15 credits

Technologies for Sustainability

Our current manufacturing technologies for chemicals, plastics and construction materials, are carbon intensive technologies and in order to maintain our living standards we need to decarbonise those technologies. In order to achieve this overarching aim, we need to make better use of fossil-based and renewable resources, and move towards a circular economy. Topics include the current status of the industry, life-cycle analysis, non-fossil fuel and feedstocks, and reuse reforming and recycling. This will be focused to the following main areas: Fine chemicals and commodities. This module will discuss the current state-of-the-art of fine chemicals and commodities manufacturing and how to minimize their impact to the environment. Plastic and polymers. Plastic waste is a growing problem and this course will discuss the challenges associated with current plastics, what the alternatives are and whether they will be feasible.

15 credits

Current Topics in Industrial Catalysis

Catalysis either in its homogeneous or heterogeneous forms is a pillar for the chemical industry, where catalysis is used to produce bulk chemicals at large scales and fine chemicals at smaller ones. This module explains the principles as well as the applications of heterogeneous and homogeneous catalysis by analysing some of the most economically important catalytic reactions. It covers the chemical basis of these processes, and the advantages and disadvantages of heterogeneous and homogeneous systems including sustainability considerations.  Reaction mechanisms and the role of the metal centre, and fundamental physical processes such as adsorption and reaction kinetics, will be discussed in detail, together with the applications of these concepts for scale up purposes. Concepts are illustrated by analysing, in detail, catalytic reactions including hydrogenation, oxidation, carbonylation and polymerisation.

15 credits

Current Topics in Chemistry of Light

Understanding processes caused by light is key in chemistry, physics, biology and engineering, and has recently led to many major scientific breakthroughs. This course explains how light and matter interact in molecules, nanostructures and materials. It will explain photoinduced electron and energy transfer - essential processes in nature and everyday life - using examples of natural and artificial photosynthesis. Modern techniques for studying light-induced processes, on time-scales from seconds to femtoseconds, are also covered. More specifically, each spectroscopic technique covered will be described in terms of the physical concepts on which it is based, the information it helps acquire, and the practical concerns associated with it such as resolution, availability, costs, etc. The goal is to bring the students to appreciate the main advantages and constraints of each technique so that they can start developing their own research plan to answer any given research questions.

The theory grounding light-matter interactions is taught in the context that will be relevant to modern applications in photocatalysis, photonics and optoelectronics, solar energy conversion, phototherapy, imaging, and other light-induced processes in medicine.

15 credits

Current Topics in Advanced Materials Chemistry

Materials chemistry is at the heart of technological solutions to problems that society faces in energy, health care, transport and the environment. This module will focus on functional materials based on supramolecular assembly from molecular components. Students will learn about design strategies, molecular properties, characterisation and material function, and use concepts from coordination chemistry, organic chemistry and solid-state chemistry. The role of materials properties in applications such as sensing, molecular separations, gas adsorption, catalysis, drug delivery, propulsion and gas generation will be discussed in the context of providing technological solutions.

15 credits

Current Topics in Biophysical Chemistry and Biophysics

The physical properties of biological molecules can be studied by applying  and combining the basic theories and techniques of physical and biological chemistry.  The structures, functions and interactions of biomolecules in solution can be explained and determined by thermodynamics concepts and advanced spectroscopic measurements. As well as learning about methods for analysing  the properties of ensembles of many biomolecules, students will learn how to perform and interpret measurements on single biomolecules. The lecture  course will include examples of  biophysical approaches to studying protein and nucleic acid structures and mechanisms of DNA damage recognition. In addition, the development of molecules for diagnostics, therapeutics and theranostics will be examined. 

15 credits

Current Topics in Catalysis and Asymmetric Synthesis

Chemists' ability to synthesise organic molecules with defined stereochemistry is the backbone of many useful applications, from medicines to new materials. Modern methods of organic synthesis rely on sophisticated and efficient chemical reactions that create exquisite levels of functional group selectivity and stereochemical control. This module will explain the cutting edge processes that achieve these objectives, in the context of catalysis and stereoselective synthesis. There is a focus on transformations that are promoted by a sub-stoichiometric amount of catalyst. Concepts behind controlling stereochemistry in important synthetic chemical reactions will also be explained. From the generation of new medicines to the creation of new materials, chemists' ability to synthesise molecules with defined stereochemistry is of critical importance. Stereochemical control, exquisite functional group selectivity,  high yield and efficiency are the touchstones of modern organic chemistry. This module will review the cutting edge methods that are used to achieve stereochemical control and catalysis in organic reactions. Students will study transformations that are promoted by a sub-stoichiometric amount of catalyst. Emphasis will be placed on explaining the concepts behind controlling stereochemistry in important chemical reactions for modern organic chemistry.

15 credits
The content of our courses is reviewed annually to make sure it's up-to-date and relevant. Individual modules are occasionally updated or withdrawn. This is in response to discoveries through our world-leading research; funding changes; professional accreditation requirements; student or employer feedback; outcomes of reviews; and variations in staff or student numbers. In the event of any change we'll consult and inform students in good time and take reasonable steps to minimise disruption.
Open days
An open day gives you the best opportunity to hear first-hand from our current students and staff about our courses. You'll find out what makes us special.
You may also be able to pre-book a department visit as part of a campus tour.Open days and campus tours
Duration
1 year full-time
Teaching
You'll be taught by our academics and research experts in a multi-disciplinary approach, to boost your expertise in a range of settings; through lectures, in group laboratory practicals and by individual research projects.

Nine months of your masters course will typically be spent working on an individual research project alongside PhD students and experienced postdoctoral researchers. Here you'll gain first-hand experience as a researcher, and will have access to the outstanding research facilities in Sheffield.
Assessment
Our assessment methods are designed to support the achievement of learning outcomes and develop your professional skills, giving you confidence and experience in a range of activities.
This includes coursework, laboratory reports, dissertation and viva. Regular feedback is also provided, so you can understand your own development throughout the course.
Your career
This course is excellent training for a PhD in chemistry. Sheffield chemistry graduates have secured postgraduate research positions at many of the world's top 100 universities.
The extended research project that students on this course complete is also great preparation for research and development roles in industry.
Some of the biggest employers of Sheffield chemistry graduates are consumer goods companies such as Unilever and Reckitt, pharmaceutical companies such as AstraZeneca and GSK, and chemical companies such as Croda and Dow Chemicals.
Department
Department of Chemistry
The Department of Chemistry was one of the University's first departments when it was founded in 1905. Since then, four Nobel Prize winners have been Sheffield chemistry researchers or students. Several of our academics have been named Fellows of the Royal Society or been awarded prizes from other prestigious organisations such as the Royal Society of Chemistry.
Our chemistry researchers work on many of society's most pressing challenges, from antimicrobial resistance to environmental sustainability, and they collaborate closely with industry to find solutions and develop innovative new technologies.
Many of our academics bring first-hand industrial and business experience to their teaching, with many involved in current spin-out companies and collaboration with industrial partners.
In the Research Excellence Framework 2021, 95 per cent of our research was rated in the highest two categories as world-leading or internationally excellent.
We're home to state-of-the-art chemistry laboratories and several multi-million pound materials science facilities.
These include the Lord Porter Ultrafast Laser Spectroscopy Laboratory, which is used in studies ranging from energy transport in molecules and materials to artificial photosynthesis, the Soft Matter Analytical Laboratory, where scientists can study samples that are 100 times smaller than a human hair, and an array of state-of-the-art instrumentation in Sheffield Surface Analysis Centre.
Entry requirements
Minimum 2:1 undergraduate honours degree in chemistry or a related subject.
Overall IELTS score of 6.5 with a minimum of 6.0 in each component, or equivalent.
Apply
You can apply now using our Postgraduate Online Application Form. It's a quick and easy process.
Any supervisors and research areas listed are indicative and may change before the start of the course.
Recognition of professional qualifications: from 1 January 2021, in order to have any UK professional qualifications recognised for work in an EU country across a number of regulated and other professions you need to apply to the host country for recognition. Read information from the UK government and the EU Regulated Professions Database.