2024 start
September
Creative and Cultural Industries Management
Management School, Faculty of Social Sciences

Our MSc Creative and Cultural Industries Management programme draws on the research, knowledge and workplace experience of a talented team of academics, who offer an excellent understanding of the business demands of managing creative enterprises and cultural organisations in the modern world.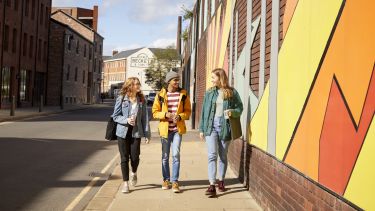 Course description
On our Creative and Cultural Industries Management MSc you'll learn the critical skills and essential knowledge you need to become a successful manager in the cultural and creative sector. You may also have the option to undertake an organisational project, giving you real-world work experience within a creative organisation.
The city makes this programme unique. Sheffield is an exciting place to specialise in the creative and cultural industries thanks to its internationally renowned museums and galleries, thriving music scene, and one of the largest regional theatre complexes outside London. The city regularly hosts high-profile exhibitions as well as stages its own events in several pop-up and DIY venues. Sheffield boasts a vibrant creative industries quarter and frequently sends its theatrical productions to the West End.
This course provides general training in management with an emphasis on understanding and managing creative enterprises and cultural organisations. Students are encouraged to make use of Sheffield's strong creative and cultural brands such as Museums Sheffield, S1, Showroom Cinema, and Sheffield Theatres. 
Cultural field trips to experience creative programmes at various destinations are an integral part of this course, and guest speakers working in the sector provide professional expertise. Volunteering opportunities in the sector may also be available. You can also apply to base your dissertation on a project with a high-profile arts organisation or event in the city.
Accreditation
Modules
Core modules:
Accounting and Financial Management

This module is designed to provide knowledge and understanding of the roles of accounting and financial management in modern business organisations. The module will introduce students to the objectives, techniques and limitations of accounting for the purposes of external accountability and internal decision-making and control. The module will also introduce students to the objectives, techniques and limitations of financial investment appraisal and provision of financial resources.

15 credits

Introduction to Critical Theories and Concepts in the Creative and Cultural Industries

This is a core module that introduces and defines what we mean by the Creative and Cultural Industries (CCI), not least exploring their role in society. From theatres, to museums, to the music industry, to film, this module explores ideas around the purposes of, and changes and challenges to the CCI sector. The module provides an overview of critical theories and concepts within CCI, and seeks to equip students with the necessary knowledge and tools to assess critically the advantages and disadvantages of existing frameworks, and apply these to understand and research the Creative and Cultural Industries today.

15 credits

Cultural Marketing

Cultural Marketing aims to develop students' understanding, knowledge and analytical skills in relation to marketing and consumption practices within the Creative and Cultural Industries (CCIs), and specifically in relation to the CCI business context, types of CCI organisations and marketing management practices. The module content includes theoretical approaches to marketing and consumption practices in a range of CCI sectors, for example, film, fine art, music, literature, and heritage.

15 credits

Digital Cultural and Creative Industries

This module aims to develop students' understanding of the relationship between digital technologies and cultural and creative industries, looking at production, distribution, audience measurement and future trends. Students will synthesise knowledge from CCI theory, up-to-date industry examples and guest speakers who work at the forefront of these digital transformations. Students will be equipped with the skills to critically evaluate the use of technologies in CCIs, to address their opportunities, risks and potential harms.  

Firstly, we will explore how cultural and creative production is facilitated by different technological innovations and developments. We will look at how CCIs such as game design, museum curation and music have been shaped by numerous technological innovations. We will also examine how digital production influences work and consumption within contemporary CCIs.  

Secondly, we will look at the ways in which CCI distribution is facilitated by digital intermediaries. We will look at social media platforms, streaming services and livestreaming platforms, and examine industries related to social media content creation, influencer culture and the promises of 'DIY' production. We will particularly focus on how the algorithmic distribution of cultural products has shaped cultural and creative industries. We will also examine how digital intermediaries shaped the funding models of CCIs, and what impact this has on the sector. 

Lastly, we will look at how digital media has shaped the sustainability and futures of cultural and creative industries. We will look at how technologies such as VR and AI could end up transforming how we access, and work in CCIs - both now and in the future.

15 credits

Research Methods

The unit provides an introduction to a wide range of research methods used in management research. It prepares students for their dissertation by helping them to make an informed choice of objectives and methods (design, data collection and analysis) for thier own research. It also prepared students to review the literature and critically evaluate the methods used by others, to consider ethical issues around research and to prepare a plan for their dissertation research.

15 credits

Project Dissertation

This unit requires the student to research a topic appropriate to the field of management. The topic chosen by the student must receive approval from a supervisor. A dissertation written by the student should be delivered to the School at the conclusion of the study. The study, and the resulting dissertation, may take the form of an academic research or of a managerial problem-solving exercise. In either case, it requires the student to apply critical analysis and to set the issues within the context of appropriate management literature.

45 credits
Optional modules - one from:
Heritage, History and Identity

This module highlights the diversity of cultural heritage, ranging from cultural and 'natural' landscapes, through monuments to music, dress, cuisine, 'traditional' crafts, and language and dialect. It explores the role of these various forms of heritage in shaping local, regional and national identity; the extent to which they reflect or misrepresent local, regional and national history; the legal and ethical issues surrounding conservation and preservation of heritage; and how study of 'traditional' lifeways may contribute to understanding of history.

15 credits

Management and Organisational Theory

This module explores the fundamentals of various theories of organisation, and how organisational management influences functioning. It brings together theory and practice in encouraging students to view organisations from different perspectives to develop a more comprehensive understanding of organisational theory and approaches to managing organisations. By analysing the usefulness and drawbacks of different approaches, both classical and strategic, it enables students to reach their own conclusions as to which approach might be suitable in a particular circumstance. The approaches are set in the context of understanding organisational structures and management, together with the behaviours of those who populate organisations.Note: The Module Leader should ensure that there is no overlap with MGT650 Managing People in Organisations, which is taken by MSc Management students in Semester 1.

15 credits
Optional modules - three from:
Digital Cultural Heritage: Theory and Practice

This module examines the theoretical and methodological advances in Digital Cultural Heritage and their
broader implications in fields concerned with the interpretation and presentation of the past. We will draw on
theoretical readings as well as analyse the potential benefits and drawbacks of certain digital and online
approaches. Topics include: principles and theories underlying Digital Cultural Heritage, understanding
processes of creating digital surrogates, establishing principles for user experience, and exploring digital
narratives for public dissemination. A major component of this module will be a semester-long project that will
require the development of a proposal for a digital cultural heritage project.

15 credits

Heritage, Place and Community

The aim of this module is to introduce the theory and practice of heritage, conservation and public archaeology. The module will encourage debate on issues that affect how we define and apply the term 'heritage'. It also offers an opportunity to focus on the historic 'value' of a site or landscape, with an evaluation of how it is currently managed, and strategies for its future conservation and presentation.

15 credits

Managing Festivals, Events and Creative Performances

This module explores the growth development, characteristics, issues and influences relevant to international art fairs, festivals, artistic performances and events and their impact on localities in terms of income generation, providing added value to tourist spaces, and their role in showcasing cultures and cultural products and places. It is primarily concerned with management of those art fairs, exhibitions and events that either showcase cultures or are located within the broad field of Creative and Cultural Industries, providing access to cultural products and cultural capital.

15 credits

Managing Museums and Cultural Heritage Sites

The module defines and critically appraises the concepts and dimensions of museums and heritage spaces and examines the politics and uses of such sites. It considers local museums, World Heritage Sites and 'Starchitecture' new builds such as the Guggenheim, Bilbao and the Louvre Abu Dhabi. It examines policy, funding and the day to day management of individual museums and heritage spaces against the background of national government agendas and inter-governmental agreements that underpin large scale developments. It looks at provision of such cultural spaces from both the operator and visitor management perspectives and includes site visits within the locality.

15 credits

Cultural and Creative Entrepreneurship

Entrepreneurship is vital to a flourishing cultural and creative sector. This module bridges the gap between creativity, culture, and business by enabling learners to develop techniques that move their creative and critical thinking to entrepreneurial thinking. The module equips those who have previously studied or engaged with an area of creative or cultural practice, such as music, media, theatre and performance, heritage, craft, design, or digital games, to start a new business arising from existing or new creative and cultural practices, to manage a portfolio of loosely connected projects in the cultural and creative industries, and to develop intrapreneurial skills for innovation in existing organisations in the cultural and creative industries. It enhances learners' skills as creative leaders who can respond to emerging trends and opportunities to realise value in the creative economy.

15 credits

Branding

This unit engages students with different theoretical perspectives on the nature of brands, their management, and the relationship between brands and their socio-cultural context. The learning process exposes the students to a wide range of brand examples. Students draw on the theoretical perspectives to write an analytical critique of a specific leisure brand.

15 credits

Strategic planning for music business clients

The module consists of students working as a team with a live client from the world of professional music to address an issue of the client's choice. The issues sought from prospective client organisations will be those which either have a long term strategic bearing on the organisations's work and existence, or which address an immediate operational issue or set of issues. In both instances the issues to be studied will be typical of what might be expected to be encountered in the real world of music management. Once the definition of the issue to be studied has been fully agreed with the cilent, the course will consist of weekly seminars at which the team will plan reasearch into the issue and will discuss on a regular basis its ideas and proposals for action with the course tutor. The progress of the team will be checked with the client at the mid-point of the semester. The final outcome of the project will be a live presentation by the team to the client outlining its research findings, its interpretation of these, followed by conclusions and recommendations. This presentation in turn will be followed by the creation of a written group report which will be the subject of formal assessment and then made available for the client to use as they choose Assessment will also include peer-group assessment by the students of themselves.

15 credits

Staging Music in Theory and Practice

This unit is practice based as students develop and run a one day music related event within the local community. There will be theoretical input on the nature and impacts of, and planning for, art oriented festivals and events including marketing and the practical application of legal and health and safety principles.

15 credits
The content of our courses is reviewed annually to make sure it's up-to-date and relevant. Individual modules are occasionally updated or withdrawn. This is in response to discoveries through our world-leading research; funding changes; professional accreditation requirements; student or employer feedback; outcomes of reviews; and variations in staff or student numbers. In the event of any change we'll consult and inform students in good time and take reasonable steps to minimise disruption.
Open days
An open day gives you the best opportunity to hear first-hand from our current students and staff about our courses. You'll find out what makes us special.
You may also be able to pre-book a department visit as part of a campus tour.Open days and campus tours
Duration
1 year full-time
Teaching
Lectures
Seminars
Case studies
Group work for collaborative learning
Web-based discussion groups
Assessment
Individual assignments
Group projects
End-of-semester examinations
Dissertation
Department
Management School
We have an international reputation for practical and real-world economics.
We are a leading business school with Triple Crown accreditation (AACSB, AMBA and EQUIS). These awards have been achieved through the outstanding quality of our programmes, research output, support for students and alumni, and links with industry. We have a world-class reputation for high quality teaching, ground-breaking research and cutting-edge thinking.
You'll be part of a dynamic and engaging business school that puts you and your future at the heart of everything it does. We balance a rigorous academic foundation with practical skills to ensure you are ready for the world of work.
We want you to develop skills so you can apply course content in a company setting. Our close links with organisations keep us in tune with the changing demands of the workplace. We know what employers are looking for.
You'll learn from experts - many are former industry professionals and they work closely with businesses. Because our academics are world-leading researchers, your education will draw on the most current management theories.
We want you to engage with the academic content, be conscientious and take an independent approach to study. We want you to be informed, innovative and proactive and do everything we can to support and enhance your career, steering you in the right direction with all the knowledge and skills you require.
You'll benefit from tailored on-site and online professional careers support, dedicated skills sessions and events with experts from world-leading organisations and professional bodies. These activities will help guide your personal and professional development to help you secure your dream placement, internship or graduate role.
Entry requirements
Minimum 2:1 undergraduate honours degree or an approved professional qualification.
Overall IELTS score of 6.5 with a minimum of 6.0 in each component, or equivalent.
Fees and funding
Field trip costs
We recommend that you go on at least one of two organised field trips.
The Management School will pay for travel and accommodation.
You'll need to pay for food and drink. For each field trip, you'll need to provide a £50 deposit, which will be refunded after the trip.
---
More scholarships and fees information can be found on the Management School website.
Apply
We use a staged admissions process to assess applications for this course. You'll still apply for this course in the usual way, using our Postgraduate Online Application Form.
Any supervisors and research areas listed are indicative and may change before the start of the course.
Recognition of professional qualifications: from 1 January 2021, in order to have any UK professional qualifications recognised for work in an EU country across a number of regulated and other professions you need to apply to the host country for recognition. Read information from the UK government and the EU Regulated Professions Database.