2024 start
September
Dental Technology
School of Clinical Dentistry, Faculty of Health

Explore new advances in digital dental technology and dental materials science. We'll train you to build up your skills and knowledge in dental technology with the latest digital CAD/CAM processes.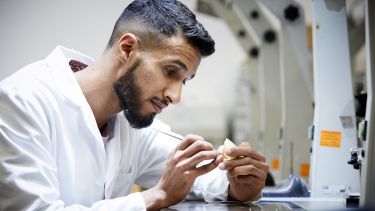 Course description
This course covers traditional as well as digital dental technologies, with a focus on the latest CAD/CAM techniques. Dental technicians and clinical professionals with suitable training in basic dental technology can expand and update their skills by studying the fundamentals of digital dentistry.
You'll be trained to produce advanced and technically demanding dental appliances and medical devices. There is a wide range of digital design and manufacturing processes that you can study, and you'll have the flexibility to focus on the ones that interest you most, or that are most relevant to your practice.
You'll explore the major dental problems that dental technicians can help patients with, and develop strategies to address them systematically. Your digital dentistry training will include using intra-oral and extra-oral scanners to investigate dental problems in greater detail, and our module on dental materials science will help you provide the best treatment options for patients.
There is also a research training programme that will equip you to conduct a research project of your own, working closely with expert researchers in the School of Clinical Dentistry.
Do you have a question? Talk to us
Book a 15-minute online meeting with our course leader to find out more information and ask further questions.
Modules
Dental Technology I

In this module students will undertake a series of tutorials and lectures relating to the theory that underpins the practical aspects of dental technology. Students will also learn to identify good working practice and how to ensure quality in the production of dental appliances and restorations. Students will learn about a wide variety of production methods for a range of fixed restorations, removable prosthodontics and orthodontics. Students will have the opportunity to observe a range of production and design methods for each type of appliance or restoration.

15 credits

Dental Technology II

In this module students will undertake a series of practical exercises supported by tutorials to identify good working practice to ensure quality in the production of dental appliances and restorations. Participants will learn about a wide variety of production methods for a range of fixed restorations, removable prosthodontics and orthodontics. Students will have the opportunity to use a range of production and design methods for each type of appliance or restoration.

30 credits

Introduction to Digital Dentistry and Dental Manufacturing

Digital and advanced manufacturing technologies are now having a significant impact on clinical dentistry, so much so that the ongoing changes could now be considered revolutionary. There is therefore a need to educate dentists and dental technologists in subjects related to this rapidly evolving field, starting with the underpinning basic science and engineering concepts, and then examining their practical application in ways that include intra-oral scanning and advanced manufacturing techniques. This module will provide the student with both (i) insight into the existing 3D scanning and manufacturing technologies used in general healthcare applications, highlighting both traditional and innovative methodologies, and (ii) in-depth knowledge and understanding related to 3D scanning and manufacturing in dentistry.

15 credits

Dental Materials Science

This module introduces postgraduate students to a number of key themes and subjects at the heart of dental materials. The module illustrates the relationship between the science of dental materials, their properties, and the relationship between these and clinical performance. The latter includes consideration of the wider subjects of biomechanics and other host factors. Specific subjects covered therefore include the history of dental materials, and their physical, chemical, optical and mechanical properties. The full range of materials used in dentistry will be considered, including direct restorative materials, and materials for removable and fixed prosthodontics.

15 credits

Research Problems and Approaches

The aim of this module is to introduce the candidate to critical appraisal of the scientific literature, health informatics and presentation skills. Health informatics seminars will familiarise the candidates with the tools available for searching and accessing scientific literature. Students will learn to critically appraise the literature including scientific papers, develop a coherent argument and present their findings both verbally and in a written format. Candidates will also be required to attend the Dental School lunchtime seminar series.

15 credits

Dental Laboratory Governance

In this unit the student will undertake a series of lectures, tutorials, seminars and practical classes in subjects that are allied to dental technology. Students will learn about the new and innovative ways in which dental technology is changing as well as how dental public health impacts upon dental technology, the law, ethics and professionalism expected of dental technicians.

15 credits

Research Methods in Clinical Dentistry

Research methods are a key part of clinical dentistry. This unit will aim to introduce students to patient-centred research methods and will include evidence-based dentistry, critical appraisal, research governance and ethics, quantitative and qualitative research methods, statistical appraisal of research reports.

15 credits

Research Project

This module is to enable students to develop an understanding of both the research process and research skills required to undertake a supervised research project. The student will undertake a project within a research laboratory either in the Dental School or in the Department of Materials Science and Engineering. They will be required to identify relevant information on a topic and critically review the research of others. Original research will be carried out under the supervision of one or more members of the academic staff. The student will carry out a comprehensive Literature Survey (reading of original papers and review articles) and further background reading on the research topic. Project assessment will involve project plan presentation, literature review, dissertation and an oral defence of dissertation.

60 credits
The content of our courses is reviewed annually to make sure it's up-to-date and relevant. Individual modules are occasionally updated or withdrawn. This is in response to discoveries through our world-leading research; funding changes; professional accreditation requirements; student or employer feedback; outcomes of reviews; and variations in staff or student numbers. In the event of any change we'll consult and inform students in good time and take reasonable steps to minimise disruption.
Open days
An open day gives you the best opportunity to hear first-hand from our current students and staff about our courses. You'll find out what makes us special.
You may also be able to pre-book a department visit as part of a campus tour.Open days and campus tours
Duration
1 year full-time
Teaching
You will learn through lectures, seminars, tutorials and practical classes.
Assessment
You will be assessed through written assignments, exams, practical laboratory work and objective structured practical examinations (OSPEs).
Your career
This course is designed to help you take your career in dentistry to the next level by giving you
thorough knowledge and understanding of dental biomaterials
the skills to critically analyse and assess individual patients' cases
the expertise to develop practical solutions to a range of dental problems
experience of research, and applying your findings to the practice of dental technology and digital manufacturing
Graduates from this course often go on to more senior or managerial roles in dentistry. Others build on their research training with a PhD and a career in academia.
Student profiles
Entry requirements
A degree in dental technology or a relevant subject such as biomedical science or bioengineering. You should have a minimum of two years of post-training experience in dental technology and be able to demonstrate advanced technical expertise in the field.
If you don't have a degree, we'll accept an equivalent recognised professional qualification in dental technology.
Overall IELTS score of 6.5 with a minimum of 6.0 in each component, or equivalent.
Shortlisted applicants will be invited to attend an online interview. 
Fees and funding
Additional costs
The cost of dissertation binding is not included in your course fees.
Apply
You can apply now using our Postgraduate Online Application Form. It's a quick and easy process.
Any supervisors and research areas listed are indicative and may change before the start of the course.
Recognition of professional qualifications: from 1 January 2021, in order to have any UK professional qualifications recognised for work in an EU country across a number of regulated and other professions you need to apply to the host country for recognition. Read information from the UK government and the EU Regulated Professions Database.