2024 start
September
EdD - The Sheffield EdD
School of Education, Faculty of Social Sciences

This course will help you develop your own high standards of research that can be applied to a range of professional and managerial careers. You can study from anywhere at any time and share experiences with fellow students during the study weekends in Sheffield.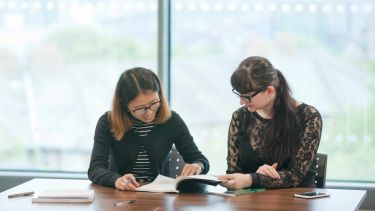 Course description
The Sheffield EdD is a vibrant and successful distance learning programme which attracts students from all over the world. The programme is based on a structure of study weekends, so you can study from anywhere at any time and also share experiences with fellow students at the weekend study schools in Sheffield.
The main aim of the programme is that students develop their own high standards of research that will be relevant to a range of professional and managerial careers.
The EdD is divided into two Parts; Part 1 is the taught element of the course and runs over two years while Part 2 is the research component. In Part 1 students undertake modules which focus on research training in preparation for Part 2. In Part 2 students undertake an independent study in an area of their choice, under the supervision of their own personal supervisor.
Study weekends
The weekend study schools are held in Sheffield and are a rewarding feature of the programme. You'll have the chance to take part in lectures, workshops, seminars and group and individual tutorials. You'll also benefit from networking opportunities with fellow students.
Dates for study weekends
Weekend 1: 18 to 20 October 2024 (to be confirmed)
Weekend 2: 28 Feb to 2 March 2025 (to be confirmed)
Weekend 3: 16 to 18 May 2025 (to be confirmed)
These are our confirmed dates, but dates may change due to factors beyond our control. If dates change we'll give students as much warning as possible.
Modules
To download the regulations, you'll need to navigate to 'Social Sciences', download the relevant PDF then look for EDUR94. 
The EdD is divided into two parts:
A taught element of the course and runs over two years. Students are encouraged to engage critically in complex contemporary issues in education and education research.
A research component. Students undertake their own independent research and this is facilitated through collaborative, collegial relationships, including both cohort and individual supervision.
Part one:
Being and Becoming a Researcher

This module provides an introduction to the programme, to educational research and to developing a professional identity as a researcher. Areas considered will include: how educational research has been conceptualised; its nature and character; its relationship to politics, policy, culture and society; its past, present and future aims and purposes; and how educational research articulates with research in other disciplines. The focus will be on research as philosophical, moral, and ethical endeavour, requiring students to reflect critically on their positioning in their own context and area of interest.

30 credits

Curriculum and Pedagogy

Curriculum and pedagogy form discursive mechanisms by which knowledge is selected and communicated through schooling and other educational institutions. This module interrogates these mechanisms by posing questions about what they are, how they are related, the selection of knowledge they communicate, the practices used for communication and the groups of people they benefit and disadvantage. Students will apply analytic frameworks to interrogate current curricula and pedagogical practices in their own professional settings and wider international contexts. The module asks: are 'critical' curricula and pedagogical developments possible in education as a field of practice in the context of globalisation and neoliberalism?

45 credits

Critical Issues in Contemporary Education

This module will introduce students to a range of critical issues in contemporary education including the aims and purpose of education, social inequality, questions of class, race and gender as well as new technologies. In addition, we will examine a number of key theoretical and methodological frameworks including critical race theory, historical analysis and constructivism as ways to approach and think about these issues. Students will be encouraged to identify an educational issue relevant to their own personal or professional context and examine this critically in a short 7-10 minute screencast and accompanying 3000 word essay.

45 credits

Educational Research: Theory and Practice

This module will enable students to critically engage with interdisciplinary education research theory and practice; methods and methodologies. Students will have the opportunity to develop and apply knowledge and understanding of their own researcher positionality by conducting individual, paired and group research activities which they will present and reflect on in an assessed portfolio. The portfolio will include reflective accounts of processes of data collection and analysis, ethical consent and dissemination activity. Students will also be supported in drawing on these broader experiences in devising their own research proposal for progression to Part 2 of the programme.

60 credits
Part two:
Following induction, students undertake their own independent research and this is facilitated through collaborative, collegial relationships, including both cohort and individual supervision.
Students will be invited to become members of at least one research cluster or network in the School of Education and encouraged to take an active role in their related activities such as conferences, seminar series and readings groups, in order to develop expertise in their chosen field of study and raise or establish their own national and international research profiles.
The content of our courses is reviewed annually to make sure it's up-to-date and relevant. Individual modules are occasionally updated or withdrawn. This is in response to discoveries through our world-leading research; funding changes; professional accreditation requirements; student or employer feedback; outcomes of reviews; and variations in staff or student numbers. In the event of any change we'll consult and inform students in good time and take reasonable steps to minimise disruption.
Open days
An open day gives you the best opportunity to hear first-hand from our current students and staff about our courses.
Find out what makes us special at our next online open day on Wednesday 17 April 2024.
You may also be able to pre-book a department visit as part of a campus tour.Open days and campus tours
Duration
Part-time (distance learning):
Part I: 2–4 yrs PT
Part II: 2–4 yrs PT
Department
School of Education
We're proud to welcome a vibrant and diverse community, with students based locally, nationally and internationally. Our research has a direct impact on educational theory, policy and practice; we're supporting the development of children, families, schools and learning communities.
Our seminars are interactive and everyone is encouraged to take part. The course director knows every student personally, and you will get a lot of individual support across all of your modules.
Our team of tutors at the School of Education comprises of experts in early childhood education, policy and practice, psychological theory of education, and languages and education. Many of our academic staff are internationally recognised in their specialist areas.
Entry requirements
You should hold both a bachelor's degree (normally first or second class honours or equivalent) and an appropriate masters degree, or equivalent.
You should also have a minimum of five years' professional experience within a relevant field.
Overall IELTS score of 7.0 with a minimum of 6.5 in each component, or equivalent.
1. You'll need to provide a short personal statement of no more than 1,000 words. This should explain your reasons for applying for the programme and indicate how your work will relate to one of our research clusters or networks. We are also keen to hear about your existing research skills and experiences. The statement should be succinct and tightly structured.
2. You'll also need to provide a piece of writing of approximately 2,000 words that you have produced. This could be:
a short extract from a longer piece of your academic writing (for example a masters thesis or published journal article)
an extract from an analytical document or report that you have written in the course of your professional duties (for example a policy document, a review of practice in education, an internal report written for your institution or employer) or journalism that you have published (for example Times Higher Education (THE), The Times Higher Education Supplement (THES), Union Magazine.
a proposal for your study, providing a rationale for your focus and your initial ideas for a methodology
You could also make up a portfolio consisting of one or more of these types of documents.
Please upload this piece of writing to the Course Supporting Documents section of the online application form.
Fees and funding
Staff from the University of Sheffield applying for the EdD do not pay fees for Part 2 of the programme (the research component). More information for staff candidates (requires University login).
Apply
You can apply now using our Postgraduate Online Application Form. It's a quick and easy process.
Any supervisors and research areas listed are indicative and may change before the start of the course.
Recognition of professional qualifications: from 1 January 2021, in order to have any UK professional qualifications recognised for work in an EU country across a number of regulated and other professions you need to apply to the host country for recognition. Read information from the UK government and the EU Regulated Professions Database.