2024 start
September
Educational and Child Psychology
School of Education, Faculty of Social Sciences

This professional training course will give you the skills, competencies and HCPC registration required to practise as an educational psychologist. We teach you the theory and support your practice, so you'll be well prepared for your future career.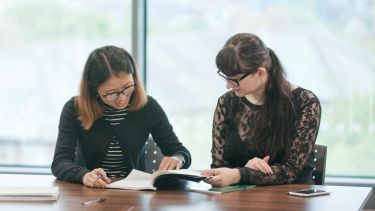 Course description
This is a three-year, full-time course approved by the Health and Care Professions Council (HCPC). It is accredited by the British Psychological Society (BPS) and recognised by the Department for Education as a professional training course in educational psychology.
All our graduates are eligible to apply for registration with the HCPC as a practitioner educational psychologist and join the British Psychological Society's Division of Educational and Child Psychology.
Selection criteria

The selection process is competitive. A good command of English language is essential to meeting the communication skills required to practise as an educational psychologist. Oral and written communication skills are assessed as part of the selection criteria.As this is a research degree, it is also also important that you can communicate in writing to a very high standard. For this reason we would encourage you to demonstrate pride and competence in your written application.

Factors considered at the shortlisting stage are:

Range and quality of academic background
Range, quality and relevance of work and voluntary experience
Extent of professional productivity in recent years
Extent of leadership demonstrated in professional and personal projects
Possession of special knowledge of any contexts relevant to the profession
Quality of written communication.

Factors considered at the interviewing stage are:

Evidence of the ability to apply psychological or educational theory to current practice
Knowledge of modern developments in applied education and psychology
Ability to analyse a problem/issue from a variety of perspectives
Understanding the tensions and dilemmas arising from working in an advisory capacity
Evidence of emotional flexibility in professional situations
Evidence of the capacity to communicate across cultural boundaries and awareness of equal opportunity issues
Evidence of skills in self-reflection
Evidence of socially skilled performance in group situations in professional life
Effective communication skills as demonstrated in the interview
Quality of written communication

Format of the interviews

Interviews are usually held in February or March each year and involve one-day events.

We generally invite about five shortlisted candidates per day at the interviewing stage.

The format of the day involves an unseen written task, a group task, informal group discussion about the course with two members of staff and opportunities for shared lunch with trainees if they are available on the day.

Individual interviews take place in the afternoon with the interview panel, which comprises of two members of the course team, two principal or senior educational psychologists from partnership/neighbouring local authorities or from private/independent providers and a parent with experience of working with educational psychologists.

The structure of the interview day is intended to provide candidates and members of the course team information that will allow for an informed choice about which candidates are given offers of a place and whether or not candidates wish to take up the offer. At least one principal educational psychologist attends the final selection meeting along with all members of the course team.

Equality, diversity and inclusion

We particularly welcome suitably qualified applicants from Black, Asian, Minority, Ethnic (BAME) backgrounds as they are currently underrepresented in Educational Psychology Services.
Modules
This programme is non-modular, but will include a focus on these broad areas:
Promoting Development and Education
Person and Professional Values, Ethics and Skills
Diversity and Cultural Difference
Consultation
Psychological Assessment and Formulation
Psychological Intervention and Evaluation
Service Delivery and Organisational Change
Training and Development
Research and Inquiry
Transferable Skills
The content of our courses is reviewed annually to make sure it's up-to-date and relevant. Individual modules are occasionally updated or withdrawn. This is in response to discoveries through our world-leading research; funding changes; professional accreditation requirements; student or employer feedback; outcomes of reviews; and variations in staff or student numbers. In the event of any change we'll consult and inform students in good time and take reasonable steps to minimise disruption.
Open day
Course open day
We host an open day for educational and child psychology, every year. Find out when our next one is and register your interest.

If you are applying for entry in 2024 and have any queries about the application process please contact education-admissions@sheffield.ac.uk.
University open days
An open day gives you the best opportunity to hear first-hand from our current students and staff about our courses. You'll find out what makes us special.
Duration
3 years full-time
Teaching
A mix of placement, private study and teaching from tutors. Your usual weekly pattern will be:
Year 1: Two days teaching, one day private study, two days work placement
Year 2: One day teaching, one day private study, three days work placement
Year 3: One day teaching or research, one day private study, three days work placement
Placements
Placements during Years 2 and 3 might be within the Yorkshire and the Humber region.
The course allows for periods of independent study time across all three years of training to enable you to complete the academic demands of the course.
Objectives of the course

You'll develop personal and communication skills (both oral and written), which underlie the work of the Educational Psychologist. These include:

interviewing skills consultation skills
skills in communicating across institutional and professional boundaries ensuring a culturally competent professional practice
skills in managing groups for training, therapeutic work and co-ordination of understanding purposes written communication
skills to a wide range of audiences.

You will also develop critical approaches to theory and practice, research and publication skills, having regard to HCPC, BPS and University ethical guidelines. Also, to develop knowledge of how to analyse programmes and policies at a local level and disseminate the results.

Our aims and objectives broadly encapsulate the HCPC Standards of Proficiency (SOPs) for Practitioner Psychologists and BPS Required Learning Outcomes stated within the Standards for the accreditation of educational psychology training in England, Northern Ireland & Wales (BPS, 2018) against which trainees' academic progression on the course including their placement competencies is determined.

You will gain knowledge of the full range of theoretical approaches and procedures involved in collecting information for assessment purposes and to use them in the context of children's services.

You will understand and work within the full range of contexts of professional practice and within the statutory frameworks and regulatory guidelines relevant to the welfare of children and Children's Services. This includes the professionally generated guidelines produced by professional bodies as well as those from statutory bodies and includes guidelines relevant to the provision of services to young people with all types of special needs and vulnerabilities.

You will become familiar with those areas of psychology relevant to the growth and function of individuals, families and organisations as far as they provide theoretical frameworks for understanding and managing behaviour and learning in children and young people.

The programme will help you to develop understanding and skills in intervention in social and emotional situations and to design and manage individual and group programmes to help children and young people and those who live and work with them. You will learn to work with vulnerable children in ways supported by a clear framework of inclusive values and equal opportunities for all children and young people.

You will learn about the origins of common learning and behaviour difficulties and approaches to your assessment and intervention.

Our distinctive approach

This course is organised around both an integrated curriculum model and adult learning model. Tutorials are integral to the course so that you have regular feedback.

In general, the amount of structure in the curriculum is high early in the course, and gradually reduces over the three years towards the end of the course.

The integrated curriculum as an approach enables us to introduce important ideas and areas of work to trainees early on in the programme and then to revisit them a number of times as the programme progresses.

We now use the British Psychological Society (BPS) competencies areas to ensure you clearly understand how a seminar relates to your overall learning journey. The trainee progression tracker is a person-centered document that enables you to map and orientate your learning to the required outcomes of the professional training in educational psychology.   
Assessment
Essays, practical work folders and a dissertation including research portfolio.
Department
School of Education
We're proud to welcome a vibrant and diverse community, with students based locally, nationally and internationally. Our research has a direct impact on educational theory, policy and practice; we're supporting the development of children, families, schools and learning communities.
Our seminars are interactive and everyone is encouraged to take part. The course director knows every student personally, and you will get a lot of individual support across all of your modules.
Our team of tutors at the School of Education comprises of experts in early childhood education, policy and practice, psychological theory of education, and languages and education. Many of our academic staff are internationally recognised in their specialist areas.
Entry requirements
An undergraduate honours degree in psychology that is recognised by the BPS for graduate membership.
You must also have over one year of full-time (or equivalent) experience of working with children within educational, childcare or community settings.
Disclosure and Barring Service
As this course involves working with children and young people, you'll need to obtain an Enhanced Disclosure from the Criminal convictions and Disclosure and Barring Service (DBS) prior to your training starting.
Additional costs for DBS checks
Overall IELTS score of 7.0 with a minimum of 6.5 in each component, or equivalent.
Fees and funding
We only offer the course via the Educational Psychology Funded Training (EPFT) scheme. Self-funded places are not available. 
Additional costs
The annual fee for your course includes a number of items in addition to your tuition. If an item or activity is classed as a compulsory element for your course, it will normally be included in your tuition fee. 
There are some additional items which are not included in the tuition fee. These are listed below:
Any resubmission or extension fees
Accommodation and living costs
Stationery
Optional books or texts – personal copies will not be included in the tuition fee
Electrical equipment e.g. laptops, digital cameras and calculators
Resitting exams including professional accreditation exams
Travel, accommodation and living costs when on placement
General printing and photocopying, including for dissertations and coursework
Other charges for the Sheffield Graduate Award, replacement identity cards/ transcripts/ degree certificates, late registration
Disclosure and Barring Service (DBS) and non-UK clearance (see below)
Disclosure and Barring Service (DBS), Work Health Assessment, Safeguarding Training and Non-UK Clearance
As this course leads to a professional qualification and involves working with children and young people, Trainee Educational Psychologists will be required to undertake a Disclosure and Barring Service (DBS) Enhanced Disclosure and Work Health Assessment and complete Safeguarding training. The anticipated cost for these for 2023 entry is £48*.
Trainee Educational Psychologists who have already paid for a previous DBS Enhanced Disclosure and signed up to the DBS update service (Enhanced level - Children's barred list) may pay a reduced fee (anticipated cost £10*).
Trainee Educational Psychologists who have spent three consecutive months or more abroad in the past five years must provide evidence of a clean criminal record (non-UK clearance) from the relevant country (or countries) and will be required to pay the appropriate fee(s).
Further information will be provided to offer holders before the start of the course.
*As we use external companies to undertake safeguarding training and DBS checks these fees may be subject to change. Should you decide to withdraw your application we are unable to offer a refund.
Bursaries for placements
You will be allocated placements during Year 1 that will be sourced by tutors. In Years 2 and 3 you will be supported to locate either a bursary or employment-based placement.
Apply
We only offer the course via the Educational Psychology Funded Training (EPFT) scheme. Self-funded places are not available.
Applications to the EPFT scheme for entry in September 2024 have closed.
Applications for entry in September 2025 will open in September 2024.
Any supervisors and research areas listed are indicative and may change before the start of the course.
Recognition of professional qualifications: from 1 January 2021, in order to have any UK professional qualifications recognised for work in an EU country across a number of regulated and other professions you need to apply to the host country for recognition. Read information from the UK government and the EU Regulated Professions Database.