Applications for 2024 entry are now open. Register your interest to hear about postgraduate study and events at the University of Sheffield.
MSc
PG Certificate
PG Diploma
2024 start
September
Health and Clinical Research Delivery
School of Medicine and Population Health, Faculty of Health

Develop the skills and knowledge to deliver and lead on clinical research in your field. This online course is designed for healthcare practitioners and clinicians.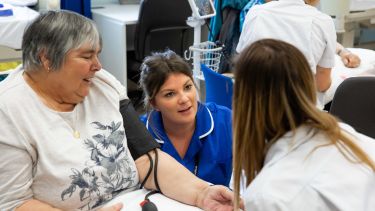 Course description
This online programme offers a practical look into the world of health and clinical research for aspiring researchers and research leaders.
The course is aimed at healthcare practitioners – such as doctors, nurses, midwives, pharmacists, healthcare scientists and allied health professionals – whether you are new to research or are already championing research in healthcare.
You will learn to plan, analyse and evaluate clinical research, and reflect on the challenges, impact and ethical implications of existing research. Everything you study will be applied back to your field of expertise so you can leave the course with the confidence to lead your own clinical research. The course will prepare you for future roles as a Collaborator, Co-investigator or Principal Investigator (PI) within your organisation.
Flexible study and RPL
The programme has been designed to be as flexible as possible, to fit around you and your work and life commitments. The online course structure means you will be able to benefit from high-quality teaching and support wherever you are, alongside your clinical practice.
There are also multiple entry pathways to the programme to allow for Recognition of Previous Learning (RPL) and individual needs:
Top-up a Postgraduate Certificate (PGCert) in Clinical Research Delivery gained at another university to a PGDip or MSc qualification. Using RPL, these 60 credits will be added to our top-up programme. Completing an additional 60 credits will lead to a Diploma, and completing an additional 120 credits will lead to an MSc. Equivalent work-based experience may also be considered for this route.
Alternatively, this course has exit routes at PGCert, PGDip and MSc levels for those who are not able to top-up a previous PGCert. 
Use the link below to view the MClinRes course:
Accreditation
The PGDip and MSc qualifications are accredited by the National Institute for Health and Care Research (NIHR) and the Academy of Medical Royal Colleges (AoMRC).
This programme has been developed in line with the new NIHR-AoMRC linician Researcher Credentials Framework. This framework was designed by both the NIHR and the AoMRC to bridge the research skills gap within the NHS and other healthcare services. We have also worked with partners in the healthcare sector to develop the course and tailor it to your needs.
If you have a NIHR-AoMRC accredited PGCert qualification from the University of Exeter or the University of Newcastle, you can top this up to an accredited PGDip or MSc qualification at the University of Sheffield through Recognition of Previous Learning. The University of Sheffield PGCert qualification is not accredited, but it can also be topped up to an accredited PGDip or MSc qualification at this or another institution.
Modules
Students with a PG Certificate (60 credits) from the University of Exeter or Newcastle University can transfer their 60 credits to the University of Sheffield to continue on our PG Diploma or MSc.
Students completing the PG Certificate at the University of Sheffield will take the following core modules:
Practical Aspects of Clinical Research

This unit is intended to run alongside the clinical research portfolio that is a part of the Masters course for NIHR Academic Clinical Fellows. It is also offered as one of the Core Modules for UK and overseas students on the generic MSc in Clinical Research. The course covers many of the practical and regulatory issues associated with carrying out clinical or health related research within a variety of national and international settings including the NHS. Face-to-face and web- based learning packages cover a variety of issues around research planning, project management, research governance, ethical and legal frameworks for research, good clinical practice, patient and public involvement, cultural competence, and dissemination and impact. The module runs across both semesters and students need to register for the Autumn semester and then continue into the Spring semester. There is no option to start in Spring and continue to the following Autumn semester.

30 credits

Introduction to Research Methods Online

This module, which is delivered via online learning, provides students with an introduction to quantitative and qualitative research methods and to the types of skills necessary for the planning, data gathering and dissemination stages of health-related research.
Topics covered include:
•Research Design;
•Methods of Data Collection;
•Approaches to Analysing Data and Writing a Research Proposal.
The course provides a foundation for further learning in specific research methods. It is primarily designed for new students beginning Masters courses in the School of Health and Related Research (ScHARR) and there is an emphasis on research techniques used in public health and health services research (HSR).

15 credits

Leading and Managing Health Services Online

This module integrates the principles of managing health care services and leading on rapid changes and advances in regional, national and international contexts. Principles of health management will be demonstrated through case-based teaching, in order to enable students to understand how to solve common management problems. Cases will be used to illustrate the complexity of the operating environment for health systems and health services. Students will be supported in developing critical thinking about the relative effectiveness of different approaches to management by analysing their own health care services within a broader cultural, political and policy context.

15 credits
PG Diploma students will complete the same core modules as PG Certificate students, as well as additional core and optional modules.
Core modules:
Research Practice Experience

The module aims to enable students to further develop and utilise their skills and knowledge of the research process to learn experientially through direct involvement in one or several research studies. At the start and end of the module students will undertake a Training Needs Analysis (TNA). During the module students will develop a comprehensive e-portfolio of evidence (2,500 words or equivalent) to demonstrate proficiency in a range of practice based core research leadership skills and knowledge. 



For this module, students will work alongside an experienced clinical/ practice based supervisor who is currently leading or involved in a research study in a field of practice of interest to the student.  In addition they will be allocated an academic supervisor who will contribute to the supervision process. Students will meet with their supervisory team regularly throughout the module to review, develop and assess learning and development. Students will receive additional formative feedback within regular tutorial meetings with the module lead, peer review activities and group discussions.



The module will be delivered using a mix of online videos, audio podcasts, written materials, and online discussion, which students can complete in their own time during the module. It will be undertaken over two semesters and will be delivered via The University of Sheffield's online teaching platform. 



The summative assessment will comprise a 3000 word reflective written assignment and a short peer review of a fellow student's e-portfolio written piece of work (500 words). The focus of the assignment will be on one aspect of the student's e-portfolio learning as detailed in the student assignment guidelines.   

30 credits

Inclusive Research Practice

This module aims to equip students to identify barriers to the inclusion of diverse and underserved groups in research, and to plan appropriate actions to promote the inclusion of these groups. The module will be delivered online using a variety of methods including online lectures, presentations by researchers and members of diverse and underserved groups, formative learning activities and self-study. The topics covered will include a range of approaches to improving inclusion in research from patient and public involvement and engagement (PPIE) to co-production of research. We will consider how these different approaches can be used in a range of research designs to promote inclusivity throughout the research cycle.

15 credits
Optional modules:
Innovative Designs for Research Impact

This module will ensure that clinical research practitioners are aware of innovative study designs. This will include consideration of project management, patient recruitment and retention, and delivery of the project. We will use real-world case studies from the National Institute for Health Research  to discuss novel designs (e.g. multi-arm, adaptive, stepped-wedge trials and complex, mixed-methods studies) and how these might change approach to delivery.

The module will be delivered using a mix of synchronous (recorded) online tutorials, online videos, audio podcasts, written materials, and online ('text chat') discussion, which students can complete in their own time during the module.

Engagement with online text discussions will be a key learning activity and therefore a required component. Students providing peer review of other's contributions to online discussion groups will assess this engagement.

Assessments contributing to final marks will be through peer review of a short video, and the planning and writing of a written report. The report will discuss a novel design, identify the key challenges and describe how to address these.

15 credits
Masters students will complete the same core modules as PG Certificate students, as well as the same additional core and optional modules as PG Diploma students, and will also complete a dissertation project.
Dissertation

This module provides students an opportunity to undertake substantial personal projects (research / literature review). The project topic must be relevant to the scope of the course and should be realistically achievable within the time and resources available.  

Students are encouraged to work up a concept based on an area of particular interest and/or relevance to themselves.  The subject and methodological approach will be agreed between each individual student and their academic supervisor.  The completed work will be written up in the form of a dissertation.

The module  runs across both semesters and students need to register for the Autumn semester and continue into the Spring semester. There is no option to start in Spring and continue to the following Autumn semester.

This module is an online module. Students will be given the opportunity to engage in at least one live synchronous online session with the module lead at the start of the module. This will be recorded for those students unable to attend due to clinical commitments/time zone differences.  In addition dissertation supervisors may offer synchronous online supervision sessions. 

60 credits
The content of our courses is reviewed annually to make sure it's up-to-date and relevant. Individual modules are occasionally updated or withdrawn. This is in response to discoveries through our world-leading research; funding changes; professional accreditation requirements; student or employer feedback; outcomes of reviews; and variations in staff or student numbers. In the event of any change we'll consult and inform students in good time and take reasonable steps to minimise disruption.
Open days
An open day gives you the best opportunity to hear first-hand from our current students and staff about our courses. You'll find out what makes us special.
Duration
MSc (with no RPL top-up): 3 years
MSc (via RPL top-up): 2 years
PGDip and PGCert: 1 year
Teaching
All of your teaching will take place online. You will learn through presentations, video and audio content, screencasts, tutorials, group work and independent study. There are optional live webinars that offer more opportunities to interact with your tutors and peers.
Assessment
You will be assessed through peer and tutor feedback on short videos, written assignments, essays and reports, a practice-based placement e-portfolio and, if you do the MSc programme, a dissertation.
Your career
As a graduate, you will be able to use the knowledge you have gained to introduce or develop clinical research in your current workplace, working as a Collaborator, Co-investigator or Principal Investigator (PI).
Alternatively, you may wish to progress your career within a research-intensive healthcare environment or in clinical academic research – for example, as a research nurse, clinical trial coordinator or data analyst. The course is also great preparation for a PhD or research fellowship.
Entry requirements
Minimum 2:1 undergraduate honours degree in a clinical subject or equivalent qualification or an equivalent professional qualification or relevant work experience.
All applicants must complete the Health and Clinical Research Practice Experience form and submit this in the supporting documents section of their application.
Download the Health and Clinical Research Practice Experience form (Word doc, 15KB)
IELTS 6.5 (with no less than 6.0 in each component).
Fees and funding
MSc fee per year
---
PG Diploma fee per year
Health and Clinical Research Delivery (HCRD) Postgraduate Diploma Bursary
We have a small number of Health and Clinical Research Delivery (HCRD) Postgraduate Diploma bursaries to cover tuition fees, funded by the Department of Health and Social Care (DHSC). 
See if you're eligible for an HCRD PGDip Bursary
---
PG Certificate fee
Apply
You can apply for 2024 postgraduate study using our Postgraduate Online Application Form. It's a quick and easy process.
Any supervisors and research areas listed are indicative and may change before the start of the course.
Recognition of professional qualifications: from 1 January 2021, in order to have any UK professional qualifications recognised for work in an EU country across a number of regulated and other professions you need to apply to the host country for recognition. Read information from the UK government and the EU Regulated Professions Database.