2024 start
September
Information Systems Management
Management School, Faculty of Social Sciences

This course is suitable for graduates and professionals who want to progress into management, as well as business managers who want to expand their knowledge of information systems.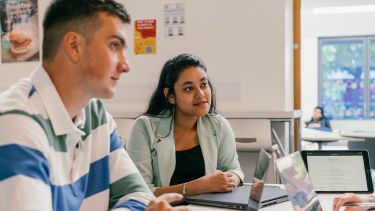 Course description
On our Information Systems Management MSc you'll gain practical knowledge in the field of information systems and their impact on organisational structures and processes, together with an in-depth knowledge of essential management skills.
The course focuses on core skills in key areas of management, including strategy, human resources, operations and supply chain management. You'll learn about how project management works alongside information technologies and information systems as well as their role in controlling and driving organisations forward.
You can also tailor the course to your own interests, with options including e-business and e-commerce, business intelligence and international business strategy.
By the end of the course, you will have an in-depth understanding of key management principles, alongside cutting-edge theory in information systems and a thorough knowledge of the technologies and systems which drive the modern-day workplace. You will 'll be able to utilise these skills in managerial and professional roles, making you invaluable in the workplace.
This degree combines practical knowledge of information systems with management skills. This makes it ideal for those who wish to progress into a management role or for individuals who want to develop their knowledge of business information systems to enhance their knowledge and career prospects.
Accreditation
Modules
Core modules:
Information Systems Modelling

To consider the role of information modelling within the organisation and provide an appreciation of the rigorous methods that are needed to analyse, design, develop and maintain computer-based information systems. The course is intended to provide an introduction to information modelling techniques. Students gain experience in applying the wide range of systems analysis methods. Students cover topics including: soft systems analysis; structured systems analysis methodologies; business process modelling; data flow modelling and object-oriented approaches (e.g. RUP/UML).

15 credits

Information Systems in Organisations

This module integrates topics of organisation, management, and information systems, with an aim to offer the students an integrated set of concepts and tools for understanding information systems in organisations. During this module students will explore basic management and organisational theories and examine the impact of information systems on organisations. This course introduces key concepts which will be explored further in other modules on the information Management and Information Systems programmes.

15 credits

Operations and Supply Chain Management

Operations Management (OM) is concerned with the production of good and services and it relates closely to all the other business functions.

15 credits

Managing People in Organisations

This module aims to introduce students to the core aspects of Human Resource Management (HRM), using research-informed teaching to critically assess HR tools and techniques, engage with current debates in the field, and provide a reflective analysis of HRM today. Supporting aims of the module are to enable participants deepen their knowledge and understanding of HRM issues, to develop insights into the changing role of HRM practitioners in the context of ongoing organisational change, and to think about the issues involved in 'live' HRM problems in organisational contexts. The module covers some core building blocks in HRM to introduce concepts to students, moving on to examine some thematic themes, with the overall aim of introducing students to key issues and debates in HRM today. This module relates to the CIPD 'People Management and Development' standard.

15 credits

Information Systems Project Management

This module aims to provide a broad understanding of the fundamentals of project management as they apply to the development of Information Systems (IS). The module uses a flexible approach combining face-to-face seminars with web-based learning material. The module will begin with an overview of the principles involved in IS project management; followed by a discussion of IS development methodologies and their different characteristics and specialisms. The rest of the module will discuss the requirements for various project control activities, including estimating development resources, risk management, guidelines for system quality assurance, and various project control techniques that have been developed in recent years. The module will culminate with a review of human resource management issues.

15 credits

ICTs, Innovation and Change

This module aims at examining and exploring how organisations and human activity systems cope with change due to the new implementation or updating of Information Systems and Information and Communication Technologies (ICTs). This change occurs in complex social environments and has cultural, political, structural and ethical impacts that need to be carefully managed. The module will examine and explore how both managers and Information Systems practitioners can be better prepared for the unpredictability, unintended outcomes and possible harmful consequences of change caused by the introduction or update of Information Systems and ICTs. Therefore, the module aims at providing an understanding of both approaches and techniques for the management of this change.

15 credits

Strategic Management

This unit introduces key theories of Stategic Management of business organisations; those concerned with strategy design and development, techniques and frameworks for crafting strategic options, competitive challenges of a global market environment, implementation of strategy and change. This theoretical understanding will then be illustrated and examined by reference to the way particular companies in contrasting industries have designed and executed their strategies.Particular attention will be devoted to expose students to many facets of strategy formulation/analysis and strategy implementation issues.

15 credits

Research Methods and Dissertation Preparation

This module assists students in the identification of, and preparation of a dissertation proposal. Students will: familiarise themselves with on-going research in the School; identify and prepare a dissertation proposal; carry out a preliminary literature search in the area of the dissertation research topic; and be introduced to the use of social research methods and statistics for information management.

15 credits

Dissertation

This module enables students to carry out an extended piece of work on an Information School approved topic, so that they can explore an area of specialist interest to them in greater depth. Students will be supported through tutorials with a project supervisor, will apply research methods appropriate to their topic, and implement their work-plan to produce an individual project report. Students will already have identified a suitable topic and designed a project plan in the pre-requisite unit Research Methods and Dissertation Preparation.

45 credits
You will take 1 module from the following:
Digital Business

The module addresses both theoretical and practical aspects of digital business. The module will cover the latest business trends and business models adopted by ecommerce companies so that students are able to recognise and relate to the current practice in business.  The module aims to equip the students with theoretical and business knowledge and entrepreneurial skills to understand and manage new ways of doing business in the digital economy.

15 credits

Information Governance and Ethics

This module explores a) the emergence of information and data as an economic resource; b) the governance challenges and ethical issues arising from organisations' systematic capture, processing, and use of information and data for organisational goals, e.g. value, risk, accountability, ownership, privacy etc; c) governance, ethical, legal and other frameworks relevant to the capture, processing and use of information and data within organisational and networked contexts; and d) technologies and techniques used in the governing and governance of information and data. Case examples from a number of domains, e.g. business, government, health, law, and social media illustrate the topics investigated.

15 credits

Business Intelligence

We will cover the principles and practices of gathering and synthesising business intelligence from the external environment, including organisations,  competitive intelligence operations, environmental scanning activities, market intelligence, and strategic intelligence using open source information. A  secondary focus for the module is the role of BI software in organisations to collect and analyse internal information. This module aims to provide students with an understanding of the ways in which business people use information and of how information is used to support strategic decision-making. Students will learn how to carry out effective searches using both free and fee-based resources, and will study key issues concerning the value, cost and availability of information. The module will concentrate primarily on external information resources but also covers the ways in which information internal to an organisation can be used strategically to enhance competitive advantage. Students will learn through a combination of lectures and practical exercises, and will have opportunities to develop expertise in using business-focused electronic information services.

15 credits

Information Systems and the Information Society

The module develops students' critical understanding of the impact of information and communication technologies (ICTs) on social change in 'the Information Society'. Work will revolve around three key themes: the digital divide, sustainability, and digital rights.

15 credits

International Business Strategy

This unit introduces key theories of international business strategy - those concerning the rationales for international expansion, the choice of foreign market entry strategy and the impact on the economies of host countries. This theoretical understanding will then be illustrated and examined by reference to the way particular companies in contrasting industries have developed and implemented their international strategies. Particular attention will be devoted to the role played by the international business environment and its institutions, understanding and critique of various theories of the multinational enterprise, evaluating key strategic issues facing the multinational enterprise, and exploring inter-relationship between host government policies and multinational company strategies.

15 credits
The content of our courses is reviewed annually to make sure it's up-to-date and relevant. Individual modules are occasionally updated or withdrawn. This is in response to discoveries through our world-leading research; funding changes; professional accreditation requirements; student or employer feedback; outcomes of reviews; and variations in staff or student numbers. In the event of any change we'll consult and inform students in good time and take reasonable steps to minimise disruption.
Open days
An open day gives you the best opportunity to hear first-hand from our current students and staff about our courses. You'll find out what makes us special.
You may also be able to pre-book a department visit as part of a campus tour.Open days and campus tours
Duration
1 year full-time
Teaching
A variety of teaching methods are used, combining lectures from academic staff and professional practitioners with seminars, tutorials, small-group work and computer laboratory sessions. There is strong emphasis on problem-solving and individual aspects of learning, with the expectation that you will engage in independent study, reading and research in support of your coursework.
Assessment
Assessments vary depending on the modules you choose but may include essays, report writing, oral presentations, in-class tests and group projects.
There is also a dissertation of 10–15,000 words, which provides the opportunity, under one-to-one supervision, to focus in depth on a topic of your choice. You may choose to carry out your dissertation with an external organisation, for instance if you are a Professional Enhancement student, your project could be directly related to your own work situation. In the past, students who have carried out such dissertations have welcomed the opportunity to tackle real-life problems
Your career
You'll be prepared for a management career while also developing skills in information systems and increase your awareness of the important role that systems play in organisational infrastructures. Management consultants are often required with skills in information and information technology and the course will provide you with skills in both areas.
Department
Management School
We have an international reputation for practical and real-world economics.
We are a leading business school with Triple Crown accreditation (AACSB, AMBA and EQUIS). These awards have been achieved through the outstanding quality of our programmes, research output, support for students and alumni, and links with industry. We have a world-class reputation for high quality teaching, ground-breaking research and cutting-edge thinking.
You'll be part of a dynamic and engaging business school that puts you and your future at the heart of everything it does. We balance a rigorous academic foundation with practical skills to ensure you are ready for the world of work.
We want you to develop skills so you can apply course content in a company setting. Our close links with organisations keep us in tune with the changing demands of the workplace. We know what employers are looking for.
You'll learn from experts - many are former industry professionals and they work closely with businesses. Because our academics are world-leading researchers, your education will draw on the most current management theories.
We want you to engage with the academic content, be conscientious and take an independent approach to study. We want you to be informed, innovative and proactive and do everything we can to support and enhance your career, steering you in the right direction with all the knowledge and skills you require.
You'll benefit from tailored on-site and online professional careers support, dedicated skills sessions and events with experts from world-leading organisations and professional bodies. These activities will help guide your personal and professional development to help you secure your dream placement, internship or graduate role.
Entry requirements
Minimum 2:1 undergraduate honours degree or an approved professional qualification.
Overall IELTS score of 6.5 with a minimum of 6.0 in each component, or equivalent.
Apply
We use a staged admissions process to assess applications for this course. You'll still apply for this course in the usual way, using our Postgraduate Online Application Form.
Any supervisors and research areas listed are indicative and may change before the start of the course.
Recognition of professional qualifications: from 1 January 2021, in order to have any UK professional qualifications recognised for work in an EU country across a number of regulated and other professions you need to apply to the host country for recognition. Read information from the UK government and the EU Regulated Professions Database.